Enjoyment
Monthly Musings: March 2010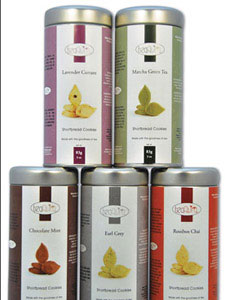 Hi Tea Lovers!
I'm writing this edition of Monthly Musings in the middle of a snowstorm, barreling down in the Northeast. It's a bit odd because it's nearly March and I haven't seen this much snow in one winter season in years! Really! This has been the third blizzard we've encountered. Blizzards have their positive points though; lots of snowbound coziness to ensue. My favorite blizzard-time tea is Golden Monkey. It is the perfect panacea for the winter chills, plus it restores my energy like nothing else- very useful after spending an hour or two chipping away ice and shoveling snow around your car.
A great reward after hours of shoveling (or playing in the snow!) is something sweet, preferably hot. Treat yourself to a rich, creamy flavor of tea like our Honeybush Vanilla, Chocolate Chip, or Hazlenut. Make yourself a rich drink by heating up some cream or half and half and mixing with a strong brew of tea. As a twist, try using real maple syrup to sweeten for a true wintertime treat.
I'm very pleased to share a little discovery of mine- as you all know I LOVE anything cookie, sweet, and has tea in it (and if you don't, well now you do). TeaAura is a Canadian based company that makes these leaf-shaped, scrumptious little shortbread cookies. Each cookie is infused with tea or tisanes and bits of tea leaf or herbs. They are crumbly and buttery, and are small enough to have several without feeling too guilty! These sweet little things come in five different flavors: Chocolate Mint, Lavender Currant, Rooibos Chai, and my two favorites Earl Grey and Matcha Green. TeaAura cookies are available throughout Eastern Canada and Northeast US. Check out their site to see where you can obtain these goodies.
If you're a green tea freak, check out our promotional offer- 10% off all green teas (excluding gift sets). This discount will appear shortly in your shopping cart when you add the item to your cart. This offer is good until the 17th of March, so get some green to sip away post St. Patrick's Day (tea is perfect for hangovers!).
Yours in tea,
Christine