Reviews
Traveling Teacup: Boston Park Plaza Hotel, MA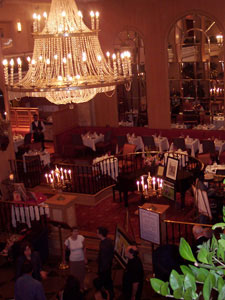 Sitting in Swans Cafe at the Boston Park Plaza Hotel & Towers I was immersed in the beauty of the season. The elegant Christmas tree was decked with gold, red, and green metallic balls; the interior balconies were strung with pine boughs and red and gold ribbons; and white lights twinkled. All around me bubbled laughter and the joy of families celebrating holiday tea together.
There are many spots for afternoon tea in Boston that have earned respect and fierce dedication, but the Park Plaza is among my favorites. Captained by one of the nation's few tea sommeliers, Cynthia Gold, this hotel tea service has a reputation of taking tea very seriously. The leaf blends are utilized in tea cocktails, in savory dishes, and in desserts.
The fixed menu holiday tea provided three courses with three different tea blends. To start I was offered a cocktail — a black tea-infused egg nog with cognac. It was rich and creamy like chocolate with spicy cinnamon and a kick from the cognac. It was strong, but not overpowering.
The first course arrived on their trademark Royal Doulton china. It was a warm cranberry scone with clotted cream and strawberry jam. The scone was perfect, not too dense nor too sweet. There was nice crumb with a subtle lemon note against the cranberries. The clotted cream was silky smooth with the sweet preserves. The scone was served with the hotel's 80th Anniversary Park Plaza Blend of four black teas, two green teas, citrus, and jasmine. The tea's liquor was orange and jasmine dominated the aroma. The flavor of the green tea came through with the jasmine more than I anticipated and the black tea was suitably subtle. I detected a taste of orange.
Next arrived a two-tiered tray. The bottom level included four crostini each with a different topping: egg salad, smoked salmon with a dab of creme fraiche and a caper, chicken salad, and a tea-rubbed pork. (A tea and spice rub is applied to the pork a day in advance.) Other than the pork, the selections were not particularly unique, but they were beautifully prepared and were very fresh. The top level of the tray included an absolutely luscious chocolate dipped strawberry, a sugary melt-in-your-mouth petit four, a truffle rolled in cocoa and crushed nuts, and spice cake that was moist and light. The second tea was "Autumn Reverie," a blend of five black teas, Chinese herbs, fruit, and flower petals. The liquor was red and the scent was surprisingly savory. At first I was thinking of things like plum, lime, and sage. Suddenly it hit me. It reminded me of a piragua (cone of shaved ice) I had in Puerto Rico that was flavored with tamarind.
The last tea was called "Visions of Sugar Plums." It was a Sri Lankan (Ceylon) tea with pear, plum, and cinnamon. The liquor was orange with a sweet scent. The pear was the dominant flavor for me with a hint of cinnamon. The plum seemed to add a little depth, cutting the sweetness of the pear. It was served with a decadent little creme brulee made with their Earl Grey blend.
Afternoon tea is offered at the Park Plaza from Friday through Sunday from 3:00 - 5:00 p.m. I should note that Swans Cafe is located in the lobby of the hotel. This can be a bit distracting, but the service will quickly make you feel as if you are in your own private world. There are generally three tea options - a traditional service, a seafood service (which includes lobster salad, shrimp salad, tuna, and smoked salmon sandwiches), and a vegetarian service. A tea cocktail menu is offered as well as a selection of special tea blends. Appointments can be arranged with the tea sommelier for tastings.
Swans Cafe, Boston Park Plaza Hotel & Towers
50 Park Plaza at Arlington Street
Boston, MA
Fri - Sun: 3:00pm to 5:00pm
Reservations are recommended: 617-654-1906
Katrina Ávila Munichiello is a freelance writer who blogs and writes advertising copy and magazine features about tea, food, food allergies, and parenting. You can find her at her blog (teapages.blogspot.com) and her website (www.kamwrites.com).