Reviews
Green Tea for the Fearless Newbie!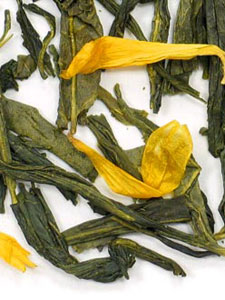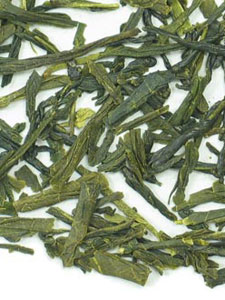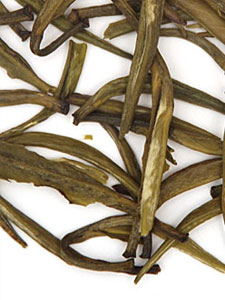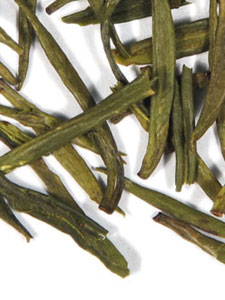 Greetings for the New Year. I hope your holidays were filled with abundant joy. In the midst of winter, the gardening catalogs remind me that Spring is coming and green will soon be coloring these white and gray hills.
Hi! My name is Marlena and I am a retired psychiatric social worker, librarian and pastor's wife. I live in a small town in the Southern Tier of New York, about 15 miles north of Binghamton. When I was growing up, my grandmother was the only person I knew who drank green tea; Lipton's in the green and white box and some sort of gunpowder. I loved to watch the little balls unroll. In college I occasionally had tea, but I was really into the other, "more sophisticated" brown liquid, coffee. About 25 years ago I received an Upton's catalog and I had to get into tea, if only to get that catalog. Almost drinking exclusively black, as I knew nothing about either green or white teas; pu-erh and yellow teas had not been heard of in my neck of the woods. Since then I have been brave enough to venture into green and oolongs and it has been an interesting ride.
You might say I am "green" [a newbie, probie, neophyte, tenderfoot] to green teas. This review is going to be a learning experience for us both. At first most of my green experience was with Japanese teas and that, to my mind, is a whole 'nother kettle of fish. I think many of the ones I tried tasted fishy or seaweed-like, so I have spent more time with the Chinese, which I like a great deal more
The real key to trying green teas is Don't Be Afraid. Follow a few simple rules and you'll be fine.
First of all, have good tasting water. If yours isn't, use a filter or buy some good stuff. Second, measure out about 2 teaspoons of large-leaf tea, or one of small leafed, into your 1 cup tea pot or infuser. Most green teas are large leafed. Feel free to play with the dry leaves and really sniff both the leaves and the brewing tea. Some folks will even chew the leaves for more taste! The next big hump is water temperature. Because green teas are not processed as much as blacks, they are fussier. Sort of like the princess and the pea. ss and the pea. If you have a thermometer, use it and keep the temperature about 170. If not, boil your water in an open pan on the stove and when it starts steaming or getting little bubbles around the edges, it's ready. Pour it over the tea, cover it and let it brew for 2 minutes. If it doesn't seem strong enough, let it go another 30-60 seconds. Strain out the leaves and drink up! Sip it carefully at first, but when it is cool enough, take enough to fill you mouth so you get a good taste. If it is bitter, you either used water that was too hot or brewed it too long,
So let's try a couple teas from our kind hosts at Adagio. If you are new to green teas, you might want to try a flavored one, thereby getting the benefit of green tea as you make up your mind about taking the plunge. Apricot Green is a very pleasant fruit flavored tea. The apricot flavor is real and full and lasts throughout the whole pot. It is sweet without being cloying and would make a great iced tea. A delightful introduction to the "green" world. If you like it sweet, you could add a bit of honey or sugar or you could spark it up with a bit of lemon or apricot juice.
Sencha Overture is rightly named as it would be an excellent beginning or introduction to plain green teas. It is the tea most commonly drunk in Japan. The needle-like dry leaves are silky, slippery and bright green. Following the directions above, the brewing tea smells like fresh grass, with a nice whiff of asparagus. Which is what it tastes like, too, with some floral overtones and a hint of tartness to keep it grounded. While not as mild as some, it is mild enough for almost anyone new to green tea. As it cools, it seems to change character a bit, becoming toastier, with a fuller flavor that is not as grass-like. Almost a whole journey of taste in one cup!
Kai Hua Crescendo, also called Long Ding ('Dragon Peak' in Chinese)is one of the "Ten Famous Teas" of China. The leaves are long and slender, very crisp feeling, like dry pine needles. They smell green with maybe a wisp of asparagus, maybe a bit of flower. The brewed tea is a very delicate shade of tan. This is a very delicate tasting tea with a floral note coupled with a nuttiness that is a bit sweet. It makes your mouth feel full. One or two drops of lemon really brings out the flavor, the tiniest bit of honey would too.
Green Needle is the last tea I will discuss here. The leaves are so big you should use about 2.5 teaspoons of tea to a cup. The leaves smell a bit like flour with a greenness to them. The brewing tea could remind you of the circus, with a blend of cotton candy and popcorn scents. The liquor is a light tan and it is a delicate tasting tea, a balanced cross between nutty and floral. Surprisingly, a bit of lemon brought out a bit more of the floral. It is a really pleasant mild tea.
I would encourage any of you "greenies" to buy some samples and try them. Don't Be Afraid, use good water, don't over heat these princesses and you'll do fine. Play with times and temperatures until you find ones YOU like. And if all else fails and you hate the tea anyway, put it in your compost pile, water your plants with it, or give it to a friend, preferably a princess.