Enjoyment
Adagio Teas' Online Shopping Guide Holidays 2009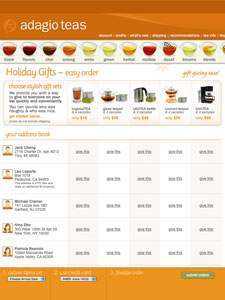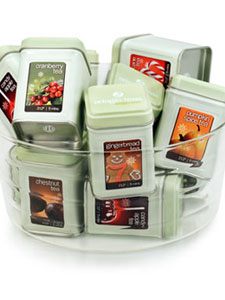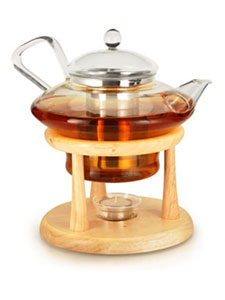 Technology has made it possible for anyone with access to a computer to do an array of things, most of which make our lives easier and you can even say make us more productive. One of these things that have changed most people's lives is the realm of e-commerce; online shopping. Now, while sitting in your pajamas you can order from all reaches of the globe any sort of item imaginable. You can hunt down bargains and search for the rarest of objects with one click. Adagio Teas is pleased to be one of the premiere spots online to purchase gourmet tea, and since we've started back in 1999, we have developed and reworked our site. This holiday season we hope to make it easy for our beloved customers to order teas for either loved ones or themselves. Hopefully, this article will serve as a guide to make your holiday shopping easier!
First things first- be sure before you start any sort of online shopping, regardless of where you're ordering from to have all your information ready. This includes the shipping addresses and names of your gift recipients (if you're ordering to be shipped directly to them), your email and account information, the credit card you're using, and a list of probable gift ideas. It helps to be organized, especially if you are ordering from numerous sites to various addresses. It also helps to note the recipients on your list and what kind of teas they like. Maybe Grandma only likes Earl Grey flavors, or Aunt Mary is on a caffeine-free regiment. With your list and info at hand, start shopping!
We've introduced a new feature to our site that'll make it even easier to order to several addresses. If you visit our Holiday Quick Order page, you'll be able to order from our popular gift sets to all the addresses stored in your account. You'll also be able to add personalized gift message to each recipient, gift-wrap options, and the ability to delay the packages to a later delivery date. Each order will be placed as if it was a separate order, so be sure to note this amount in shipping costs. Before visiting this site, though we ask that you verify that your credit card information is up to date and that your gift recipient's addresses are also current. You can always check this information by logging into your account on the homepage.
Speaking of your account, did you know how useful of a tool your account page can be? Since we offer email support and Live Support from 10:00am to 5:00pm EST, Monday-Fridays through the holiday season, we allow you to cancel your orders if you feel like you've made a mistake or if you change your mind. You can do this through your account by going to order history. If your order contains a signature blend, feel free to email us and we can gladly cancel your order. We hope you, our customers understand that due to the volume of orders over the holiday season, we cannot easily intercept orders in our warehouse- we run a pretty quick operation, only to get your package out of our warehouse and off to you as soon as possible. Again, you are also welcome to return any items you wish not to keep (check out our FAQ on our return policies)- if you have any questions about returning an unwanted item, just shoot us an email and we'll be more than happy to help you out! You can also track orders, send out promotional $5.00 gift certificates to other tea shoppers, and review your teas for more Frequent Cup Points from your account. So many options, all in one place!
We are notorious for shipping quickly, and we hope that this is one of the reasons why you're ordering your tea with us! However, we decided this year to allow the ability for customers to delay shipments to a later date. If you have any questions about times in transit, let us know! You can choose to delay your shipment during check out. This is useful if you're traveling a lot in the upcoming weeks, or wish for your recipient to receive their gift closer to the appropriate date and holiday.
This holiday season we are also excited to unveil some new packaging, in the form of our newly designed tins! These tins are totally fresh and do look different from our previous sage-green tins. They will look quite sharp tucked in a gift-wrap box, or in a gift basket. We hope they are a hit with those you are gifting with tea this year!
If you're visiting our site as a newbie, meaning that someone dropped a hint on their wish list for some our teas, or if you're unfamiliar with the many kinds of teas our there, feel free to chat with me on Live Support. I'm at the helm from 10:00am to 5:00pm EST and will be more than happy to provide gift suggestions for any sort of tea lover in your life.
Still stumped on what to get someone this holiday season? We do offer electronic gift certificates that can be delivered at any time into your recipient's inbox. Note- you should have the proper email address that your intended recipient will use before making this purchase. It's also a great last minute gift since we 'deliver' them 24/7!
Be sure to explore our site for your gift giving needs. Need small gifts to stuff stockings or give at a holiday office party? You'll find our popular , cream and sugar set, a box of our gourmet teabags, and our brand new Tea Honey by Savannah Tea Company. Sample sizes and small tin sizes of our teas also make perfect stocking stuffers. If you need to impress, look to our fine selection of teaware- like our elegant glass teapot and our useful utiliTEA kettle.
Order early so you have plenty of time to get your presents under your tree! If not, we also offer express shipping. Let us know of any questions you have this holiday ordering seasoning and we'll be more than happy to help. We hope that we'll be able to be part of your holiday festivities- be sure to have a cup of tea when ordering!