Profile
The Association of Tea Bloggers: An Introduction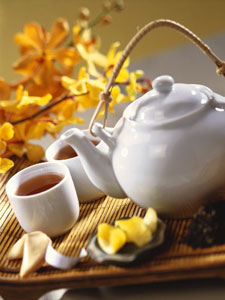 If you've ever tried to learn about teas by doing research on the Internet, you probably got confused about some information. How much caffeine does white tea actually have? Does oolong tea help you lose weight? What's the difference between an yixing pot and a gaiwan? How do I choose and prepare the right tea for me?
The Association of Tea Bloggers offers a beacon of clarity. The ATB is a group of tea bloggers who have joined together as peers to improve the quality of our blogs while serving the needs of the tea community.
Since accurate tea information is important, the ATB works to share information from tea retailers and tea researchers to promote a greater understanding of tea and tea culture. The organization does this through community forum discussions, sharing of links to reliable information, and group projects. One recent example is the Green Tea Flavor Project, which several members have started working on. ATB members worked backward from tea tasting research. We studied common flavor elements from the research, reproduced them, and then went through our tea collections to discover which teas offered stronger examples of those flavors. Results were educational and fun for us bloggers and our readers. Two recent flavors discussed include seaweed and parsley.
The ATB also reaches out to the larger tea community. An ATB representative attended the World Tea Expo in Boston, and a screening of the new documentary and book "The Meaning of Tea" in New York City. Our presence at events like these keeps us in touch with the direction of the tea industry and enables us to be a united voice for our blog communities.
You can find the Association of Tea Bloggers on their website. If you're interested in joining the community check out this page for more information.
TeaMuse.com is pleased to feature a blogger and news from the Association of Tea Bloggers in future editions of our online newsletter. Please feel free to let us know what tea topics you'd like them to tackle by emailing us at info@adagio.com