Reviews
Traveling Teacup: Herons at The Umstead, NC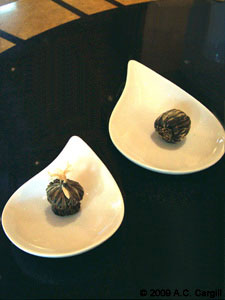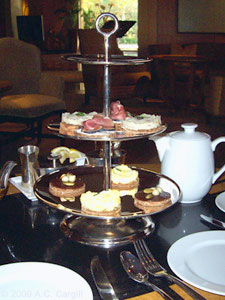 To me, tea isn't just a drink but an essential part of life. How wonderful to discover a cut-above afternoon tea being served practically in my backyard: Herons at The Umstead Hotel and Spa in Cary, North Carolina.
Their reservations system (a bit clunky) involves calling, leaving your name and phone number, then waiting for them to call you. They didn't take long, though, and had an opening in their afternoon tea seating on the date requested. They also called me the night before to confirm the reservation (a nice touch).
Hubby and I arrived a little early and took time to walk around the grounds and building. When we went to be seated, we were led to a lounge area, not the restaurant, since afternoon tea is a special service. This location, open to the front lobby with people coming and going, is definitely not cozy. Other than this, we were extremely pleased with the experience.
Our server, Fereby, was very accommodating. I was intent on experiencing a flowering tea and requested to smell the dry teaballs before selecting one. She brought out the two I was trying to decide between. My top choice was "Loyalty" (white tea with jasmine). The floral notes didn't overwhelm yet were sufficiently present to be part of the tea experience, not just a word on the menu. She brought the glass teapot, filled with water heated to the right temperature, to the table, then dropped the teaball into it.
Flowering tea is one of the most sensate experiences any true tea aficionado can have. Your sense of smell comes into play before, during, and after the infusion is made. Your vision is excited by tea leaves expanding out, revealing flower petals inside. Your taste is tantalized with every sip. Such was my experience. The tea "liquor" was light in color, delicate in fragrance, a perfect taste balance between white tea and jasmine, and needed no sweetener.
My husband enjoyed an Oolong and was equally pleased. He also had a second pot of tea, an Earl Grey that took milk and sweetener well, the bergamot taste and fragrance nicely mellowed.
Important to any afternoon tea is the food. Herons' chef has assembled a three-course varied and satisfying palate of flavors. The first course looks deceptively sparse, consisting of little round "sandwiches" (thin bread with toppings): smoked salmon with dill cream cheese on pumpernickel bread, curry chicken salad on ciabatta bread garnished with cashews, Elodie Farms goat cheese with watercress on wheat bread rolled in toasted pecans, and cucumber mint on white bread. Each was an exhibit of the chef's art and together were quite filling. Although tasty, they showed signs that they had been pre-prepared (there was a bit of dryness around the edges). The next course was buttermilk scones served with preserves, Devonshire cream, and lemon curd — another major taste hit. Last was an assembly of mini-desserts, each sensational yet part of the flavor symphony: cornbread Madeleine, macaron & fresh strawberries, and grand Marnier Chantilly..
We enjoyed all of this while listening to a talented harpist playing.
Afternoon tea reservations are required. Herons also offers breakfast, brunch, lunch, and dinner menus, featuring local farm products. Their casually elegant décor, created by renowned luxury hotel designer Frank Nicholson, creates a soothing dining atmosphere. Also enjoy their full service spa and browse their artwork display.
Herons is located in The Ulmstead Hotel and Spa
100 Woodland Pond Drive
Cary, NC
Tue - Sat: 2:00pm to 4:00pm
Reservations are recommended