Enjoyment
A Journey Through Chinese Food and Tea Pairings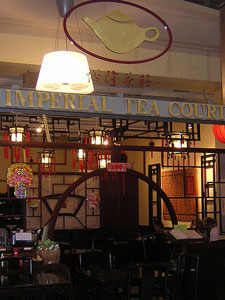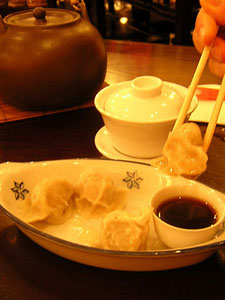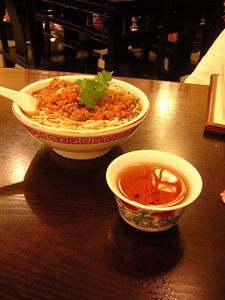 Visit any Chinese restaurant and you will always be served a big pot of tea with your meal. Whether you're enjoying heaping plates of spicy Szechuan food or selecting appetizer-sized dim sum from a bevy of carts in Hong Kong, having tea with the meal is as important as having a plate to eat on! But just as the flavors of Chinese food vary by region, the teas you would be served vary by region as well.

The Imperial Tea Court is ideal place to explore Chinese teas and cuisine. Husband and wife duo Roy and Grace Fong established the Imperial Tea Court to bring the experience of a traditional Chinese teahouse to the San Francisco Bay Area. They even imported custom-made furniture for their stores, modeled in the Ming dynasty style furniture of northern China.

At the San Francisco shop, my friend Cassandra and I felt like ancient Chinese royalty, sitting in the dark rosewood chairs with lanterns hovering our heads. The Tea Court serves an expansive array of teas and all-organic Chinese food. Faced with the menu, we got that deer-in-the-headlights feeling. Where to start? Fortunately Roy was on hand to recommend some excellent food and tea combinations.

We started with the Jasmine Pearl green tea and Dragonwell Pork Dumplings. Each leaf of tea is hand-rolled into little pearls and infused with the fragrance of sweet jasmine blossoms. Jasmine tea may seem like a delicate drink. However, you will find this tea being served in northern China accompanied by strong dishes such as lamb or green onion pancakes.

The Tea Court's standard tea service is presented in a Chinese lidded bowl, or "gaiwan." You can sip directly out of the gaiwan by using the lid to hold back the leaves, or decant it into separate cups. Our server brought us a large clay pot filled with hot water, so we could re-infuse the leaves many times.

As we watched our jasmine pearls unfurl in the gaiwan, we sampled the tender dumplings stuffed with pork and green tea. What a revelation! Roy created the pork dumplings specifically to pair with green teas, and we could see why. The dumplings and jasmine tea were the perfect marriage of salty and sweet.

Next we decided to try an oolong tea. Depending where you are in China, you may be served a light, floral oolong or dark, roasty one. We opted for a medium roasted Wuyi Yan Cha, similar to teas served in a southern China dim sum restaurant. We paired it with the baked spring rolls, a popular dim sum item. It was another magical combination! The roastiness of the tea matched the crisp breading around the spring rolls. Like most dim sum items, the seasonings in the spring rolls were flavorful, but light enough to allow you to taste the complexities in our oolong tea. Each infusion of the Wuyi oolong brought out different notes. It was smooth and chocolatey, with hints of honey and cherries.

No tour through Chinese food and tea would be complete without puerh tea. You could ask for this dark, earthy brew while eating in a Hong Kong noodle shop. Puerh teas are created to age over time, which gives them distinct earthy qualities. In China puerh is popular as a digestif that can dispel grease in your system after a big meal. Its robust flavor stands up well to spicy food too, so we paired our aged 30 year-old puerh with the spicy pork noodles.

Coffee drinkers tend to like puerh; the tea can even resemble coffee's pitch black color. However, puerh is not everyone's cup of tea—Cassandra was a little ambivalent at first, though she gamely tried a cup. Soon she declared it to taste better than it smelled… then she declared it to be her favorite of the three teas! It tasted like nature—floral and loamy like a garden after a rainstorm. We slurped up both tea and noodles all too quickly!

When Roy and Grace opened 16 year ago, most customers would never have known what an oolong or a puerh tea was. But over the years, the couple has enjoyed seeing more and more people become interested in tea. Roy regularly holds tea classes to introduce people to brewing Chinese teas, and devoted customers can't wait to try their newest shipments of Chinese teas.

Not surprisingly, both of the Imperial Tea Court locations are in havens for gourmet foodies—San Francisco's Ferry Building and Berkeley's Epicurious Garden. In the Bay Area people are always looking for a new flavor experience, and the Imperial Tea Court gladly immerses these explorers into the flavors of Chinese tea and cuisine. The three teas we tasted were just a few in spectrum of teas. After our brief tour through Chinese foods and tea, we left the Imperial Tea Court convinced that there truly is a tea for every mood, and a tea for every food!

Please check out this recipe from the Fong's blog for Green Onion Pancakes

Please also stop by the Imperial Tea Court's website.

Tiffany Picard is a tea-infused marketing consultant. She offers a menu of services, including as internet marketing, product design, and research. Visit her website at www.t-consultancy.com.