Culture
Meeting Tea Taster/Blender Cynthia Fazekas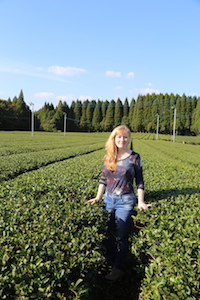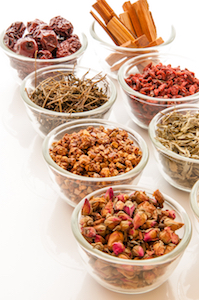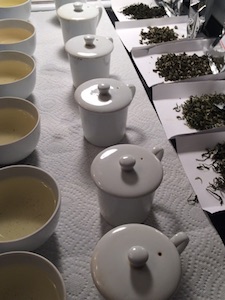 Have you ever considered a career in buying, tasting, and crafting teas and tea blends? Then you may be interested in becoming a tea-taster/blendmaster like Cynthia Fazekas at Adagio Teas, who has been working with tea for nearly 20 years. Her role combines a deep passion for the Camellia sinensis (tea) plant and extraordinary expertise on how to care for and maintain the desired characteristics and personalities in every batch of tea. Throughout our conversation, Cynthia beamed over the true focus and immense responsibility of the job, as well as how tea-inspiration can come from some of the most unexpected places.

TeaMuse: What are some vital tea-taster/blendmaster skills?

Cynthia Fazekas:In order to be a tea-taster and blendmaster, one needs an extraordinary wealth of knowledge about a variety of teas, their characteristics, and archetypes of flavors. Developing a sensitive palate is also very important. Blending requires an understanding of the sensations and characteristics necessary for each tea, as well as flaws that could be present. There is a green tea we always buy that tends to be fruity with a hint of nuttiness, but if it comes in smoky, it is not in the range of acceptable characteristics!

TM: Can you tell me what your day looks like?

CF: I can taste as many as 30 harvest samples in a day! To keep my palate clean, I start with the most delicate teas and move on to the most potent. For example, Jasmine tea can linger on the palate, so I have to save it for later in the day. My go-to tea to check my palate is the Sencha Premier, because I always know what it is supposed to taste like. If, for instance, the Sencha tastes muted, an allergy issue might be present, and I have to pause tasting for a few hours.

In the spring and summer, tea growers from various countries will send their harvest samples directly to Adagio. Cupping helps evaluate if a tea will work with the existing blends. Because a tea's flavor can change with the weather, I have to analyze every sample in the cupping process.

Being consistent in this process, with each type of tea, is key because a certain water temperature, steep time, and amount of tea per cup is required in order to properly taste each sample. The role of blendmaster only calls for creativity about 25% of the time. My primary focus is on assuring the quality of every tea in our company.

TM: What are some of the tools you use to blend tea?

CF: The tools of the trade are fairly simple. I use a thermometer, timer, scale, leaves, ingredients and flavors, pipettes, gloves (to ensure the flavors don't stay on my skin for weeks at a time), and stainless steel bowls and spoons. To start, I blend samples a few ounces at a time to find the perfect formulation for a cup of tea. Then that recipe can be scaled for a larger batch. Typically, 250 pounds are blended at once in one blending machine. However, we've done as much as 3,000 pounds in one day.

TM: Do you have any favorite inclusions that you use for blending?

CF: Some of my favorite elements are neutral flavors or ones that can carry other notes. Dried apple pieces and flower petals are aesthetic enhancements, whereas cinnamon and ginger add to the aroma. Ginger also has a feel good quality because it aids in inflammation and treats upset stomach; it also adds a spicy kick.

TM: How do you cleanse your palate after a smoky tea such as Lapsang Souchong?

CF: To cleanse my palate between more potent flavored teas, I use crackers, lots of water, and oddly enough, bananas, followed by more water. It is important to eat clean and stay hydrated to protect my taste buds!

TM: Can you name a unique or interesting blend you've created? How was it discovered?

CF: The Pu Erh Hazelberry came about because of the attention Pu Erh was getting for its medicinal benefits. It is a variety of tea that is fermented and aged, and while it is healthy, it also has really strong, earthy notes making it challenge for mainstream consumers to enjoy. I wanted to create a blend that made Pu Erh more accessible to customers. A food blogger's smoothie recipe is what inspired this blend! The original smoothie contained cream, hazelnuts, chocolate, and strawberries. They are great flavors that work magically with this tea!

TM: Do food blogs help you keep up on tea and flavor trends?

CF: It is great to be an adventurous foodie! I watch what chefs are doing because those trends are in the cultural mindset. A lot of chefs started incorporating matcha into their food, making those flavors more popular and available. We created flavored matchas this past year because of that. I also read a lot of menus and food magazines to generate ideas on flavor combinations. Conversations with fellow blendmasters about flavors and different inspiration sources are also rewarding. It is wonderful! Tea blends can be inspired from music, art, and literature, and then funneled into flavors.

TM: Any advice for an aspiring tea-taster/blendmaster?

CF: Yes! Anyone who wants to become a blendmaster needs to study and get familiar with every variety of tea! They must learn about and stay consistent with cupping, while keeping good notes. It is especially important to separate your own personal tastes from what is important to the company and greater tea community. Finally, aspiring blendmasters must take great care of their palate. Spicy foods, while delicious, can dampen your sense of taste for a couple of days. It is important to avoid them in order to maintain a sensitive and clear palate.

For those interested in developing their background in creating a perfect cup, adding flavoring to teas, and tasting teas, hop on over to Tea Class to get your education started!