Tea in Art
Tea and Art: Jeff Axelrod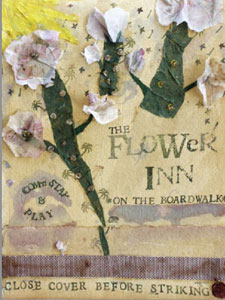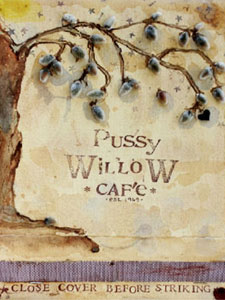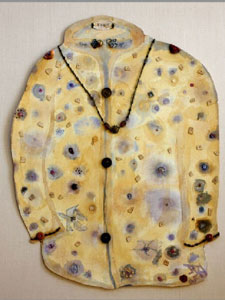 At this year's World Tea Expo some of us at Adagio Teas attending were able to make the acquaintance of a very interesting artist, Jeff Axelrod. Axelrod came to using tea in his art after a storied life which brought him to his current residence in Sausalito, California: his home also serves as his inspiration for his ornate works of art.
Axelrod grew up in Massachusetts and after getting in and out of trouble at a number of schools, he picked up and moved out to Cape Cod where he worked slavishly at 3 jobs and finished school on his own. He describes this time as a period where it wasn't an admirable trait to be artistic; it was considered being rebellious and not with the norm. His artistic inclinations did not form just yet however.
It started when Axelrod moved to the Big Apple, New York City. With a small family to support, he opened and operated a gas station and parking lots in the heart of Midtown Manhattan. With the bustling city around him, he began to open up. After his family moved back to the quiet of Cape Cod, he stayed on to manage the businesses. While living in the city still, he was able to explore arty Greenwich Village; the haven for such souls. Galleries beckoned to him from Chelsea, cafes in the Village and it became his new scene.
Midway through the 60s, he closed the family business and moved out to San Francisco, a city with the similar free-spirit vibe New York's Village had to offer. Many friends agreed he would be a good fit. He then started a silk-screening business and found himself printing tee shirts for the Grateful Dead and partying. At the end of the 70s, he sold his business, tired of the lifestyle and competition overseas markets and hit the road traveling and discovering the country only to be brought back to Sausalito.
In his new home, he found that he was inspired to create. In his old business he had to work through designers who produced the imagery for shirts; as he states, "I used to live through their hands". Surrounded by the natural and earthy vibe of his new home he turned to a very natural ingredient- tea, which he uses to paint the backgrounds. He utilizes 'assemblage' on top of the paint: the art of gluing ornaments and objects. Elements of collage are also evident in his work.
His tea painting takes on a particular process. He takes a variety of loose leaf tea and brews them in series of 15-20 clear glass jars, this way he can see what colors he comes up with. He states that half of the fun is watching what color he will end up with. From there he mixes colors to make his paints, which is similar to water colors. However, he thinks that he gets better color with his tea paints, then anything he could get from basic watercolors.
Though many may think that his pallet of colors is limited, there is a surprising amount of colors he has discovered. Berry and plum fruit teas make for purples and blues, matcha produces a green color, rooibos for orange, chai mixtures for a range of browns. He paints a base of tea color on papers with earth tones as a backdrop and lets it bake out in the warm sun- this prevents any sort of fading. From there he will continue to apply paint, or add his ornaments and found objects. Most of his objects are finds from garage sales, on the street, from friends, from his travels, and artifacts from his childhood. His works are then multi-dimensional and reflect a variety of themes. His works remind me of beautiful vintage ephemera, a bit of arts and crafts, and bright sunshine. He is inspired by his surroundings in Sausalito- the roll of the fog, living by the water, and glimpses of scenic views.
In his search for different teas to experiment with, Axelrod began to embark on a mini campaign to put in requests with various tea companies for samples of their teas. A friend advised him of the annual World Tea Expo, the tea industry's largest gathering and he was relieved not to have to put so many letters in the post. At the expo he met with many companies and met other tea enthusiasts, along with our company, Adagio Teas. He finds that the tea industry is way easier and a lot nicer to work with than those in his past industry of apparel. He is also thrilled that many were receptive to his art and it has served to be a fodder of inspiration.
As for tea to drink, Axelrod grew up on black tea with lots of milk and sugar and it wasn't until he moved to California that he discovered the wide variety of teas. At first he would set aside his tea to supply the inventory for his paint, but as he came into more and more, he happily drinks and paints away with a diverse selection of teas.
If ever in Sausalito, you will probably see Jeff Axelrod's work hanging in various cafes and restaurants. He has also had his work on display in various galleries in the city and at the annual Sausalito Art Festival.
Please visit Jeff Axelrod's website for information on how to purchase his works as well as view more images of his paintings.