Reviews
Seattle Tearooms
In the culinary city of coffee and microbrews, you can also find a delicious pot of tea. With all the big coffee establishments, the original Starbucks, small roasters and places with names like "Sip and Ship" the coffee culture is strong. Happily, the depth of variety in Seattle's fresh food, gifts of the sea, craft beer and coffee also extend to tea.
You need more than a few days to truly experience Seattle. Each neighborhood begs for an afternoon to itself, especially with the quality of teahouses in this city.
Ballard is one of Seattle's oldest neighborhoods; founded by Scandinavian immigrants in 1853. The locale retains a connection to its Nordic roots, in addition to its maritime history with the Hiram M. Chittenden (Ballard) Locks. It is a hub for unique and eclectic artists, boutiques and bistros. Of Swedish heritage, I have been drawn here since the early 1980s when my parents and grandparents brought me to visit. This time I went with family for tea.
Dubbed "Seattle's first authentic Chinese Teahouse" Floating Leaves in Ballard is a joy. The focus here is entirely tea and specifically quality Chinese and Taiwanese varieties. The ambiance is soothing, decorated in dark wood and Chinese antiques to recall teahouses in the owner's native Taiwan. Classic and local Asian music fills the space. Shelves of tea accoutrement beckon one to further involve themselves in the art of tea. My aunt, cousin and I enjoyed two oolongs gongfu style. This methodical process draws your attention to the tea as you pour and drink several steepings from tiny cups. Gongfu aroma cups are designed to guide the smell upwards to transfer the fragrance and more fully appreciate the tea. Our first, the Bao Zhong Honorable Mention, faint green in color, is fresh and subtle with a floral aroma. The second, Oriental Beauty, is more oxidized and roasty with overtones of honey. The merchant brought us a third oolong to sample, one of his favorites, Bai Hao. A cup with a deep red color, smooth and mild flavor mixed with white buds that give the tea its name. We spent a lovely afternoon here. This teahouse embodies the cross-cultural enjoyment of tea here in the US.
Also in the historic core of Ballard, we stepped into Miro Tea, a contemporary tea bar with a modern Chinese sensibility. They cater to the urban tea drinker giving them quite a full experience. The ambience is important here, and with free Wi-Fi it is a great place to connect with friends. An earthy color scheme with unique textures and surfaces, high ceilings and chic furniture create an updated version of a teahouse. Their 200+ loose-leaf teas are offered in bulk and the extensive collection includes many organic and fair-trade teas. They concoct many inventive tea infusions and serve both sweet and savory crepes. What a great addition to Ballard.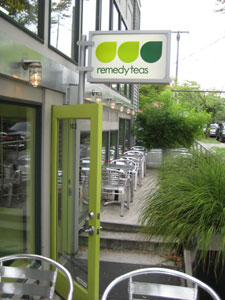 On the other side of town, Capitol Hill's 15th Avenue has a stretch of great shops. My first thought when I stepped into Remedy Teas was "I could move in here!" With 150 teas, goodies, free wireless and a fresh atmosphere it is the perfect place to spend time. The concept is contemporary. White-lidded tea jars marked with large numbers 1-150 line the back wall. Glass, steel, white tiles and lime green accents craft a hip café feel. Pendant lighting and fresh flowers soften the space. The all-organic selection is grouped into wellness, white tea, green tea, oolong tea, black tea, pu-erh tea, rooibos, yerba mate, botanicals (blends), and pure botanicals. Many are their own creations. Teas are brought to your table on white trays with timers and tea light warmers to help ensure a tasty cup. Full tea service is available featuring unique tea sandwiches with names like Cuke Classic, Ravish and Apple Pie. The delicious food from various vendors around the city includes organic ingredients and vegan options. To calm the sweet tooth there is a full range of cookies, truffles and desserts. For tea with a twist try a Mimosa made of Earl Grey white tea, champagne and orange juice. Organic beer and wine round out the menu. I look forward to working my way through all 150 teas.
Just up from the waterfront and its must-see Pike Place Market is the Perennial Tea Room. This spot is more of a shop than a place to sit and savor a pot, although they do have a few teas available to drink on the premises. Within their array of over 100 loose-leaf teas they have several house blends and teas from other vendors including Silk Roads, Harney and Sons and Barnes and Watson. The selection of books, teapots, tea accessories, gadgets and British-style afternoon tea paraphernalia is extensive.
I am already planning my next trip to Seattle. I would return to all of these places, plus the many other teahouses to experience in this great Northwest city.
Floating Leaves
Miro Tea
Remedy Teas
Perennial Tearoom

For additional recommendations for tea enjoyment throughout the country, please visit Elin's website