Reviews
Traveling Teacup, Thé Adoré NYC
Thé Adoré
17 East 13th Street, between 5th Ave. & University Place
New York, New York 10003
212-243-8742
Mon - Fri: 8:00am to 6:00pm
Sat: 9:00am to 5:00pm
Lunch: 11:45am to 2:30pm ($5 minimum)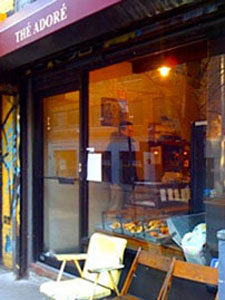 February in New York City is about two things: escaping the bitter cold of a Northeastern Winter and embracing the sweet warmth of Valentines Day. NYC's Japanese-run, French-styled tearoom Thé Adoré is ideal for both. As an oasis of calm in the hustle and bustle of Union Square, it offers sustenance and succor for the sidewalk-weary pedestrian. As a tearoom that was born out of Japan's love affair with France, it offers an understated Japanese simplicity and provincial French charm that can bring a smile (and an exceptional cup of Mariage Freres tea) to the lips of the most hardened, been-there-done-that New Yorker.
Thé Adoré is a culinary treat that's a dollop of location, drop of Zen, and a dash of content je ne sais quoi. However, in addition to a cool cross-street, an oversized window with a stunning view of sunlight filtering through tree branches, and rustic wooden surfaces accented with quaint touches like worn enameled pots hung from wooden pegs, they serve up fantastic drinks and dishes. With a menu of more than 30 teas, three tisanes, breakfast, lunch, desserts, a variety of coffee drinks, juices (sparkling and fresh-squeezed), and mineral waters, you can tell that Thé Adoré aims to please. The looks on the faces of the casually cool clientele (mostly hipster-ish intellectuals on morning-after breakfasts and creative types on informal business lunches) will tell you they succeed in this endeavor.
The tea menu is enough to make any tea lover's heart skip a beat. It is impressive in that it is both wide and deep in focus. It includes 11 decadent aromatized teas, which are a noted French specialty. (The sweetest of the aromatized teas, a black tea with hibiscus and mallow blossoms, is rather appropriately named 'Eros.') There are five (yes, really, five) variations on the classic Earl Grey, the simple fact of which begs for a tasting session. (If you'd rather just sample the best, go for the Imperial Earl Grey.) The menu nods to the tearoom's Japanese lineage with the inclusion of Soba-Cha, Sencha, Genmaicha, and Houjicha. Chinese teas (served in Yi Xing pots) include a light and a dark Oolong, an Imperial Keemun, a fragrant green Jasmine, and a Lapsang Souchong. India is somewhat overlooked with only two teas each from Darjeeling and Assam, but Thé Adoré compensates with the inclusion of five Ceylon teas, which are often under-represented in tea menus despite their enormous range of flavors.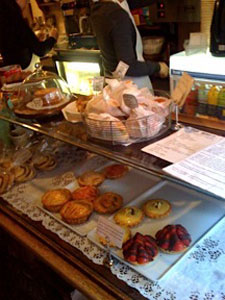 As if this is not enough, Thé Adoré's passion for and commitment to the true flavor of tea is also apparent in their tea-serving policies: no lemon, milk is never served with a self-drinker (a tea that is easily enjoyed on its own), and sugar only comes with teas that are well-suited to it. It might sound a little 'Soup Nazi,'but it's really much more like 'Tea Aphrodite,' helping people fall in love with teas they would have otherwise never truly tasted. And who would believe it's a French tearoom unless there's some degree of pretentiousness? Besides, with so many other beverage options (five types of mineral water, for example), those uninterested in the world of tea without an excess of additives can simply drink something else.
Many of the foods are in the French tradition. The breakfast selection includes brioche toast, a huge hunk of warm baguette with butter or strawberry or apricot Bonne Maman jam, and various pastries and scones. The lunch menu includes the French favorite croque-monsieur, turkey and brie sandwiches, and homemade potato leek soup. They also serve a number of sweets including rich, buttery chocolate croissants, cocoa-dusted milk-and dark-chocolate truffles, assorted cookies (some of which are heart-shaped), and (in Winter only) hot chocolate. Those looking for a showier presentation will love their gorgeous fruit tartlets, which are perfect for sharing.
In previous visits, I have found the baguette with jam, the grilled shiitake and mozzarella sandwich, and the chocolate croissant to be particularly delicious, and I have yet to be disappointed in anything I've ordered there. Every tea tasted there has been excellent. Orders have been taken and filled efficiently and accurately, and special orders accommodated with apparent ease. Though the seating area upstairs only seats 20, it seems to have enough empty seats for incomers all day except lunchtime. The downstairs area (where they also offer Ito En and Twinings tea to go) gets especially busy with the morning pastry- and tea-to-go crowd. Somehow, the place remains calm even during the busiest times.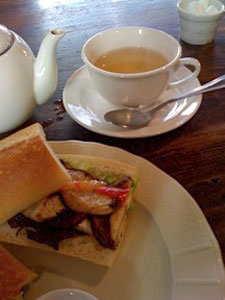 To sum up for those of you who compulsively skim when reading articles online: The atmosphere is cozy without being claustrophobic and warmly romantic without being cloying or cliché. The service is quick and the staff is courteous. The clientele is hip, but not tragically so. The tea menu is wonderfully varied and of exceptional quality. The food is rich, fresh, and satisfying. I highly recommend this tearoom, particularly as an escape from the harsh New York Winter or as a way to embrace the 'Season of Love.'
Before you visit Thé Adoré, here are a few things worth noting: CASH ONLY. (Seriously. There's an ATM around the corner). Vegetarian options are plentiful. Vegan and gluten-free, not so much. It gets crowded during lunch, so if you're alone you may be seated with a stranger (which seems more likely to be good than bad, given the patronage). Also, there's a $5 minimum during lunch hours (11:45-2:30). As I've already mentioned, they are particular about their teas' additives, so if you only like tea with milk and sugar, order a Limonata or (Gasp!) a Viennese coffee instead.
Lindsey 'Vee' Goodwin is a freelance tea consultant and tea writer. She is also a licensed tea tour guide in NYC and a former teabar manager. For more information, visit VeeTea
Please visit Thé Adoré's listing on TeaMap.com