Enjoyment
Monthly Musings March 2008
Hi Tea Lovers!
Another month has snuck up on us. March marks a special milestone in my life- my one year anniversary with Adagio Teas. Also celebrating with me is co-worker, East Coast sales rep Cynthia Fazekas. Needless to say, it's been a good year for both us, with a lot of learning and hard work. Though I would not call myself an expert in tea, I have learned quite a lot. The fact that there is so much more to learn about tea keeps me excited and anxious; tea is indeed a tasty complexity.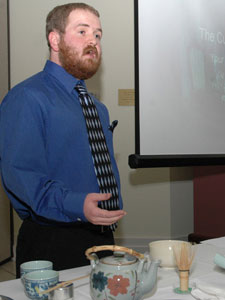 Along with learning about tea, I've had the opportunity to attend events such as the World Tea Expo, try out all different sorts of tea related products, and most importantly meet and interact with people around the world. From the immediate Adagio staff to connecting with chatters on TeaChat. Who would have thought there was such a great community of tea lovers out there? I didn't know until I joined Adagio, and I am happier for it! They provide me with daily tidbits of information, humor, and community and I always look forward to sharing about products or news going on in the tea world.
Several months ago, I had been contacted by one of the board's regulars, Dustin aka Fencerdenoctum. He was interested in putting on a tea-education program at his college where he is a student coordinator. I was only happy to provide some information and products, and this past month Dustin put on his 'Cup of Humanity' program. He treated the forty people in attendance to a selection of black, green, and oolong teas, a raffle for Adagio Tea prizes, and an informative presentation that covered the various ways to prepare teas, the different types of teas world wide, production techniques and tea legends and folklore. From pictures and his feedback, it turned out to be a successful event! Now, students are asking him for recommendations and tips on making the perfect cup.
Of course, I'm always looking for a chance to collaborate with TeaMuse readers and Adagio customers. If you have an idea, please shoot it to me. Til then, happy sipping!
Yours in tea,
Christine