Enjoyment
The Best and Worst in Tea 2007
It's that time of year again where lists are compiled of the best and worst of the year. In tradition of past Teamuse.com writers, I have come up with my own. You won't find Britney Spears' meltdown or the rush for the 2008 Presidential Election on this list, but perhaps it is just as compelling.
Republic of Tea's, 'Be Well' Line
Republic of Tea's latest line features rooibos-based herbal blends, each with the promise to help alleviate or aid in some sort of ailment: digestion, insomnia, weight loss, etc. Though I am a fan of the minimalist design- brightly colored tins with bold typeface, the blends fall short. After several days of trying the "Be Clean" a name that evokes a rather unsavory image-I did not feel that much cleaner, nor was the tea very enjoyable. We all know that tea can be a beneficial drink, but to market certain blends for such seems a bit too gimmicky.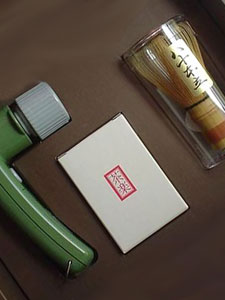 Maiko Tea 'Electric Appliance for Matcha Tea'
This interesting device was brought to my attention by a chatter on our teachat.com message board while he was browsing on Ebay. It resembles a mad scientist's attempt to cross breed a hair dryer and hand mixer- a bamboo whisk attached to a plastic, motorized handle. The simple task of this overly complicated object is to whisk Matcha green tea. Straight out of the 'What the?' file, the device (which comes at a steep asking price) is for pure novelty or for the extremely lazy.
The 'China Concern'
Both large corporations and smaller companies seem to have suffered from the recall of products made in China, causing quite a stir among consumers. The tea industry is also included in this concern, as there have been reports of the use of trucks to crush tea leaves. We can place the blame on various reasons: the desire to keep manufacturing costs down to the lack of standardized factory practices in China, but if we are to learn one lesson from these various debacles it is to be a vigilant consumer, regardless if it the toys our children play with or something you put in your body.
Deaths in Darjeeling
In the past 15 months, scores of tea pickers in the West Bengal region of India have died due to starvation and disease. The closures of various tea gardens have been attributed to politics, intimidation by local thugs, and owner's inability to battle falling tea prices. In the wake of the closure of over 17 gardens in the area, the tea pickers have had no other alternatives for employment and faced the loss of their housing and food security. Along with the report of deaths (the estimate is over 700 people over the span of time), are also reports of disappearances of young female pickers, most likely due to human trafficking. Though there has been talk of reopening the tea gardens through a cooperative process and other progress, there has not been any discussion to the plight of the workers left behind. The deaths have been a definite heartbreak for the tea industry, regardless of your cuppa.
Now to end the year on a positive note, my takes on the best...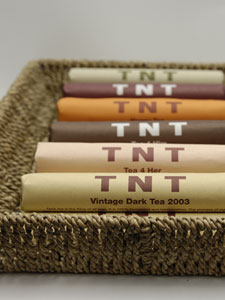 The Art of Tea's TNT Teas
Now, this might fall under the gimmicky-category I disliked with the 'Be-Well' line, with names like - Tea for Her', 'Tea for Him', 'Chill-Out, and 'Sleeping Beautea'. But The Art of Tea's TNT teas put a whimsical yet chic spin on creating a blend to aid the drinker or enhance his or her mood. Each tube contains 20 discs of pressed herbal tisanes, which break apart in your infuser and creates a beautiful array of color and texture. The packaging will definitely make for a conversation starter, but most importantly, the different blends are all rather tasty and complex.
Keiko Tea's Green Kiss Chocolates
I've reviewed this chocolate earlier this year, and it is still a standout among other treats that incorporate tea among their ingredients. The standout feature of this unique chocolate is the bite you get from the inclusion of real green tea leaves. Another notable difference compared to other tea-infused chocolates is the use of cocoa butter as opposed to regular cacoa chocolate, which creates a creamy taste- the convenience of a Matcha milkshake without all the stirring.
Rishi Tea's Sweet Matcha Powder
Speaking of Matcha, Rishi has just introduced their line of sweetened Matcha tea powder, available in Original Matcha, Ginger, and Genmai Cha flavors. Though the company has carried tea powders in the past, all of which are unsweetened, the new Sweet Matcha Powder is a delicious treat to mix with milk or to include in a recipe, and makes tea fun. It is also a great way to introduce tea to younger children, who might be turned off by the taste of plain green tea- it's good to start them young! The tin is also quite darling with adorable cartoon characters promoting the different uses of the tea. I'm a sucker for packaging.
Adagio Tea's anTEAdote goes organic
In September, a container dropped off our new supply of our Certified Organic anTEAdote ready to drink iced tea. At the same time, we also introduced a new member to our iced tea family, oolong. Each iced tea still has the crisp, flavorful taste of our older anTEAdotes, but now you can drink to your health knowing that we used organic tealeaves in making our popular drink. Hopefully, Adagio will move forward in bringing more organic products for our customers to enjoy!
Feel free to disagree or agree with my list- sound off on our teachat.com forum designated for this article. Have a TEA-riffic holiday and new year!