Enjoyment
Hello Tea Connoisseurs!
The time is rapidly approaching where I buy cooking magazines by the boatload and take out all my favorite cookbooks and start planning holiday menus. I might be jumping the gun a bit, but I love to cook and bake and when I get a chance to cook for lots of people - I take advantage of it! I am also planning to share this growing love for tea with friends and family that I haven't seen in a while. I'm hoping that a nice cup of soothing rooibos or a light Silver Needle will help us digest while we are all nursing out post-Thanksgiving food-comas.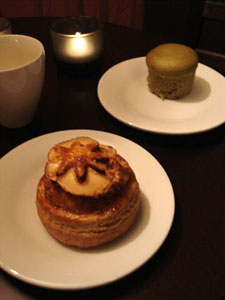 Another way I am incorporating tea during the holidays is cooking with it- I love talking about tea and food! Though this month's feature story does is not about cooking with tea, it is another way to get your Thanksgiving guests to try something new- tea and cheese pairings. Cheese is pretty rich, but along with some great teas and bread and fruit, small pieces can make for a great appetizer while awaiting your turkey. Speaking of turkeys, has anyone ever tried a tea-brine for their bird? If you have, please let me know!
I am also sure that many of you are starting your holiday shopping early. I also prescribe to the 'early shopper' rule, but end up forgetting someone or changing my mind about a gift a week before Christmas. I plan on giving out a lot of tea (naturally). However, if you're looking for an interesting gift for a budding connoisseur of tea, I suggest the new book, The Story of Tea: A Cultural History and Drinking Guide by Mary Lou and Robert J. Heiss. It is a beautiful book that looks great on a coffee table but has an engaging narrative that discusses the history and enjoyment of tea. It covers everything from various cultural tea ceremonies and traditions to ethics in the tea industry. It is available at many online book vendors as well as online gourmet food/specialty sites.
For this month's Traveling Teacup, I visit Amai Tea and Bake House, which is a brand new place on the Lower East Side. It was really fun to try out all the things Amai has to offer and talk to Kelli Bernard, owner of Amai about the work and tribulations that go into opening your own place, but how it is all worth it. She has such a youthful, entrepreneurial spirit that is envious. I thank her for being so accommodating and filling my tummy so much it caused me to skip dinner! Scones and cookies can be considered a good supper, right? If you can't get over to New York City, Amai does have a website that offers their Tea Sweets and Botanical Brownies for sale. They make great stocking stuffers if you're thinking ahead.
Yours in tea,
Christine/xine