Profile
Bigelow Tea: A Recipe for Success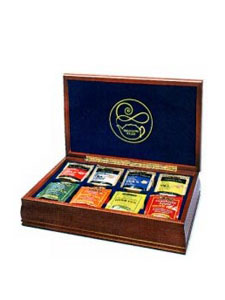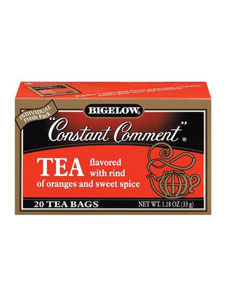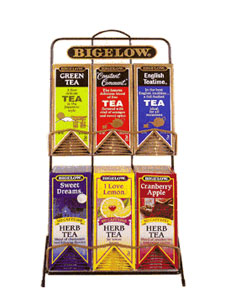 For nearly sixty years, the "comment" about Bigelow Tea is that it has the corner on matching flavored teas to the American palate with such popular items as Raspberry Royale®, Black Currant, and its staple flavored tea, Constant Comment®. The latter was named by its creator, Ruth Campbell Bigelow, who developed the tea at her kitchen table in the mid-forties, allegedly using an "old Colonial recipe" as inspiration to achieve a more zestful flavored black tea. Why she wanted her tea more zestful is an enigma, but then, the wonderful world of exceptional tea imports was barely a dream.
After testing it on her friends and receiving those "constant comments" of approval, Ruth and her husband David launched their company, Bigelow Tea, in 1945 to great and continued success. Constant Comment® could have been called constant success as it remains the number-one selling flavored black tea in the United States. That such an ordinary product with a clinging, intense fragrance should achieve this rank is an amazement to this author.
Often designated as a "tea connoisseur," Mrs. Bigelow was a few notches below having a sophisticated palate. What she did have was a keen sense about what would sell and an understanding that catering to the American public's desire for "zestful" in fragrance and taste is a key to financial success. Constant Comment® retains its huge appeal because it has a strong aroma (predominantly cinnamon, that feel-good spice that connotes hot chocolate, New Year's eve eggnog, and Christmas all in one.) It also has the bit of citrus in its orange peel and "holiday" spices. The reason it is hardly a connoisseur-level product is that it would be impossible to tell what kind of tea is underneath all that flavoring. If anyone can determine if the black tea used is from a particular region in the world, they win the Lynn-Worthy Tastebuds of the Year Award.
Bigelow Tea has since created many firsts, like foil-wrapped teabags to insure freshness and wooden chests for restaurant use to offer diners a choice of tea selections. It is amusing that people would 'ooh' and 'aah' about being presented a cheap wooden box lined with neat rows of brightly colored foil-wrapped tea bags. Does it appeal to those people excited about bright colors and the chance to choose "tea flavors" they like? Is it the box versus reading a tea menu? Wouldn't the true tea connoisseur be much more excited to view a chest of fresh, loose leaf teas they could use to determine color of the leaf, freshness to the nose, and eventually, pleasure in the cup?
It is an investment in education, time, and money for upscale restaurants to make the effort to carefully select teas as worthy as their menu. If you're paying $50 or more for dinner in a fine restaurant, wouldn't it be great to have a genuine Dragonwell or Formosa oolong served elegantly in Chinese accoutrements or a superb winey Keemun or crisp Ceylon in a pretty porcelain pot? As for foil wrapping, of course it retains the flavors of the teabag; the first whiff of aroma is inevitably the flavoring, not the tea. And, what restaurant ever provides a rest for the limp unsightly teabag? Pooh!
Not that Bigelow Tea doesn't care about tea, they do, albeit in limited efforts. Recognizing the need for variety, the company has also introduced a line of tins of loose leaf teas in Darjeeling, English Breakfast, Black Current, Earl Grey, Keemun, and, as either an anomaly or irony, their signature Constant Comment®.
And, jumping on the bandwagon of "green teas are good", Bigelow Tea has created a line of teabags of various greens flavored with fruits. Disgusting, but a mini gold star for trying.
The best effort, however, is the development of a line of single estate teas ranging from a Chinese oolong, Se Chung; the Kenilworth estate on Sri Lanka (Ceylon); Darjeeling's Risheehat; Assam's Borpatra, plus a full leaf Jasmine, Genmai Cha, and a high-quality Keemun. Brava!!!! We wish them huge success on this, and applaud their recognition that some people actually LIKE the flavor of tea all by itself; they like the flavor of tea MORE than flavorings, and they like good-quality teas from SPECIFIC REGIONS versus totally ordinary, utterly mediocre blends. Buy before expiration date, of course.
The most recent venture for the company is the 2003 purchase of The Charleston Plantation, the only working tea estate in the United States, on Wadmalaw Island off the shore of South Carolina. Now known as Charleston Tea Gardens, the tea farm will continue to produce its mild, bland orange pekoe-style tea, previously known as American Classic Tea. The tea plantation was purchased for $1.28 million from owners Mack Fleming, a tea horticulturist and researcher at Trident Technical College, and William Barclay Hall, a third-generation tea taster. The former partners, whose split was akin to a divorce over the vision of the company, bought the former Lipton tea research station in 1987. Although the tea had the cache of being served in the White House, had 1,000 retail outlets, the company's profit margin was considered too narrow to continue operations. Hall will stay on to run the day-to-day operations for Bigelow Tea.
Bigelow Tea, which produces approximately 1 billion tea bags a year, (about 150 to 400 bags per minute) has 330 employees in their headquarters in Fairfield, Connecticut, and other facilities in Boise, Idaho and Louisville Kentucky. It is still a family-run operation with Ruth Bigelow's son David Jr. at the helm as co-president with this wife Eunice, and daughters Cindi and Lori as senior vice presidents.
The company is a true American success story. It has not only carved out a particular niche in the American tea market, it has made it primarily on the foundation of one consistently produced product, added others designed with bright graphics, careful packaging, and consistent if mediocre ingredients. Although we applaud their addition of a more taste-worthy estate line of teas, Bigelow proves the old adage is true: you can never go broke underestimating the taste of the American public.