Enjoyment
2003: Tea Year in Review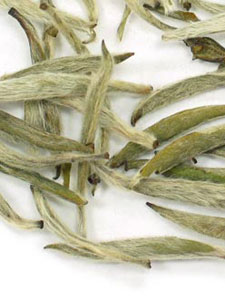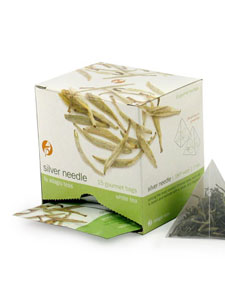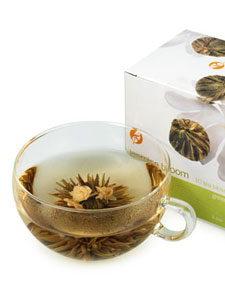 The 21st century is proving to be a grand time to be a tea drinker. The choices keep increasing, the quality is improving, and the accessibility is practically at your fingertips as more tea sellers get online.
Tea Still Bubbles Sweetly
Bubble tea, that pudding in a teacup, is moving out of tea shops dedicated to this confection and into mainstream tea shops. Okay, so I don't think it's really tea, but I admit that it's fun, offers texture and complexity of taste, and it's drawing teens and young kids into the world of tea. Surely, there's a chance they'll try a Snow Dragon or Jade Marley after they've savored bubble tea, yes?
Tea in a Bottle
Reluctantly, I have been sampling bottled tea drinks, and after last year's introduction to the ITO EN line, I dropped all reservations and opened up mind and palate. This year's ANTEADOTE is as refreshing and clean tasting as any I've sampled, and the convenience of toting tea in a bottle makes it so easy to refresh yourself at work or play. It encourages me to approach the growing selections from various companies with more enthusiasm. While the sweetened and fruited bottled teas still elevate my "yuck" barometer, it's nice to see established brands offering better quality in the bottle...hooray for them, lucky for true tea lovers!
Red Bush Keeps Burning
Ten years ago, rooibos was a rarity outside of South Africa. The "red bush" tree has now made inroads into the tea world so deep it's become a complete and total category unto itself. It is an herbal drink made from the shoots of a legume plant known as Aspalathus linearis, and tastes like a hearty black tea with a sweet edge. Interestingly, it has antioxidants (flavonoids) just as true tea does, and, best of all, it is totally forgiving; brew it for five minutes or fifteen, it is never bitter. And for those who can never drink something au naturel, rooibos is the perfect backdrop for fresh or dried fruit or spice, and can be served hot, or iced. Keep it on hand for when friends insist that caffeine sends them through the roof, for rooibos has none. Talk about a beverage that has something for everyone!
Tea in a Glass
Many years ago, at a beautiful Chinese teahouse, I was served Silver Needle in a glass tumbler, where the long elegant leaves did truly offer a visual ballet. Next up, was a superb tea tasting followed by a stellar meal at a posh hotel, where each table setting was graced by a peony (mudan) in a wine glass. Tea as entertainment! I've never looked at the glassware the same way again. I thought hummingbird's nests and strawberries and anemones were the bomb, but now imports from China come with flowers nestled inside that blossom along with the tea leaves for a nuance to the definition "showplace." And, they taste great, too. It is an exquisite art to take tea leaves and shape them into flowers and curlicues and rolls of ribbons, much less unusual shapes. I feel awed that the craftsmen and women of China are still willing and so beautifully adept at creating these fun reasons to drink tea.
White Tea
The "senior tea" of China, white tea, has become THE single most impressive selection in the lines of many tea vendors. You can now get combinations of whites with greens, whites in various shapes and sizes, and whites of unsurpassed quality. The extra care in processing and plucking is a direct answer to customer demand for this delicate, silky tea. White tea continues to be a popular ingredient in perfumes and beauty products, and has encouraged even the most skeptical of tea drinkers to try something new. Our hats are off the tea vendors who take the time, energy, and investment dollars to develop the plucking and processing techniques necessary to infuse this new element into the tea market. A white Assam was the newest addition several years ago, and now comes a white Ceylon. What next, tea artisans?
It's in a Bag
We've come a long way since Scotland's Sir Lipton's "flow-thru" paper teabag and a penchant for self-advertisement on the tag. Today, it's the Japanese who have contributed technology and fabric development to the ever-changing world of teabags. The newest is triangular, allowing greater room for the infusion of full-leaf teas; it's made of fabric, not paper, that is tasteless and free of aroma to allow the teas to be fully expressed, and it produces an ideally-brewed cup of tea. Look for more innovations in this area of technology in the years to come.
No Matcha for This
The Japanese are also basking in the continuing success of matcha, that gorgeous bright green powdered tea, made from their esteemed Gyokuro leaves, that is the foundation of chanoyu, water for tea, or the tea ceremony of civility, ritual, and serenity for which the Japanese are so well known. Everyone from Dr. Andrew Weil to this study and that have extolled its virtues as a healthful drink; you can make "matcha lattes" and "iced matchas" and use it to sprinkle a dash of bitter greens onto eggs, potatoes, rice or whatever your culinary vibe takes you. Buy in small quantities, refrigerate, and use only bamboo whisks or wooden forks for whipping it up to its frothy sweet-bitter nectar.
In the Movies
Have you noticed how many characters in movies and on television drink tea? It's fun to track how many are dunking tea bags versus emptying bitter coffee from a carafe. Maybe next season we'll see characters using leaf teas in a pot! Whether or not the story deals with Asian themes or characters, gung fu sets are popping up here and there as a part of set design giving viewers a glimpse at this exquisite way to brew tea. What new tea accessory did you try this year? If you loved it, pass the word. Give your favorite cups as gifts along with an ounce of teas you love; or, offer friends a nightcap of oolong tea served gung fu style instead of a brandy. You'll introduce them to a whole new experience that's relaxing, convivial, and delicious.
Study up to it
Each week, a study from major universities or health organizations reconfirm what all of us know, that tea is tasty AND healthful. The good guys in tea — flavonoids and polyphenols — work their wonders in all tea varieties, from black to white. Just as the flavonoids in fruits and vegetables contribute to our immune system and our overall health, so do those in tea, and polyphenols, which fight against disease, are powerful in tea at all levels of processing. The claims tout it as a defense against colon cancer, as a protector against cigarette smoke, and blocking nonmelanoma skin tumors. What's not to like?
Every year, I am excited about the new teas to try and new equipment to use. The innovation and creativity of tea vendors and related firms in this ever-evolving industry continue to amaze and delight. I lift up a "glass-tea" to the tea people for their cleverness, persistence, and thinking "outside the bag."