Reviews
T Salon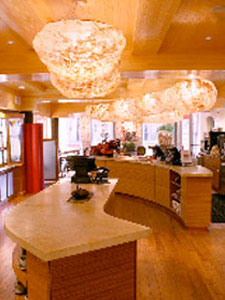 [TEAROOM ID=674]

The T Salon is a quaint oasis on the east side of Manhattan. This is its second home, the first being in the Guggenheim Museum in SoHo. T Salon's new home is a three story building, however it seems only the first two stories are accessible. The format has pretty much stayed the same all this time, and with good reason: they got it right the first time.

The ground floor consists of the main tea room. Although petit, there seems to be a bountiful amount of tables to give the place a comfortable atmosphere. It does not feel crowded like so many other downtown teahouses.

The selection of teas is vast, but the menu is careful to arranges them so as to not overwhelm, and is quite inviting. The staff seems very knowledgeable (even offering the correct pronunciation of a tea called Rooibos as spoken in America and its native South Africa).

My companion and I ordered Rooibos and Genmai Cha tea from Japan. Upon arriving, we realized it would have been impossible to not tell these teas apart. They looked, smelled, and tasted completely different from each other. The Genmai Cha was a pale yellow tea with a light taste while the Rooibos (full name: Rooibos Millennium) was dark red with hints of vanilla flavor. Together with the blueberry scones, we sat and refilled out cups time and time again.

Before leaving, I decided to climb the steps to the second floor. I was thrilled to discover that one may purchase T Salon teas as well as a vast assortment of teapots. They offer everything from tea balls to glass teapots to handcrafter Asian ceramic teapots. Although the teaware was somewhat pricy (and out of my budget), I couldn't resist not leaving with something. So as I write this, I am sipping on some of T Salon's Millenium Rooibos tea. Every bit as good here at home as in the tearoom.