Drinks & Eats
Tea Party Recipes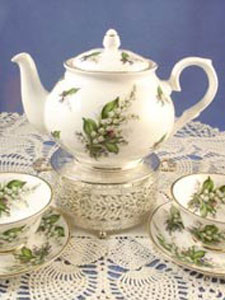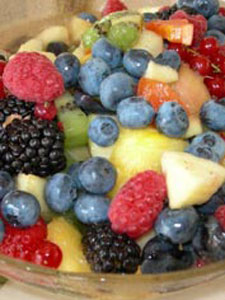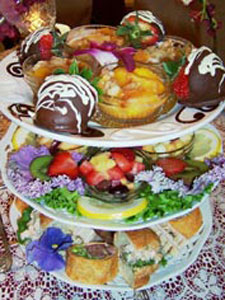 Any occasion is a perfect occasion to celebrate with a tea party, whether it's for your sweetie pie, your family, or your best friends. It can be simple or elaborate, American or English (or totally international) with only one caveat: Serve the best tea you can afford!
First, let's think theme. For Anglophiles and fans of "pretty" the first thing to do is raid through the china closets and get out dessert plates, china teacups and saucers, and a big fat porcelain teapot. The English "style" invites mix-and-match so part of the fun is for each guest to have a different style of teacup. For this genuinely "English" experience, English teas and teaware are a must. Probably the most popular UK provider is the Chelsea-based company Whittard.
Next, select a few food trays, some flat, some on pedestals, some round, others square, whatever you have. Then, use a nice tablecloth, fabric napkins, and some nice butter knives and elegant teaspoons, and you're ready to set the table.
For a purely American table, and to celebrate fully the pleasure of your company's presence, be sure to stick with a color scheme, and include plenty of special accessories. While cloth napery is important to establishing elegance for an afternoon tea party, the prettiest paper ones with something uniquely "you" will delight everyone.
Tea for Two (or Four)
Set the table as you would for a meal, with dessert plate, fork and teaspoon and butter knife on a pretty napkin. If the table is large enough, place a pretty centerpiece in the middle; otherwise, use it for a three-tiered tray of tea time delights. The hostess should have the teacups and saucers and the teapot near her for serving the tea. A decorative caddy can be used for the tea or the hostess may put it into the teapot before placing it on the table. If the table is small, put the tea accoutrements on a tea caddy or buffet cabinet.
Party of Eight or More
At one end of the table, stack the plates, butter knives, teaspoons, and napkins. In the middle of the table put a pretty floral or fruit centerpiece, and surrounding it, put out the platters for your food. At the other end of the table, put out your teapot and slop bowl to catch the drips, and the cups and saucers.
If you're planning a really big party, consider renting a hot water urn to refresh the pot easily and simply. Otherwise, pop into the kitchen when necessary and pour hot water from the kettle. A third option is to place an electric kettle along side of your teapot and refresh the leaves from the table.
Most quality teas taste best plain, but there are many people who enjoy milk or lemon, so have each available. Sweetening is rarely necessary when you're serving both scones and desserts, but for those who cannot drink their tea plain, set out pretty sugar cubes or a selection from the Hawaiian, Indian and other raw sugars that work so well with black teas.
Food Suggestions
For the classic English Afternoon Tea meal, consider three courses. First, serve finger sandwiches of your choice. Three to six small servings of cream cheese and watercress, cucumber and butter, chicken or tuna salad, cheddar cheese and tomato, stilton and pear, or egg salad. Make them pretty by cutting them into different shapes from rectangles to triangles to squares, alternating with dark or light breads. Next, comes scones or crumpets with jam, butter and/or clotted cream or crème fraiche, followed by sweets including petit fours, mini tarts, small cookies or bite-sized pieces of cake.
American twists could include a selection of your favorite hors d'ouvres from mini quiche to pigs-in-the-blanket to peanut butter and jelly finger sandwiches for young children. Instead of scones, consider biscuits 'n butter or homemade jams. Check your favorite confectioner's shop for ideas for chocolate truffles and fabulous little pastries like cherry tarts, remembering that bite-size is the criterion not only for their delicacy of appearance, but more importantly, for their ease in eating. A knife for spreading a scone with clotted cream is fine, but knives and forks for eating make the ceremony too labor intensive for the guests!
For an international twist, or just because they taste great with teas, consider any or all of the following finger foods: almonds, dried fruits, fresh fruits, asparagus spears wrapped with ham or melon pieces wrapped in proscuitto; cheese plates with chutneys and crackers; skewered grilled shrimp, Thai chicken satay (with peanut sauce), or fruit kabobs; Russian blinis (crepes) and caviar; Greek stuffed filo puffs or cheese or spinach; or Spanish tapas.
Tea Suggestions
Nearly everyone is familiar with black teas, blends, and some classic scented ones, and the choices of even these are amazing. It's best to offer a choice of only two. Consider the many flavors of the foods you will offer and what you believe will taste best with them. You can rarely go wrong with a full-bodied Assam black, crisp Ceylon black and sturdy English or Irish blend. Each can stand alone or take milk as desired.
For the more adventurous among your guests, you may want to offer a more delicate Indian Darjeeling, brewed lightly to enhance its bouquet or perhaps a wonderful Ti Kwan Yin oolong. It's your party, your choice; have a personal tasting prior to your event and see what you like best!
An American twist to this event could be a selection of ice tea, or a tea blended with fruit.
Guest Suggestions
If this is a tea party date, focus it on your special someone, preparing foods, accessories, and teas they like. It's always a great idea to invite several people some of your friends or family members don't know. It livens up the conversation and adds excitement to the guest list.
Want more information?
The absolutely best, most concise, and English-specific guide still is the little gift book called The London Ritz Book of Afternoon Tea: The Art and Pleasures of Taking Tea By Helen Simpson. No need to read or look further, "it's all in there." Obviously, my personal favorite.
For international or American-style tea parties, check out the appetizer section of any of your great cookbooks; they're bound to inspire you with choices you never thought of offering before. Yes, Virginia, you CAN have a tea party without finger sandwiches and scones! Remember, the most important reason to host a tea party is to share your hospitality with guests you enjoy.