Enjoyment
June is Iced Tea Month: Celebrate with Classics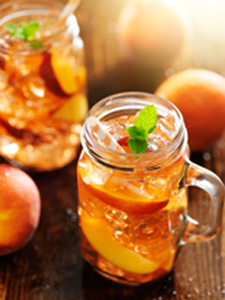 In the sweltering summer of 1904, hot tea vendors at the St. Louis World's Fair were desperate to sell their brews, but nobody wanted a hot drink on an even hotter day. One clever man (the dispute continues about who it was) poured his tea over ice and, voila!, a classic American tea drink was born. Today, iced tea is served all year round all over the country in fine restaurants and fast food outlets, in schools, and homes. June is the official "National Ice Tea Month" but we all know that every month is ideal for thirst-quenching iced tea. FLAVORED ICED CUBES
Leftover tea? Pour it into ice cube trays and freeze; better than water-only cubes which dilute the tea flavor. Add a little punch to iced cubes: Wash and de-stem strawberries and place one in each cube partition, pour water over them, and freeze. Other berries or herbs are ideal for this method such as spearmint or mint leaves which add a sprig of tang. Orange, lemon or grapefruit juice also make wonderful iced cubes. SOUTHERN SWEET TEA
This recipe is not for the sugar-phobic, so adjust accordingly. Be aware that chilling the tea reduces the punch of the sweetness. Use a heat-proof jar and place 6 tea bags of black tea. Pour on a gallon of boiling water and then add 1 1/3 cups of granulated sugar. Steep the tea until the sugar dissolves. When cooled, refrigerate for 3-4 hours. To serve, remove the tea bags, then pour into glasses. Garnish with a sprig of mint. For more "chill," add ice cubes. This is a wonderful way to use a fruity black tea like our Passionfruit or for a more delicate beverage, try our Summer Rose. SOUTHWEST SUN TEA
This is a classic tea made in Arizona and New Mexico where you'll find large glass jars with tea bags and water sitting on porches or lanais in the hot morning sun. By noon time, the sun has brewed the tea for you with little to no effort. We suggest six teabags for each gallon jar; (recipe easily doubles or triples). Secure the jar with a tight-fitting lid. When ready to serve, undo the lid and remove all the tea bags. Place a few iced cubes in each glass, pour the brewed Southwest Sun Tea over the cubes, add a twist of orange or lemon, if desired, and you're ready to drink. Store the remaining tea in the fridge until you want more. For a traditional taste, use our Ceylon Sonata or Keemun Concerto for an extra-smooth richness.
(CAVEAT: Jar must be clear glass because plastic will melt.) HERBAL TWISTS FOR ICED TEA
Although icy beverages are the typical choice for hot summer days, room temperature or slightly chilled drinks are equally refreshing. Rooibos, that wonderful South African red bush tisane, makes a perfect transition from hot brews to chilled drinks. For particularly flavorful choices opt for our fruity selections, like Rooibos Peach. Steep either loose leaf or tea bag selections in boiling water for three to five minutes and allow to cool. Drink as is or add ice. The silky sweetness of fresh peaches needs no additional sweetness. Our Watermelon Cooler or Chamomile make delicious iced herbal teas. In fact, any of our fruity tisanes will taste delicious chilled. GREENS ARE BETTER COOL OVER COLD
Green teas are fun iced, but consider drinking them at room temperature or only slightly chilled. This preserves the fresh, green essence while, at the same time cooling your body in the heat of a hot June day. You can make it two ways: add fresh spring water at room temperature and brew for 15-20 minutes. Don't be surprised by the long brewing time; the room temperature of the water prevents over brewing and excess astringency. Or, brew it conventionally by using water heated to 175-185 degrees F, and steep 1 to 3 minutes, then allow it to cool slightly. Gunpowder or Sencha are classics for hot weather green drinks and Kukicha is sheer perfection.Iced tea variations are endless: classic blacks and fruity blends, frothy greens, delicate whites, even puerhs. Tea is an ideal base for sangria, instead of wine and fun for popsicles, and granitas. We use tea bags for their convenience and ease of cleanup.