Drinks & Eats
Poached Pears in Tea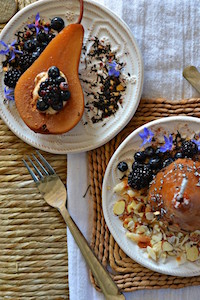 Poaching fruit in tea is a good way to make the most out of an excess of fruit bought at the farmers' market. Pears in particular take to poaching nicely, as their soft flesh absorbs the flavor of tea. Poached pears are simple to make, and completely worth the wait.

As pears absorb the flavor of tea, it perfumes their flesh in a marvelous way. In an attempt to keep the flavor of the tea as the main note upon the tongue, I first poached then steeped the pears overnight in tea. (This isn't necessary to do, however, I like the stronger infusion of tea.) You'll find the process so easy, and it makes a delicious addition to your morning breakfast bowl, oatmeal, or yogurt, as well as a lovely fall-inspired topping for ice cream after dinner.

In my own experience, tea is a harmonious match for fruits like pears and apples, and you can try either one with this recipe.

Winter pears are ideal as they hold their shape rather than falling apart. Poaching in tea adds to the taste of less flavorful pears. The longer the pears muddle in their tea infusion after poaching, the better they'll taste.

Be sure to start with firm, almost ripe pears. I prefer Bosc pears. Anjou don't work well, in my opinion. Soft Comice and Bartletts will not hold up during poaching, so I don't recommend the softer pears.

Typically sugar is used for poaching fruit, but if you are watching your sugar intake, maple syrup or honey will suffice. Maple syrup adds a nice sweetness and flavor to pears, along with the aroma of tea. Reduce the poaching syrup to pour over your fruit and you are in tea heaven!

Poached Pears

INGREDIENTS
— 1 quart water
— 3 heaping tablespoons tea (Ceylon would be a classic choice, but rooibos would add a delicate sweetness!)
— 4 Bosc pears, peeled, cored, and halved
— 2 tablespoons vanilla extract
— 2 tablespoons maple syrup

  1. In a large saucepan, heat the water and tea gently on low flame until warm. Please do not boil. Add maple syrup and vanilla extract.

2. Slide in the pears with a spoon and cover with parchment paper. This keeps the heat to poach the pears evenly. You can cut the parchment paper in a circle to fit the top of the saucepan and poke a few holes on top to allow the steam to escape.

3. Keep the liquid at a very low simmer until cooked through, 15-25 minutes, depending on the ripeness of the pears. You don't want mushy pears, but a pleasant firmness with some soft bite.

4. Remove from heat and let the pears cool in their liquid. I suggest placing the pot in the fridge overnight after cooling, or transfer to a tempered glass bowl, cover and put in refrigerator.

5. When ready to eat, strain the tea leaves, and pour the remaining syrup into a jar or container to use for serving later.

SERVING
Serve the pears warm or at room temperature by reheating the pears carefully on a low flame until just warmed. Don't cook them. If you prefer cold pears, they make a great topping for plain Greek yogurt or spice cake.

I prepared a coconut cashew cream as a vegan alternative to custard, and garnished the pears with maple vanilla infused berries, silvered almonds and a sprinkle of tea shavings and cinnamon.