Reviews
Traveling Teacup: Goldfish Tea Room Royal Oak, MI
[TEAROOM ID=3117]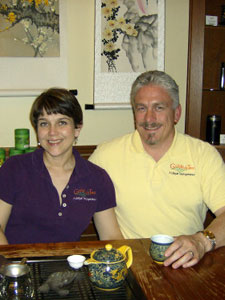 Located 20 minutes north of Detroit in Royal Oak, a suburban community with a big city feel, the Goldfish Tea Room brings the Chinese tea experience to Michigan. The Goldfish Tea Room not only provides quality Chinese tea to its customers, but tea education as well.

Owners Jim and Janice Girling, once longtime coffee-drinkers, lived in China for a number of years only stumbling upon tea one serendipitous Saturday afternoon in 2005. After passing the same roadside wholesale market everyday on their way to work, the Girlings, accompanied with their coffee travel mugs, finally dropped in. It's here where they were introduced to a tea vendor who invited them to try her tea. Three hours later - neither side fluent in the other's language - they bonded in the tea brewing ceremony. After their third visit back, the Girlings had no doubt that tea was their future.

Two years later, after intense tea immersion and building an impressive network of tea business relationships, they opened The Goldfish Tea Room. The Girling's run the operation from import-to-counter, which allows them control and ownership in the entire process to better serve their customers.

The Asian-inspired decor of Goldfish Tea is gender-neutral, so all will feel welcome. The carved wood tables and chairs, as well as the modern art that hang in the main dining area, are all from China. A gallery of Chinese teapots and cups, all for sale, rest on lighted glass shelves and accent a full wall of the tea room.

The focal point is, of course, the tea. The tearoom offers 40 to 50 different teas, all from China and no blends at any given time. One can select from a mild, delicate sampling of Silver Needle to a hearty and satisfying cup of Keemun. A recent, exclusive addition, "First Love", is a refreshingly light black tea, but rich with flavor.

The serving system is as casual and comfortable as the furnishings. The tea room staff prepares the first pot and sends guests off with a tray and timer. When the two or more minutes for steeping are up, customers remove the infuser and let it rest on the tea boat, a wooden tray, which has long, open grooves to allow for draining. After the first pot, guests can go back to the serve-yourself counter, select the appropriate hot water dispenser for the particular type tea and reuse the tea leaves.

The tea room is also equipped with three tea tasting bars, where one can participate in a complimentary tea tasting for groups of up to six. Here, the Girlings or one of their staff, will prepare the tea and instruct guests on the different types of tea and proper brewing techniques. The tastings can also accommodate a larger number for a marginal fee.

The Goldfish Tea Room creates a traditional China tea experience for southeastern Michigan. Here guests can quench their thirst for both tea and knowledge.

Barb's TEA Shop, a tea education business. BTS presents seminars and tea tastings for libraries, tea rooms, churches, corporate events, museums and in-home parties. Barb has an MBA and taught at two Michigan Universities for over ten years. Barb combines her passion for education with her love for tea. Barb is a Tea Etiquette Consultant (Protocol School of Washington) and pens the Barb's Tea Shop blog.