Reviews
Traveling TeaCup, Austin, TX
Lindsey 'Vee' Goodwin, tea enthusiast and consultant visited Austin for the SXSW Music Festival earlier this month. Since she explored many a tea venue, we've decided to split up her review; check back next month for more Austin tea hot-spots!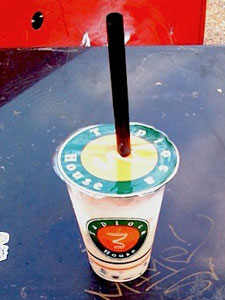 Tea speaks volumes about what a given culture values and how its people think of food, pleasure, health, time, and life in general. For this reason and more, I tend to imbibe as much tea as I can when I travel away from my New York City home. A recent trip to Austin, TX for South by Southwest music festival and time with some hipster friends became an all-out tea excursion and a dip into Austin's fascinating foodie and youth scenes.
This is the type of journey I enjoy the most-the opportunity to explore culture, food, and tea all at once in an exciting and vibrant place that is new to me, but familiar to my local guides. Austin-a food trendsetter, enormous college town, and major cultural center of Middle America and the South-is a unique blend of au courant youth culture and good-old-fashioned American-ness. It reflects much of what is to come for areas of the US that have yet to pick up on the wave of tea pouring in from the major cities on the East and West coasts. With my 20-something local friends at my side, I set out to explore its current tea culture and, in doing so, peer into the future of tea in America.
In order to learn about tea trends in Austin, I started where coolness often originates-near the college campus. On Guadalupe near downtown ("The Drag," as the locals call it), there are two boba tearooms on the same block, Tapioca House and Coco's Cafe II. Boba tea, for those who are unfamiliar, is a sugary concoction which is, as Douglas Adams put it, "almost, but not quite, entirely unlike tea." It is a frothy drink made of tea, sugar, milk, and (often, but not necessarily) tapioca flour spheres, it comes in a variety of flavors, and it is also known as "bubble tea" and "(tapioca) pearl tea". I jokingly refer to it as a "gateway tea", because young people try it, get really into it, and then move on to the more serious stuff. Although the two tearooms (and the boba teas I sampled from each place) are remarkably similar, they are both popular enough to be supported by a steady stream of college students seeking their sugary fixes. In many ways, this is indicative of the nascent stages of tea culture in the US-a sugary something for when you're on the go, like a cola but "better for you". (It is worth noting that the national ready-to-drink tea company Sweet Leaf Tea is based in Austin and has an incredibly loyal following there).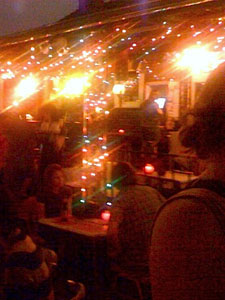 A little further down "The Drag", tucked away behind the local independent DVD rental spot, you'll find the grungy hipster haven and local favorite Spider House, which serves up a slightly more mature cuppa to trendier clientele. Spider House is one of those places that every client feels is "theirs", despite the fact that it is packed almost every night. Perhaps this is owed to the fact that Spider House seems to have it all-indoor and outdoor seating, an eclectic and funky style, a solid vegetarian and vegan selection, meat options, iced and hot tea, a plethora of coffee drinks, a beer list, and mixed drinks-except for good service and consistent music. My local friend Lauren noted that the overall hipster vibe (the place is crawling with 20-somethings wearing tight pants, unusual boots, and knitted berets) is somehow complimented by the spotty service and odd music selection (lots of metal, with a bit of Queen and the Dead Kennedys). The few who forego the alcohol (Lauren swears by their Mexican Martini) and the coffee drinks in favor of teas or tisanes will find them to be a slightly improved iteration of your typical coffee shop fare: Mighty Leaf, chai, and iced teas, plus several types of yerba mate. Although the tea selection is nothing I would write home about had I not embarked on this journey with the specific intent of doing just that, the place is quite remarkable in its laidback, shabby-chic ambiance and communal feel.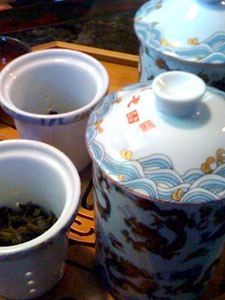 Just beyond Wheatville, the local hippie/hipster co-op that carries more tea than coffee, where "The Drag" stops being trendy and resumes its usual name of Guadalupe, a new tearoom has opened up. It's called Jade Leaves and, just as the name suggests, it is Asian-inspired from the tea and food menus to the custom temple doorways, Yi Xing teaware, and geometric carved and lacquered woodwork. It seemed the perfect hangout for more affluent hipsters (or "yupsters"), yet most clients seemed to fit the expected Southern tearoom stereotype: moneyed, middle-aged, white, and female. One senses that it is only a matter of time until the health-conscious, anti-corporate crowds at Wheatville cross the road for Jade Leaves' enormous tea menu and abundance of mouthwatering foods. My friend Austin, who used to practically live at Spider House, thoroughly enjoyed his sweetly floral oolong, bison salad, vegan longevity broth, and coconut macaroon. Let's just hope that the lack of metal music (the selection ranged from the Amelie soundtrack to Buddha Bar/Ninja Tune fusion) and friendly, knowledgeable staff don't turn off the other Spider House regulars. For the record, Austin (the individual) certainly didn't mind.
Next month, I will review two more of Austin's tearooms, Koriente Restaurant and Tea House and The Steeping Room, and continue to talk about the implications for tea in the US. In the meantime, drink up!
Lindsey 'Vee' Goodwin is a freelance tea consultant and tea writer. She is also a licensed tea tour guide in NYC and a former teabar manager. For more information, visit VeeTea.
Places Visited:
Tapioca House 1906 Guadalupe St. Austin, TX 78705 512.482.9880
Coco's Cafe II 1910 Guadalupe St.Austin, TX 78705 512.236.9398
Spider House 2908 Fruth St. Austin, TX 78705 512.480.9562
Jade Leaves Tea House 3110 Guadalupe St. #450 Austin, TX 78706 512.687.0569