Reviews
Traveling Tea Cup, Austin, TX
Last month, Lindsey 'Vee' Goodwin explored several Austin tea haunts in part one of this special Traveling Tea Cup. This month, please read on as she reviews some more Austin tea rooms. Please enjoy!
In the heart of Austin, nestled between a New-Orleans-esque college party street, a cluster of indie rock music venues, and a neighborhood that's becoming gentrified by 20-somethings at an alarming rate (watch out, Williamsburg!), lies Koriente Restaurant and Tea House, a charming spot that serves Korean-inspired food and Harney & Sons tea to hip kids and college Greeks alike. The decor reflects the jumbled location and the unexpected blend of patrons;it looks like a hipster bar/coffee shop, homey tearoom, and family-run Asian restaurant all at once. The menu is more focused; it leans strongly toward healthy, fresh, Asian fare and includes a variety of reasonably well-made hot and cold tea drinks. (I suggest the Hummus Roll and Mixmix Bibimbap, which are inexpensive, vegan, and very tasty) What Koriente lacks in artistry it makes up for in efficiency, making it ideal for a quick bite or cuppa to go when you're out on the town for music and/or youthful debauchery. After checking it out on my recommendation, several of my Austin friends have become big fans of this convenient teahouse and its flavorful fare.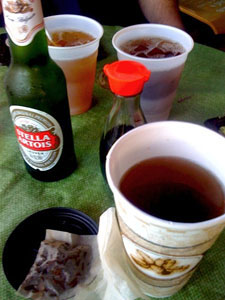 On the opposite end of the spectrum, in a new North Austin mixed-use development called The Domain that caused my indie friend Yinon some level of discomfort to visit, lies an unexpected treasure: The Steeping Room. While this fantastic little tearoom, hidden amongst the Burberry, Coach, and Starbucks storefronts, isn't quite worth a trip all the way from NYC, the trek from downtown or even South Austin is decidedly more than worth it. Whereas Koriente appeals to a wide audience with its cacophony of styles, The Steeping Room's white-walled, Modernist gallery approach appeals to a wide audience in its visual neutrality.
However, unlike their appearance, their extensive and varied menu is anything but neutral. They have a wide range of loose-leaf teas which they serve hot by the cup or pot, and a tea drink menu that includes iced tea (regular or Arnold Palmer style, which is half iced tea, half lemonade), 'tea-tails', chai lattes, and frozen tea frappes. Their decadently delicious yet generally healthy food (examples include fresh Bosc pear and cave-aged young goat cheese, jasmine gravlax crumpets, warm ginger tofu on ciabatta, matcha-dusted fudge brownie-all at a price to make any NYC food lover blush) is a firm reminder of both the chef's NYC roots and the fact that Whole Foods, the biggest of the foodie grocery chains, originated in Austin. Like so many new tearooms popping up across America, it is casual without the veneer of grime one expects in an independently-owned coffee shop or bar, it serves food and wine without coming across as a restaurant or bar, and it attracts a range of ages and types of people. The main difference between this particular tearoom and many of the others like it is that this one does it much better. Perhaps it is due to the influence from New York, where tea is a more established tradition. Regardless of the reason, I hope that the attention to detail and level of quality catch on elsewhere.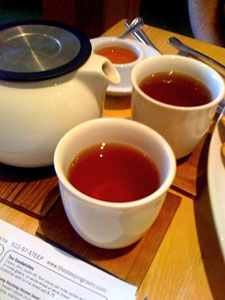 In the short time since my visit, the boba tearooms and Spider House have been inundated with students returning from Spring Break, Koriente has heavily revised its menu, and the manager of Jade Leaves and a co-owner of The Steeping Room have discussed starting a Central Texas tea association to bring the benefits of tea to more people. If tea is growing this quickly in Austin, one can only imagine what this "reading of the leaves" says about tea in Middle America and across the US. In another ten years will Austin's tea culture have evolved to the level of major East and West coast cities? Will smaller cities in the Midwest have tea scenes like Austin's? For now, we can only guess based on current tea trends and sip, wait, and see.
Places visited:
Koriente Restaurant and Teahouse 621 E 7th St. Austin, TX 78701 512.275.0852
The Steeping Room 11410 Century Oaks Terrace Austin, TX 78758 512.977.8337
Lindsey 'Vee' Goodwin is a freelance tea consultant and tea writer. She is also a licensed tea tour guide in NYC and a former teabar manager. For more information, visit VeeTea .