Reviews
Traveling Tea Cup, Vancouver, Canada
Vancouver's setting is stunning. Its urban center dramatically contrasts the surrounding natural beauty. Bridges span waterways, and high-rises stand before lush green mountains. With the impending arrival of the 2010 Winter Olympic Games, new projects, venues and public transportation fill the city. While exploring Vancouver, I made my way to five distinct teahouses. Tea is a popular beverage here, and the moderate climate makes it a great place to explore the drink.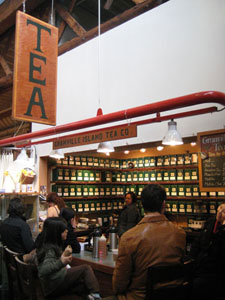 Just across the causeway from the downtown core, in the shopping and culinary center of Granville Island, is the Public Market-a foodie paradise. This sprawling building is packed with a huge variety of specialty food vendors. Marked with a large vertical sign that reads "TEA", Granville Island Tea Company is easy to spot. About a hundred green tins filled with tea line the walls of this busy but friendly spot. Before arriving in Vancouver, I heard their Masala Chai was the best in the city, so I had to try it. It was just right: not too sweet, not too spicy, and perfectly creamy. They have a small tea bar with seating, but I chose to wander the booths with my yummy Masala Chai, looking for the perfect complementary chocolate.
Muzi is a fresh, modern teahouse on Vancouver's Burrand Inlet waterfront. Their focus is matcha, the frothy green tea of the hallowed Japanese tea ceremony. Muzi sources high quality matcha made from 100 percent Nishio region tencha leaves ground into a fine powder. The deep emerald green liquid is visually stunning and quite a treat to sip. I enjoyed Matcha Immunity, a specialty drink made from matcha, honey and lemongrass. It was a little sweeter than I expected, but very good. The flavor was bright and grassy, evidence of the quality of the leaf. Muzi offers seven hot matcha drinks plus a variety of other loose-leaf teas. There are tins of matcha for sale in beautiful, minimalist packaging along with all of the matcha prep implements. They have partnered with chocolatier Thomas Haas to create special chocolate bars-Tea Bar, Matcha Bar, and Chai Bar- using single-origin cocoa beans from South America. This is a great place to relax, use the free WIFI, and enjoy a contemporary take on an ancient drink.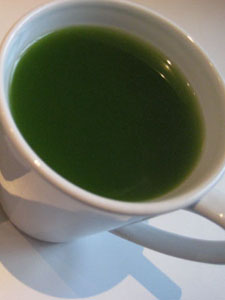 Murchies is a large tea and coffee store in the center of downtown. This shop is predominately retail with a cafe in the back. This 114-year-old British Columbian company focuses on fair trade tea and coffee and combines a corporate feel with friendly service. Many items including pots, cups, bulk tea and coffee, and gourmet dry goods are for sale. The cafe offers 30 teas by the pot or cup that are prepared using tea bags. I chose their fruity Black Currant, made from a blend of black teas. The treat case displays sweets and sandwiches. This is a popular spot for a light workday lunch or an afternoon cup of tea.
Teaz Tea Boutique, on Vancouver's west side, is a great shop to peruse. They carry two proprietary lines, Teaz and Herbal Republic, which are sourced from small tea gardens. I brought home the fruit tea they were sampling, Apple Jacks, which is a delicious caffeine-free blend of apple, candied papaya, ginger, and carob bits. Among the typical accoutrement, yerba mate and matcha prep accessories are also for sale. The shop is lined with tins and opaque bags of specialty tea, and large photographs of tea gardens offer a connection to the source.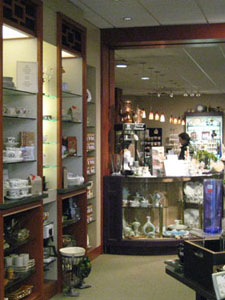 Shak Tea in the Mount Pleasant area hosts a global tea oasis. It has a comfortable, cosmopolitan vibe and an amazing array of quality teas. A dark wood tasting bar offers samples of three different teas. Yellow walls, a deep eggplant ceiling, and pendant lights provide an inviting place to enjoy tea and conversation. Shak Tea's selection of about 85 teas focuses on estate-specific blacks and superior grade Japanese and Chinese teas. I chose a unique 2005 Green Pu-er Ming Yuan served gongfu style. This Chinese style service of a succession of short steepings perfectly brought out the varying nuances of this Pu-er. The owner, Maria, was very friendly and informative, and she continually readied my next steeping. The depth of the quality of tea, thoughtful preparation, and kind service made Shak Tea a special experience.
Vancouver is a lively, beautiful city to visit any time of year. Its tea culture is certainly worth exploring!
Some useful links:
Elin Headrick is a freelance tea writer and graphic designer who blends a love of tea with design work for tea packaging and promotion. She regularly travels throughout the US enjoying and reviewing teahouses. For more reviews of teahouses around the country, please visit teafolio.com.