Enjoyment
Monthly Musings July 2008
Hello, Tea Enthusiasts!
As the temperature climbs in these hotter months, the idea of having a cup of tea may cause you . Many of us trade our steaming hot cups for tall glasses of iced tea. To me, preparing large pitchers of freshly-brewed iced tea to keep in the fridge is a summer pastime and has only gotten better after discovery finer loose-leaf teas. Blending different flavors of tea with other ingredients such as fruit, sweeteners, spices, etc adds a bit of a creative flair to the process. A favorite of mine is a traditional Arnold Palmer made with Ceylon black tea and freshly squeezed mix of Meyer lemons and lime.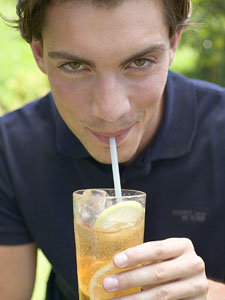 For those who rather grab their iced tea to go, the ready-to-drink section in most grocery stores has expanded (thankfully so) to include a variety of iced teas ranging from the familiar artificially-sweetened chum to unsweetened or lightly sweetened green, oolong, black, white, and herbal teas. Newer additions also include iced Kombucha and Yerba Mate teas. Many gourmet tea retailers also have gone this route by offering their selections in a handy, bottled form. Adagio Teas is among these companies, as we offer a line of organic, unsweetened, pure bottled iced tea, anTEAdote. These award-winning teas are a steal at $24.00 a case, stock up on your favorites to tide you over all summer! They are also available at $2.00 per bottle, if you wish to sample what flavor you like the best.
We are also pleased to unveil our new selection of Honeybush teas this month. Available in plain and five flavors, this herbal tea is similar to rooibos, but with a sweeter taste. Like rooibos it is naturally caffeine free and also makes for a great iced tea.
I hope you're keeping cool this summer! For a tasty treat using Jasmine anTEAdote, try out this easy recipe from our East Coast Sales rep, Cynthia (you do need an ice cream maker):
Prepare ice cream maker per manufacturer's instructions (put bowl in freezer)
Chill enough bottles of Jasmine anTEAdote as needed (check your bowl for the oz size).
Pour cold jasmine anteadote into freezer bowl (already on machine base with mixing arm in place).
Turn on machine and let it run until icy goodness.
Serve in small cup, drizzle with honey, and top with mint if desired-enjoy!
Yours in tea,
Christine