Enjoyment
Monthly Musings June 2008
Hi Tea Lovers!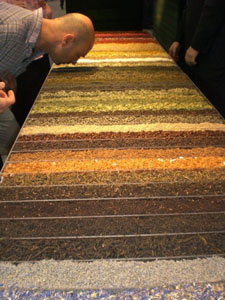 The issue of TeaMuse is a bit later than usual-our apologies! We were whisked away to the city of Las Vegas for the annual World Tea Expo. It was a busy yet fun weekend. The entire Adagio family was there, and I finally got to meet some other Adagio tea members: David who holds down the fort on our California warehouse and Lydia who is our Chinese tea buyer. It was a real pleasure meeting them! Also, I got to meet in person our two faithful teachat.com moderators, who we invited out to the Expo as our guests, Chip and Mary R., who you, TeaMuse.com reader will know is the brainchild behind Between the Leaves. They had a great time chatting up various tea vendors and tea-related companies and to have the experience of visiting a tea trade show. I also got to see some other friends in tea, such as ex-Adagio Chris Cason, Elin Headrick, who has written for teamuse.com and owns TeaFolio, Kelli Bernard of Amai Tea House in NYC, and Lindsey 'Vee' Goodwin of VeeTea tours and consulting. Running into familiar faces at these kinds of events is really exciting- it is quite a community to be a part of!
I am happy to report some fun product highlights from the show. TeaMuse.com has written about Smile Chocolatiers before. However, at this year's show their tea-infused chocolate bars are wrapped in beautiful new packaging- bright watercolor designs on a bare white background, notable to mention on its own! Their chocolates feature very dark chocolate to white chocolate, all infused with various tea and flavors creating moutwatering combinations such as Herbal Chai Tea Dark Chocolate, Pistachio Green Tea White Chocolate, Pomegranate White Tea Extra Dark Chocolate, et all. I had many samples at this booth!
Golden Star Tea Company has unveiled a truly exquisite and unique beverage- Sparkling White Jasmine tea, meant to be chilled and enjoyed like champagne! I was immediately drawn to this product because of it's elegant packaging- I pictured it being served on the dining cart of an old train traveling through 1920s India!-but upon tasting it I was sold. It's light and tingly, giving you the hint of that familiar champagne taste, but he white tea is still apparent with the subtle scent and flavor of jasmine. Absolutely beautiful, and a wonderful non-alcoholic alternative- sparkling cider- you have met your match!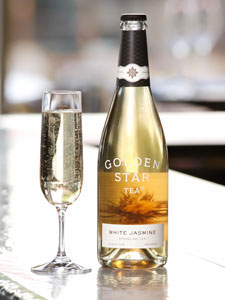 World Tea Expo also had a movie night this year; The Meaning of Tea was screen the first night of the show. It is a new documentary by Tea Dragon Films, and discusses the role of tea in different cultures within this fast-paced, tech savvy society we live in now. You can find more information here: The Meaning of Tea Film
This month, you'll see we've given our resident tea expert Mary R. a break, but do check out our Vancouver tea room reviews by Elin! Also instead of a main article, please enjoy this little video we put together while in Las Vegas for World Tea Expo. You'll meet the various talents that make up our little company! Enjoy! Happy Sipping!
Yours in Tea!
Christine