Reviews
Ten Ren's Tea Time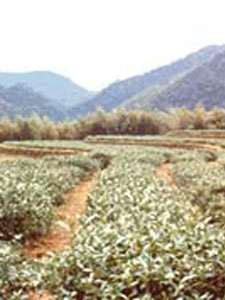 [TEAROOM ID=603]

Ten Ren's Tea Time is a modern tea bar tucked away in New York City's Chinatown. Tea Time is best known for it's extensive offerings of Bubble Tea, a tea phenomenon introduced in the US from Taiwan that blends tea and milk with tapioca pearls. Other Tapioca tea offerings include Tapioca Fruit Tea, Tapioca Iced Tea Milk Shake, even Tapioca Hot Teas in hot ginger, almond, coconut and honeydew. In addition to Tapioca tea, Tea Time offers a selection of green, black, oolong teas.

Beautiful pictures of the Chinese tea - making process adorn the walls of this tiny treasure. Surprisingly in the middle of these pictures, is a photograph of Former President George Bush and First Lady Barbara Bush sipping tea at Ten Ren's Tea Shop.

Don't look for traditional tea sandwiches, crumpets or scones with your tea here. You will have to choose from Asian tea delicacies such as spring rolls, crispy chicken, green tea noodles or tea eggs. Movement is constant at Tea Time. Service is quite friendly and efficient. With Tea Time designed for the high paced lifestyle of today, there are no waiters, you must order at the bar and then choose your own table.

While enjoying the Taiwanese pop tunes playing in the background, I munched on delicious crispy chicken and noodles and drank Osmanthus Oolong Tea, which was aromatic, sweet and light bodied. As for the bubble tea, the hot honeydew Tapioca Tea taste like Chai tea without the anise and cardamom. I was more interested in eating the tapioca pearls. However, I found Tea Time to be very fun and relaxing. It's a great place to sit and have tea when you are in Chinatown. One of the patrons boosted, "This is the best tea in New York!"