Reviews
The English Rose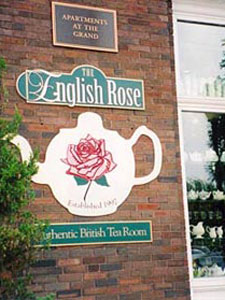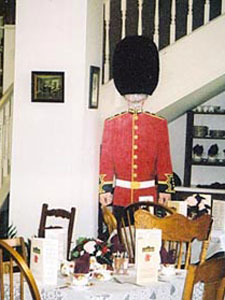 [TEAROOM ID=1089]

Nestled in what was the lobby of the former 100-year-old Grand Hotel, the charm still exists in The English Rose Tearoom. Opened 7 years ago by former nurse, Angela Becksvoort, the tearoom has the charm and feel of a typical British establishment. Angela is originally from Zimbabwe, which was formerly Rhodesia, a British Colony.

My friend, Amy, and I drove from Knoxville on our way to a conference in Atlanta. As we stepped into the entrance, a delightful English lady, Ann greeted us and immediately seated us at a table by the window, overlooking a flower box blooming with bright red geraniums. All the tables are unique with sewing machine trestles for bases, and each table has an unobstructed view of a painting over the fireplace of Queen Elizabeth II. The decor was very soothing with lace overlays on sage green table linens. The china is Royal Dalton's most popular pattern, Old Country Roses. In keeping with the British décor, we loved having a replica of one of the guards from Buckingham Palace keeping everything in majestic order!

Within a minute or two we were served our tea, complete with the traditional tea cozy. We chose a traditional black tea and drank it with milk. It was a delight for me to have the tea steaming hot, strong and never having to ask for the second pot. We were very well taken care of, almost pampered. The service was exceptional, but not intrusive. We wanted to talk to the staff, and they were all friendly and very obliging.

We arrived about 2:30 PM and shared the tearoom with guests from Florida and Tennessee. We ordered the Afternoon Tea, which consisted of 6 assorted finger sandwiches, a currant scone with jam and real Devonshire cream, and an assortment of English biscuits (cookies). The sandwiches were fresh with an abundance of fillings, ranging from the traditional egg and cress, cheese and tomato, and salmon and cucumber. The scones are baked fresh every morning and were light and tasty. This came with a large pot of black tea that was refilled as needed. All for $9.95. For a few dollars more, ($13.95), the Victorian Tea offers an assortment of English cheese and crackers, and a choice of dessert.

The tearoom also serves some wonderful traditional British fare for lunch. On my previous visit I had the Cottage Pie, which was a very filling dish of ground sirloin and mixed vegetables in delicious gravy, topped with mashed potatoes. Other selections available are all modestly priced at $8.75. Each lunch is served with a choice of vegetable or mixed green salad accompanied by the traditional English Salad Cream. Other selections for lunch include Chicken and Vegetable Pie, Steak Pies, Bangers and Mash, Cornish Pastie, Dover Sole and the fabulous Pub favorite, Ploughman's Lunch. If you still can find room, their longtime cook, Ira, makes all the desserts in the kitchen. The desserts were also very traditional "puddings" (desserts) just like my Mum used to serve: Sherry Trifle, Sticky Toffee Pudding, Meringue's, Lemon Cheesecake, and a favorite of mine as a child, Vanilla Ice Cream with chocolate sauce and topped with a chocolate Flake (wafer cookie).

Because this is a traditional English tearoom, the varieties of teas are not listed on the menu. I was disappointed to peek into the teapot and see teabags, and asked the owner why they didn't use loose-leaf tea. She told us that they had used loose-leaf tea when they first opened, but too many complained about the "bugs" in the teapot. So to avoid having to explain to mostly Southern "sweet iced -tea" drinkers about the tea leaves, they switched to PG Tips tea bags. Loose Leaf tea is available upon request for no additional charge.

My biggest compliment to a tearoom is that the tea is hot. A good hot cup of tea made with a teabag beats a luke-warm cup of tea made with loose-leaf tea anytime!

I loved the tearoom for more reasons than the food and tea. It is a place where friends meet, hearts blend and relationships are encouraged. Having a lovely chat with the owner, Angela gave me a good insight to her motivation for having the tearoom. She feels it is a haven for the British to feel a little closer to "home" in the States. It's a great place for them to stop for a pot of good black tea for only $2.00. She also sees it as a place to nurture her staff of 12, many of them also from the British Isles. Her cook, Ira, started off as a dishwasher when she first opened. He had been orphaned at age 18, and lived in the streets. Now at age 51, he owns his 1st home and is able to help his nephew, who also works at the tearoom, with a chance to attend college.

At the front of the shop is a well-stocked retail section of British groceries and tea. Angela also has an outstanding selection of tea cozies, strainers, English bone china cups and saucers and teapots. It is probably one of the nicest and largest in the area. The tearoom is available for children's teas, bridal and baby showers, and special events. Angela sums up the tearoom review with her comment: "I am not here to 'Play' at tea, this is a real tea room." If you want to experience "taking tea the English way", visit Chattanooga and Tennessee's finest tearoom: The English Rose. It's worth the trip.