Reviews
Franchia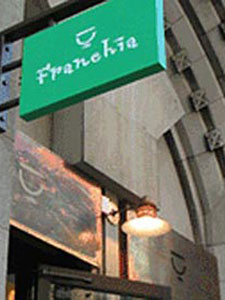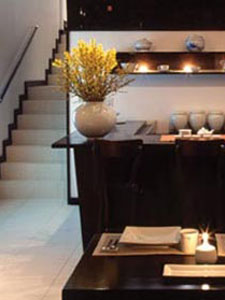 [TEAROOM ID=722]

Several blocks east of the Empire State Building, the triplex Korean teahouse Franchia brightens a bland stretch of Park Avenue with its 3-story window and white sidewalk tables. This "tea shrine in another space and time," is a mountain-temple design, with palatial floral-tile ceilings and Chinese ink paintings on cream-colored walls. The ground-floor tea bar for take-out or drinking-in faces simple dark wood tables where guests can dine and savor 15 premium loose-leaf teas and assorted herbal tisanes ($5 to $10). Display shelves exhibit ceramic teaware, the Franchia line of rare teas, and "tea starter kits." This stylish vegetarian temple exudes philosophy in every cup ("tea tao"), and educates in weekend workshops for the tea-challenged. The formal atmosphere is conducive to special holiday meals and events. Poetry-engraved plates and brochures extol "harmony, balance, peace of mind," although harsh acoustics and tight seating may thwart these lofty goals at peak hours.

To please connoisseurs of the leaf, Franchia serves and sells 5 varieties (3 harvestings) of 100% organic South Korean wild green tea "from the rocky slopes of Mount Jilee," purported to contain extra-rich nutrients and minerals due to these tea plants growing 60 feet into the soil. Rounding out the menu are 4 black teas (Darjeeling, Ceylon, Darjeeling-chamomile, Darjeeling-chai), 4 flavored greens (rose, chrysanthemum, lotus, osmanthus flower) and 2 Oolongs (Nantao, Pao Chong).

A staircase leads to mezzanine-level banquettes, and a higher balcony level with 4 tables that can be closed off for private tea ceremonies. Seated aloft, overlooking Park Avenue, I queried our well-trained waiter about the menu. I learned that only 3 of the 9 iced "teas" are made with actual tea leaves. The others are tealike beverages popular in Taiwan and Korea, made with sugary fruit-flavored syrups (plum, date). It's a pleasing option for non-tea-drinkers, and a surprising indulgence in an otherwise austerely health-conscious environment.

It being a hot summer day, we mulled over the fresh-brewed iced tea selection of plum, citron and Darjeeling, deciding on Franchia's Wild Green ($5), one of the "Top 5 iced teas in New York," (according to New York Magazine, June 2003). A pale emerald brew swiftly arrived in tall faceted glasses atop red satin coasters. Its naturally sweet, nutty-earthy taste complemented a "Green Tea Salad" ($8.95) of cabbage, watercress, carrots and green-tea dressing with artistic topiary vegetables - a radish-butterfly and beet-flower.

Our next selection, Nantao tea ($5), a top-notch Formosa Oolong, had a ripe-peach flavor and elegant honeysuckle aroma. After displaying jade-green leaves in a porcelain strainer, the waiter poured, said "Steep for one minute," and left a thermal carafe of water for do-it-yourself re-infusions of the leaves. This was made simple via the removable strainer in a heat-retaining, lidded ceramic cup. We learned that Franchia's high-quality Oolongs may be reinfused at least three times without sacrificing fragrant aroma or nuances of flavor. For dessert, green tea-coconut and mango sorbets ($6) were subtly sweet with velvety texture. Franchia's "Royal Tea" ($24.95), is presented on a flat tray — not British-style tiers - and includes two teas, savories (dumplings, Asian pancakes, sushi, cabbage rolls, green tea bread), and sweets (mini rice cakes, soy cheesecake).

The #6 train to 34th Street is one block away. With three dining levels, sidewalk café, gift shop, and tea ceremony workshops, Franchia is a welcome paradise for tea lovers, from neophyte to connoisseur.