Reviews
Central Perc European Café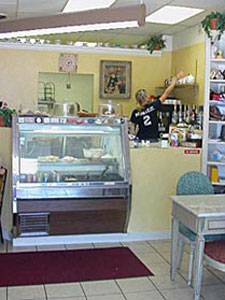 [TEAROOM ID=721]

Central Perc European Café is reminiscent of the English proprietors' home country: like a good pub, service is 'come to the counter', with food then delivered to table; no pence are squandered on posh garnishes, and you're likely to be drawn into the neighborly banter between the regulars and their British hosts.

English accents can be found in the food, as well. In example, an unusual sandwich was served for Afternoon Tea. Frankly, I couldn't figure out what the devil it was, and so I asked Mike Morgan, Central Perc's owner. He eagerly explained his passion for the pungent ingredient, which was dark English pickles, like those Bridget Jones reaches for during a feeding frenzy. The Branston pickles are chopped, mixed with sharp cheese and onion, and smeared on brown bread. Hmm. Delicious, indeed.

True to British tradition, Central Perc serves piping-hot tea in beautiful English teapots. In lieu of china teacups, visitors sip their tea from generously sized, heavy ironstone mugs. Mike Morgan enjoys blending loose teas for his clientele. His signature Central Perc Blend is a high quality, smooth black tea with a touch of Earl Grey for depth, and it is offered for sale by the half-pound. Bencheley and Forrelli teas are also available in several no-fuss varieties, such as English Breakfast, Earl Grey and Mint. In addition to tea, the café serves gourmet coffee, soup, salads, sandwiches and fresh pastries.

Mike and his wife, Rose, hail from the Wirral peninsula in northwest England, an area that produced the first public park in 1847, which served as the model for New York's Central Park. The couple met when Mike drove the bus that Rose took daily to work. They married and made several visits to the States, and, in 1996, opened the café.

Bringing a bit of England to the Midwest has been warmly embraced; visitors love Central Perc's popular Afternoon Teas, served from 2 to 4 p.m. and priced at $10 per person. Afternoon Tea includes generous servings of three types of tea sandwiches, Rose's fabulous homemade pastries, and baked-from-scratch scones, slathered in thick butter, strawberry preserves and whipped cream. The tea menu changes seasonally or according to Rose's whims. Mike is meticulous about steeping tea for five minutes, and instructs new customers about how to approach the imposing three-tiered stand of Afternoon tea goodies, saying, "Begin at the bottom, and work your way to the top." A pot of just-boiled water is also brought to the table, to dilute the stronger tea at the bottom of the pot, or to warm up a cuppa that's been neglected during thoughtful conversation or a suspenseful novel.

The café is located on a shady, well-manicured boulevard, among upscale shops, fringed by the gracious, historical homes of Oakwood, a suburb of Dayton, Ohio. Shelves of English china perch high on the neutral colored faux painted walls, sparkling in the gentle sunshine that floods in from the shop's full-glass front.

Central Perc European Café delivers a charming English-style tea experience.