Drinks & Eats
10 Teas to Enjoy in Fall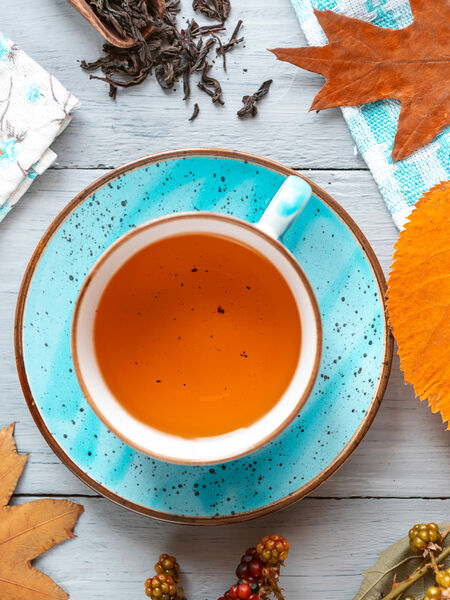 If you suddenly have the urge to go apple picking, trick-or-treating, or get together for Thanksgiving, then Fall is on its way. As the weather takes a cooler turn and we break out the light jackets to go on walks to admire the changing colors of the leaves, let's enjoy a pot of tea for the changing seasons. Here are ten teas to try this fall.
As the weather starts to turn cooler and the leaves turn into brilliant shades of gold, a cup of Golden Monkey is the perfect way to welcome in Fall. Unlike a lot of black teas, Golden Monkey is mild, its gentle flavor and smooth brew providing a comforting warmth on a brisk autumn day. With an aroma with a slight hint of chocolate, this tea is truly a golden ticket.
Fall is a time of change, a time which should be handled delicately and gradually. While you may enjoy a mild green tea in summer and a stronger, smokier tea in winter, you might find yourself in between, not quite sure what to drink. Sleeping Dragon has the smokey quality of fellow green tea Gunpowder, but it's mild and sweet like a tea you might enjoy in the summer. A great way to ease into the heartier teas of cold weather.
School is starting up, summer vacations have ended, and the routine settles down once again with the arrival of fall. Getting accustomed to new schedules can be a stressful time, meaning that a calming cup of herbal tea will be your best friend. Known for its relaxing properties, Chamomile is a caffeine-free beverage that can calm your nerves and lull you off to sleep. A cup at the end of the day is a great way to unwind and rest to take on the next day.
Who doesn't love a good apple pastry? Both fall and winter are known for the baking of pastries, but there is something about fall that makes you crave a fresh apple tart with a dash of cinnamon. With Spiced Apple Chai, you can take that delectable flavor and enjoy it from your mug, the flavors of the tea, spices, and dried applies mixing together to create a truly autumnal flavor. Enjoy as a latte for a sweet, creamy treat.
One of the finest teas for a fine autumn afternoon. Hsinchu Oriental Beauty is a heavily oxidized oolong, making it in some ways similar to black tea. However, it has that gentle mildness and complexity oolongs are known for. With a slight mineral and fruity flavor, this is a perfect tea to enjoy after apple picking. And because it can be infused multiple times, you can enjoy this tea all evening long.
A favorite autumn activity is to stroll through the woods, taking in the breeze of the forest as you trod along the trail. The scent of a forest in autumn can be yours in a cup of Pu-Erh Poe. An aged tea, Pu-Erh Poe is a hearty, deep tea with an earthy, woodsy flavor reminiscent of fall. Great to pack in a thermos to enjoy during your walk.
Fujian Rain is a great oolong for every day, but it's especially great for autumn. Not quite as heavy as a darker oolong but more robust than a lighter oolong, Fujian Rain is the happy medium for transitioning from the heat of summer to the cool of autumn. With a pleasing mineral taste, be sure to enjoy this tea near a babbling brook.
Autumn is the time of harvest: amid a cornucopia of food, you're sure to find rich vegetables like sweet potatoes amid other fall delicacies. If you love a fresh baked sweet potato with your meal, finish off your meal with a cup of Jin Kong Que. With a natural sweet potato essence, Jin Kong Que, which translates to "Golden Peacock", is a black tea not unlike Golden Monkey in its mildness and gentleness. It produces a smooth cup of tea with warm toasty flavor, a lovely way to end a comfortable evening.
With summer winding down, there's still a part of us that want to get those last summer flavors before the dead of winter. While still having that grassy flavor characteristic of Sencha and Gyokuro, Kukicha also has a nice nutty essence that fits in with the chestnuts of autumn. A nice way to both say goodbye to summer and hello to fall.
With Halloween well on its way, who doesn't like an occasional sweet treat? Honeybush bears a lot of similar qualities to its cousin Rooibos but with an extra sweet flavor. Like Rooibos, it can be combined with other flavors for a beverage customized to your liking. With the sweet and smooth addition of hazelnut, you are sure to enjoy this warm, tasty beverage in the coming days of fall.