Travel
Camping with Tea: Yes, It's Possible!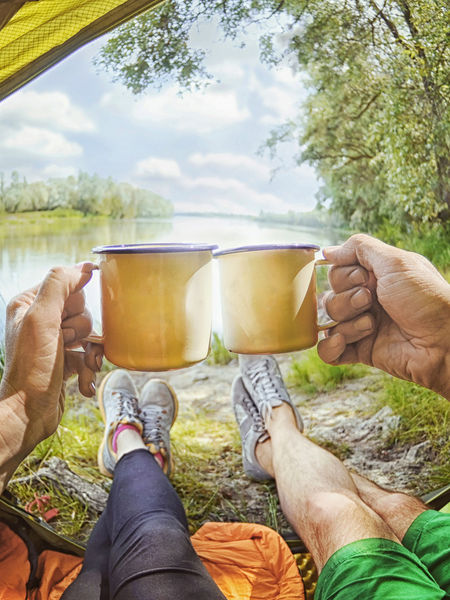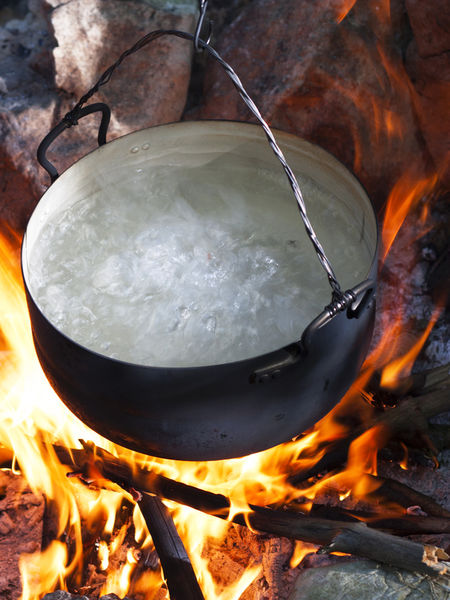 Whether it's a totally rustic camping experience where you fry the fish you catch and sleep in a bedroll on the ground or you drive a camper or trailer to a campground space, you can take your tea experiences with you and enjoy every last drop daytime enjoying nature or nighttime, soaking up the stars in the sky.
CAREFUL PLANNING
If you're the hardy camper type, you already know that planning ahead, packing light, and making every item do double-duty are essential ideas for an enjoyable experience. Leave the delicate china cups and pots at home; in fact leave every typical tea-making item at home and take only a strainer, a sturdy saucepan, and a few thick porcelain, or metal, mugs.
To make tea at a campground, fill up the saucepan with fresh spring water or from bottled water**. Place the pot on your campfire and the water come to a boil. While it is heating, scoop up a pinch tea leaves with your thumb and forefinger, about a teaspoon, and put it in the cup. Pour the heated water on the tea and brew 3 to 5 minutes, or as long as you like it. Using the strainer, pour the brewed tea into your waiting mug. You may eliminate the strainer as high-quality teas sink to the bottom of the brewing vessel making straining not necessary. Try it first at home to see if your tea choices need strainers or not. One less thing to pack.
One convenience for tea loving outdoor campers is our new folding infuser. Takes little space, strains a brewed tea perfectly, cleans easily. Check it out!
TIP: Bring teabags for added convenience, fewer things to pack, and easily disposable. Try one of our sample packs: https://www.adagio.com/list/best_sellers.html
If you're pursuing the urban-convenience camping experience via trailer or camper, you'll have the marvelous conveniences of a stove or hotplate on which to heat a kettle, electrical outlets in which to plug an electric kettle, and cupboards to safely store teapots and cups. Even so, sometimes traffic conditions can be brutal to dinnerware and glasses, so don't being your best teapots and cups. If you cannot resist, then place Quakewax® or similar products underneath to prevent them from falling or rocking into other items, and breaking.
We love our ingenuiTEA at the office, at home, and yes, in the camper on the ground or in the trailer. It has the convenience of filter and brewer in one, is easy to clean, and is quite sturdy.
TIP: Invest in a nice serving tray in a plastic, wood or willow material. It makes tea time a tad more civil out in the wilds of the woods, along the sea or in the stillness of the desert.
CONVENIENCE
Loose leaf tea lovers may be hard to convince to bring teabags, but since so many high-quality teas are now available in upgraded teabags, there's really no reason to ignore their ease of use, and portability. They also eliminate the necessity for measuring spoons, measuring cups, strainers or filters, or teapots. You'll brew a great cup at any time easy-peasy. All you need is a cup.
TIP: Be a good camper citizen: discard loose leaf tea around plants or trees as they're nutritious. Discard teabags in garbage containers or take with you if no cans are available, and discard them when you can.
**GOOD WATER IS CRITICAL
You may be enough to camp by a pristine stream, the water may indeed be perfect for brewing tea. That's not always the case, so always bring bottled water with you. The good news for campers is that you will be able to discard the bottles in recycle bins along your way and the beginning weight will diminish as you use them up. If you're concerned about discarding plastic bottles, refill them as needed, or use glass bottles or metal canteens for your water supply. Refill as necessary at places that have trustworthy sources of water. Please take water quality seriously when camping. If you don't, your tea could taste lousy and, in the worse-case scenario, bad water could make you, or your pets, ill.
TIP: Quality matters with tea, too, so bring only the teas you love; don't "make do" with teas you don't really enjoy. This is your vacation, and nobody needs to abandon the pleasure of drinking quality teas.