Tea in Art
Don't Toss those Teabags!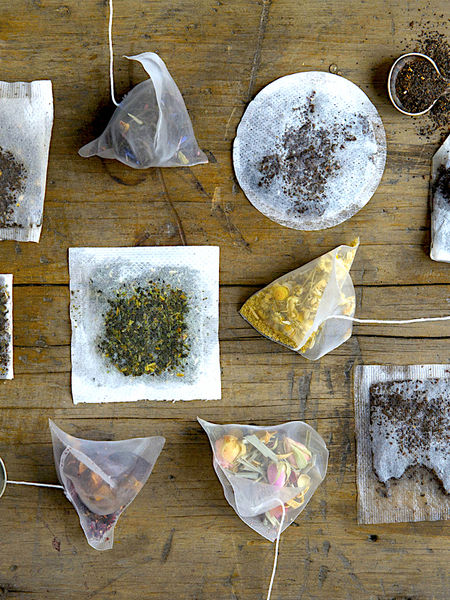 Re-Use, Recycle, Re-Purpose
The tea bag is a model of convenience and portability, and ever since Tom Sullivan impulsively wrapped some tea in a silk pouch, the cleverness of his idea has never ceased to appeal. It's not just a neat way to brew a cup of tea, it can be used to create legions of ways to repair our world with clever applications to re-use, recycle, and re-purpose
IDEAS FOR RE-CYCLING TEABAGS
DRINK UP!
When teabags like Adagio's pyramid sachets, contain full leaves vs. fannings or dust, re-using them for a second or third cup is not only do-able, it makes good economic sense in stretching your investment in tea. Some second or third brewings may require additional time, so brew then taste to meet your satisfaction.
KILL THE BEASTS!
When your bag is "spent," don't toss it into the trash. Instead, allow the bag to dry then place in an area vulnerable to pests and insects (who especially detest peppermint!) This is particularly good near grain and legume containers.
ADD A TWINKLE
Squeeze out any excess tea liquor from teabags and chill for an hour or longer. Remove from the fridge, stretch out on your favorite couch or your bed, and gently place the chilled bags on your closed eyes. Nap. You'll not only feel refreshed from your forty winks, your eyes will regain their youthful sparkle. A great trick to do before make-up application for a night out.
IDEAS FOR REPURPOSING TEABAGS … AS ART!
By trimming off the top of a teabag, disposing or repurposing the tea, you have a useful piece of fabric that can be fashioned into art works. Some applications include: pockets or envelopes in which to place hand-written notes, love poems, fortunes, or tangible items like coins or buttons or anything you want; appliques that can be decorated and sewn onto other fabric or a paper collage. With the silken sachets, reshape them into other forms like fabric flowers. Decorate and paste or sew your flowers into collages; or memory quilts with small items or photos to commemorate the person for whom the quilt honors. You can also use the empty bags to store semi-precious jewelry items to avoid having them scratched by other pieces (especially good for earrings.) The possibilities are endless.
Before you enjoy more of your loose leaf, or sachet style bags, do you have old paper teabags laying around? They're great for an art project! Shown below is a page from a birthday book with a teabag fabric on which images were painted and tea tags were used as bookmarks.
HOW-TO:
Once you've emptied the bag of tea, rinse it out with water and dry. Now, choices to make! You can dye it with fabric dye or overbrewed tea (black or green work best) or paint images on it with acrylics, goache, or watercolor. Add trimmings as desired like buttons, ribbons, paper, or images cut out from magazines and greeting cards.
Paste your completed tea bag art onto a board and it's ready to frame, or like in this project, make a number of boards for a book. When done, punch holes in each board, and bind them together using ribbons or strings or other tea tags with strings. Great gift idea for any occasion.
IDEAS FOR REPURPOSING SPENT LEAVES
TOSS 'EM INTO THE COMPOST
Gardeners know this, but we want to share. WORMS LOVE TEA. That's why it's always a great idea to add spent tea leaves to your compost. It draws worms, they eat the tea, and they fertilize the compost, and that's what makes your garden grow and grow. No compost but you do have houseplants? Sprinkle spent leaves around your plants; push the tea leaves into the dirt where it will enrich it with nutrients. You can, of course, also do this on your outdoor plants. NOTE: Hydrangeas, in particular, may change color with the addition of tea liquor or leaves around the roots.
CRUSH 'EM FOR ART PROJECTS
Thoroughly dry tea leaves, then crush or pulverize them. Use to decorate place cards, greeting cards, buffet dish identification cards. Using a pen or pencil, write out the words on a place card. Using Elmer's white glue, outline your words with glue. Sprinkle the crushed leaves generously on the card, allow to dry, then shake off the excess. Leave as is or paint or gilt over for a unique look.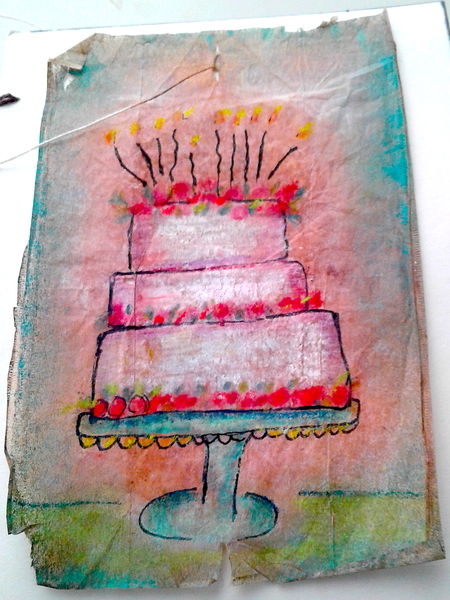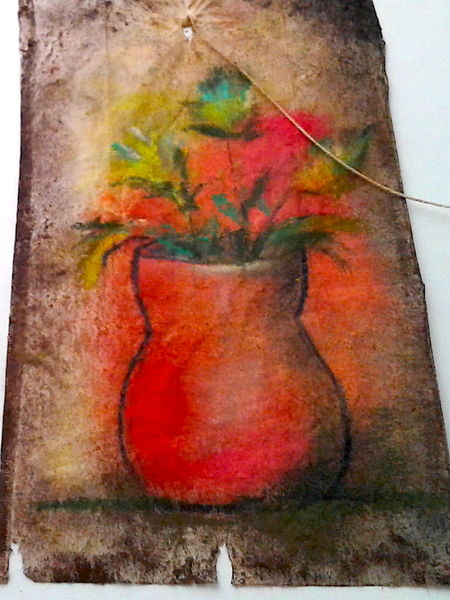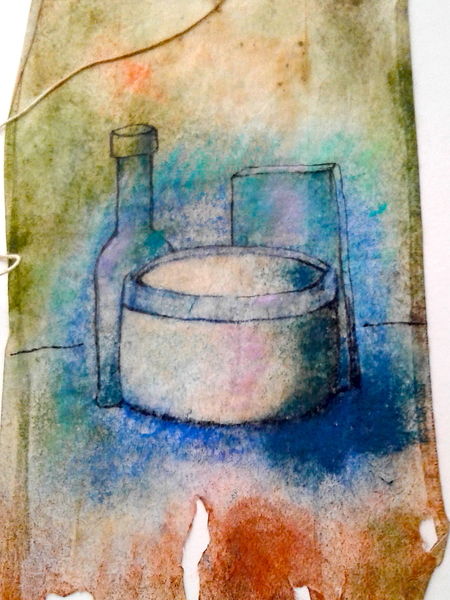 Photos by Diana Rosen. Birthday book project, using teabags, designed and created by Patti Anastasi, pattianastasi.com