Enjoyment
Halloween Party Ideas for Adults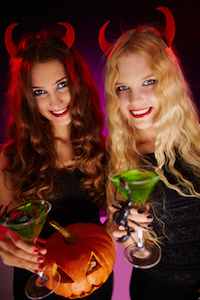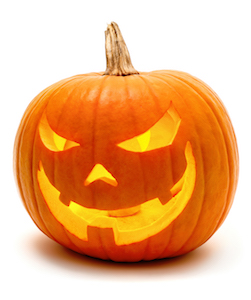 How is an adult Halloween party different than for children? It's all about choices!

Not every adult enjoys the dressing-up-in-costumes concept, so suggest your guests check their closets for looks either goth or silly, using all-black, ghostly all-white, or deep blood-red as color schemes.

Entertainment is important, and nothing is more exciting (and scarier!) than watching classics of the horror genre. What's your favorite Frankenstein? Love the "Chucky" series? A Stephen King story? With a rich source from Netflix or Red Box or your local (free!) library, you'll have several choices to scare the heck out of your guests. Bright orange or yellow paper bags of popcorn are perfect accompaniments and won't spoil appetites if you're serving a light supper.

Wow the guests with a dynamically-decorated buffet table. White may be the all-purpose color and it offers a "ghostly background," yet it's tempting to buy seasonal Halloween plates and cups. But for dinnerware, why not go goth? Dark, forbidding black is sophisticated and theme-appropriate at the same time, or go blood-red for linens (tablecloths and napkins in paper for the budget and easy cleanup) and black or dark red plastic cutlery to complete the ghoulish glamour.

Offer your own personal buffet favorites, or go for the kinds of food that will make everyone feel like a kid again without the schlep door-to-door: triple cheese macaroni, pizzas, and baked apples and/or apple pie for dessert and ice cream. Hey, it's a PARTY. Oh, okay, add a salad, but make sure it includes bloody red cranberries, tart cherries, and crisp crunchy walnuts — the better to use your Dracula teeth to bite in, my dears!

Can't resist pumpkins? Try mini pumpkins for a side dish. They're simple to cook and can be used either as a bowl for soup or stuffed with your favorite grain salads. Cut a circle around and stem, remove and save. Scoop out the seeds of the pumpkin and discard. Put a few knife stabs around the pumpkins, replace the stems on top, and bake in a 350-degree oven for about 45-60 minutes. Remove from oven and carefully place on a platter. When cool enough to touch, add soup or grains as desired.

If you have a medical supply shop nearby, you could get syringes with which to add "medicinal shots" of vodka or whiskey to juices or teas. Also scope out the shop for glass test tubes ... they'll make your deep dark-red teas bloody wonderful. No shop nearby? No problem, just use clear plastic cups for "bloody drinks."

How about a Ghoul's Punch? This is a variation on one developed by Giada de Laurentis using one of Adagio's fabulous blood-red herbals.

INGREDIENTS:
* 8 cups water
* 4 ounces brewed Adagio Berry Blast herbal tea
* 2 1/2 cups sugar
* 4 tablespoons lemon juice (freshly squeezed)
* 2 tablespoons lime juice (freshly squeezed)
* 2 cups chilled vodka, (Put the bottle in the freezer overnight before the party.)
* 2 cups ice

DIRECTIONS:
Brew the tea by putting the loose-leaf tea and boiling water in a saucepan; steep for up to 10 minutes in boiling water. For milder taste, brew for 5 minutes, but remember that the ice will dilute the flavor.

Stir the sugar into the hot brewed tea, and warm over medium-high heat until the sugar has completely dissolved, stirring frequently.

Remove the pan from the heat and allow the tea to cool completely. This should take about 20-25 minutes.

Add lemon and lime juices and the chilled vodka. Place ice in a punch bowl.

Slowly pour the mixture through a large, fine-sieved strainer into the punch bowl. (Discard the flower petals and leaves). Serve immediately.

If you need to prepare the tea ahead of time, stop when you've added the juices and vodka and refrigerate, covered, until ready. Pour over ice only when prepared to serve. Yields 8 to 12 servings, but this recipe is easily doubled!