Enjoyment
New Year's Resolutions? Let's Take Another Look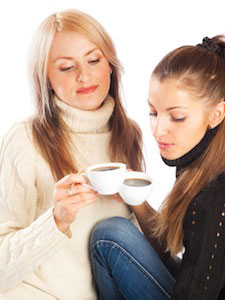 Who hasn't thought to save more money, lose those pesky pounds, eat better and exercise? We don't need to repeat these oft posted - and usually broken- resolutions. Instead, we've come up with 12 resolutions, one for each month, which are easy or fun or inexpensive and, best of all, really make a difference for you and everyone around you. Remember, these are just suggestions, however, we hope you'll consider them as inspiration.
Be grateful. No matter what your situation is, somebody's got it worse. Be grateful for the friends, family, health, work, wealth you DO have, not wistful for what you don't have.
Make a phone call. Forget social media just for once. Listen to someone's voice. Hear the subtext, feel the warmth, realize how easy it is to dip into conversation unaware of the clock or the buzz of another post on Facebook.
Be silly. Eat soup for breakfast, wear your jammies for dinner, watch your favorite comedy instead of the evening news, put funny notes in your mate's pockets or your kid's lunch bag. Lighten up. Laughter is truly, absolutely, honestly, the best medicine.
Invite someone for a cup of tea. A cup of tea is a generous yet inexpensive way to offer friendship, get to know colleagues, do business. Tea connects us to one another.
Do no harm. It isn't just the medical doctor who should follow the Hippocratic Oath. This is good advice for anyone wishing to live well. Seek good ways to right wrongs or disengage from conflicts.
Be here, now. Today, as the saying goes, is a present you give yourself. Don't pine for yesterday or be anxious about tomorrow. They're not "here"...you only have today. BE. HERE. NOW.
Be generous. Give a little, whatever it takes. Forgive and forget and move on. Write the check, if you can. Provide the hug, the comfort. Give love, joy, time.
Try something new every day. Eat a guava, take a different route to work, shop another supermarket. Try a new selection of Adagio tea, or a new way to brew or a different type of teacup or teapot.
Register to vote and cast your vote. If you travel, sign up for absentee balloting. If you're not a citizen, and would like to be, get information about citizenship classes from your local library or community college. Involved citizens make a vibrant, responsive government. Have your say.
Do something you have always, always wanted to do. You'll be so glad you tried out the comedy routine or bungee jumped or traveled to Antarctica or Timbuktu. Whatever it is, do it.
Be kind, said Philo of Alexandria, (and others) "for everyone you meet is carrying a burden".
Give tea as presents. Ahem. Valentine's Day. Passover and Easter. Mother's and Father's days. Anniversaries. Graduations. And, of course, birthdays. Adagio gift teas are spectacular ways to say "I care" or "Thank you".
All of us at Adagio wish you a healthy, happy, prosperous new year and say THANK YOU for your continuing support. Our resolution for 2014, and every year, is to provide you with the finest teas at the best prices with the most wonderful customer service.