Culture
Tea Goes to College: Campus Tea Clubs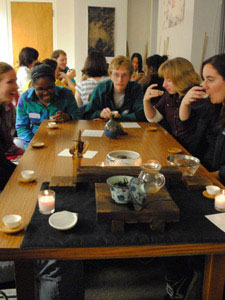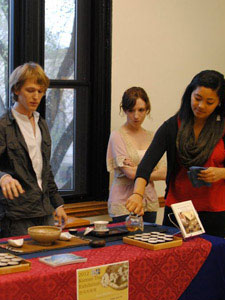 It's a typical day in class at The University of California, Berkeley... except the instructor is a junior in college. Also the 25 students are gathered at a local teashop, rather than in a classroom. And rather than scribbling in notebooks, students are sniffing, scooping, and brewing tea using Chinese gongfu tea sets.
The class is part of Berkeley's DeCal program, which allows students to enroll in semester-long classes facilitated by students. Sam Mansfield, the co-facilitator of "TeaCal", explained that the class is really popular, and they had to turn away many of the 80 students who wanted to sign up. During each gathering they focus on a different type of tea, then students practice brewing tea for each other. Though the class is mostly discussion-based, Sam also brings in guest speakers and assigns reading materials.
A growing movement
Coffee may still be the drink of choice for students pulling all-nighters or trying to stay awake in morning classes; however, many college students are turning to tea for a different take on the beverage culture. The "Millennial Generation" is adventurous and idealistic. They love trying new products and experiences, and look for quality in everything they consume. Tea is a natural fit, with its diverse history, countless flavors, and health benefits.
Jason Cohen, junior at Penn State, has helped turn his school into possibly the most tea-drenched campus in the U.S. He started the Chinese Tea Ceremony Club three years ago. Today the school also boasts a Japanese Tea Ceremony Club, a Korean Tea Ceremony Club, a student-run teahouse, and a Tea Research Institute with three faculty research chairs.
This month the Tea Institute is hosting three Korean tea specialists and a tea master, as part of the Korean Tea Exhibition April 4-7. The visitors will also be training student members of the Institute in the Korean tea ceremony, to share their tradition with other students. And through a grant from the Inje University in Korea, four Penn State students will be flying to Korea in May to study the tea ceremony for a month.
Jason believes that college is the perfect place for tea culture to flourish. He reflected, "College community offers a very large population of young people who want to try new things. That experimental and learning attitude will make tea catch on faster. A lot of habits students form in college will stay with them the rest of their lives."
Nick Bastone, UC Berkeley grad who hosted the first TeaCal class in 2011, affirmed, "College is a very formative time. Much of your hours are spent talking with new friends and thinking of new ideas. There seems to be no better time or place for tea to be introduced."
A new way to socialize
At Boston University, the tea club serves as a social hub, bringing students together who might otherwise never meet. The club is part of BU's Howard Thurman Center, dedicated to helping students find common ground as a starting point for exploring both their differences. As many as 30 students gather each week to connect with other tea lovers and taste loose leaf teas. Club president Tino Bratbo explained, "BU is a very dispersed campus, so the tea gatherings are a great opportunity to get to know people. [The club is] there for whatever people want it to be. If students want to learn about the tea, I can share the history, science, and geography. Or if people just want to have a conversation, the whole point is to bring people together."
Tea club leaders agreed that while many students are new to the world of loose leaf teas, there is a growing niche of tea "die-hards." At Penn State there's something for everyone: some students just enjoy socializing at the teahouse, while others attend the weekly tea clubs, and still others buckle down for the intensive testing required to become a Tea Institute member.
Starting a tea club
Will there be a tea club on every campus someday? Perhaps soon, and maybe on a campus near you! The University of Toronto, Cornell University, The University of Illinois, and Washington and Lee University are just a few schools with tea clubs.
If your campus doesn't have a tea group yet, perhaps it's time to start your own. You may be surprised how many other tea fans are on campus. Jason advised, "My biggest suggestion for anyone who wants to start a tea club is to 'be a geek, not a snob.' Show people what's good by holding tastings and events, and they will convert themselves. Suggest, don't correct, and remember that many people will think 'it's just tea' no matter what you do." Nick emphasized that passion is key, and tea will attract like-minded people. "Just start pouring a lot of tea. Invite friends over and have them bring their friends. People will immediately recognize that this isn't a frat party. It's a place where people tell stories, share ideas, and drink the best tasting tea they've ever tried. Interest will naturally rise and you'll know when it's time to make this an actual club on campus."
Tea also touches on a number of disciplines in the academic environment: culture, history, language, anthropology, science, and even economics come into play. This provides an excellent opportunity to leverage partnerships with academic departments or school associations.
It is exciting time to be a tea drinker on campus. Tea clubs are shaping culture on campus, helping students explore new horizons, and creating lifelong connections. As the optimistic Gen Y might say, the sky's the limit!
—
Tiffany Picard is a business consultant who specializes in the tea industry and online marketing. Visit her website at www.t-consultancy.com.