Drinks & Eats
Iced Tea and Lemonade: Summer in a Glass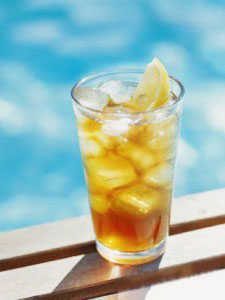 Perhaps it started slowly - iced tea with a slice of lemon. Then a few more squeezes of lemon. And on it went until a stroke of brilliance struck a thirsty tea lover who realized that mixing lemonade with iced tea was exceedingly delicious.
Lemonade-iced tea drinks are everywhere these days. And with good reason: they combine two of summer's quintessential thirst quenchers. With heat like most of the country has seen this summer, we're all in need of a tall glass of something cool.
While a hot tea vendor invented iced tea on a sweltering day at the 1904 World's Fair, lemonade has been around much longer. The earliest written account of lemonade comes from ancient Egypt; bottles of lemon juice for people to drink called qatarmizat were sweetened with a lot of sugar. Our taste buds should count their blessings that over the next thousand years, water was added to this drink to tone down some of the acidity.
Sometimes known as an "Arnold Palmer" (yes, after the golf legend), lemonade-iced tea can be bought in most stores, but why not make it yourself? Using quality tea and being able to adjust the sugar and tartness to your liking can make a big difference. From your standard Arnold Palmer (half lemonade, half iced tea), to lemony flavored iced herbal teas, the possibilities are endless.
For the lemonade, you can use store-bought (we're partial to Florida's Naturals and Simply Lemonade brands), or make your own.
---
Basic Lemonade (makes 2 quarts)
1 ½ cups sugar
8 cups water
1 ½ cups lemon juice (fresh preferred)

In a small saucepan, combine the sugar and 1 cup of the water. Bring to boil and stir to dissolve sugar. Allow to cool to room temperature, then cover and refrigerate until chilled. Remove any seeds from the lemon juice; strain out the pulp if desired. In a pitcher, stir together the chilled syrup, lemon juice and remaining water.
---
In our experiments, we first did a standard iced tea brew - twice the usual amount of tea for the amount of water you are using (the idea is to brew it double strength since you will dilute with ice later). Once brewed, add ice to cool down the tea and dilute it to the proper strength, then mix iced tea and lemonade in equal parts. For black teas, it seems that brewing for only 3 minutes ultimately gave the best results once mixed with the lemonade. (See our previous articles on making and enjoying iced teas)
After a weekend spent taste-testing different combinations, there were some clear winners. Ceylon Sonata and lemonade make the perfect classic "Arnold Palmer." Fruit-flavored black teas like raspberry black and mango black were tasty and bright when combined with lemonade. Another hit was coconut black tea with lemonade; it was tropical and refreshing (and also good with limeade instead of lemonade).
Fruity herbal teas stand up well against the acidity of lemonade. Dewy Cherry's crisp taste balanced the lemon flavor well, as did Mango Melange. Jasmine teas were also winners. Both Jasmine Chun Hao and Jasmine Yin Hao brought a light floral element to the iced tea-lemonade combination.
Some other teas hold also their own against the strong lemon flavor. Rooibos Vanilla was surprisingly delicious with lemonade, as was Peach Oolong. One suggestion is to freeze some Peach Oolong Tea in an iced cube tray and add it to lemonade along with frozen peach slices for a special summer treat.
Any way you brew or blend it, make sure your summer refreshment is cool, creative and delicious!