Profile
Jason Walker of Walker Tea Reviews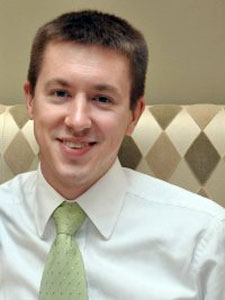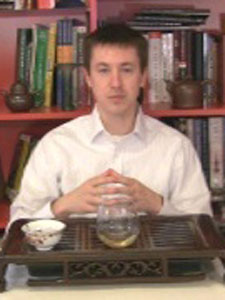 It's pretty easy to call Jason Walker a 'tea connoisseur'. It's because he loves teas, knows his teas, and best of all is willing to share his knowledge and enthusiasm with everyone via his blog, Walker Tea Review. This August, he will be launching a series of online tea tastings on his website. Jason has worked with tea companies (Adagio Teas included, of course) to offer an affordable tea sampler that he will be using in his online tea tastings, so you can taste and learn along with him.
Jason Walker was born and bred in the South, so Southern style sweet tea was always at hand as a refreshing beverage. His interest in tea though did not come until he traveled to China as a newly post-graduate, wanting to quench his long interest in the foreign country as well as gain international experience. His encounters with tea began with the customary cup of green presented while visiting offices and homes to discovering a wide range of teas: bamboo teas to aged pu'erh. Jason's travels in China took him all over China (he started in central China at a a teaching post at university and then gradually moved to Shanghai), teaching as well as managing corporate projects. He resided in China for seven years, tasting all sorts of fresh teas and garnering the necessary knowledge to taste the countless nuances in each cup, from his teachers: tea retailers and tea farmers.
With his teaching background it's also not too surprising that Jason takes tea education very seriously. After hearing from people who wanted to try out tea, but were somewhat intimidated on how to properly brew it or confused by the differences among the many varieties of teas, he wanted to create a means of support for new tea drinkers (as well as seasoned ones) to compare and choose from the various online retailers:
"I want to help people talk about and appreciate tea. I hear and see so many comments of inexperienced tea drinkers who say things like 'green tea tastes like grass'. But when you talk further, what you often find is that these drinkers lack reference points to describe the tea, " Jason notes. His blog was created to offer this support for tea drinkers.
One of the most outstanding and signature features of his blog, is his use of video reviews and video tastings. "Video reviews are more consistent- you can actually see the preparation process and the resulting cup of tea. This is especially helpful as new tea drinkers explore steeping parameters for tea." His videos are like bringing a tea educator into your home; and you will learn something new with each episode, such as particular steeping parameters for each tea to really appear to the tea drinker's palate. He also posts other blogger's reviews of the particular tea so the reader/viewer can compare notes. His blog also has a directory of the online merchants he uses, plus offers and news from these retailers.
Jason is very excited about his upcoming online tea program: "The program is truly unique. You can check the schedule to order the teas in advance, watch the video to see preparation ideas, and hear comments on the tea's characteristics..." Basically, ayou can view the schedule on his blog and purchase teas (from Adagio Teas, Teas Etc, and Stash) and taste along with him. This method of tea tastings offer an interactive experience, as many people cannot conveniently participate in a live tea tasting with a host as knowledgable as Jason. One can participate at their own pace, with as many teas or as little teas they want to try. He also encourages joining with a friend to split the costs of the tea, but also to have a companion to share notes and learn together with. He also advises taking the time out to really enjoy the tea and record your experience and notes. Comparing notes is recommended- you may find something that you didn't notice before.
Jason likes to enjoy his tea at home, where his video reviews and tasting are also taped. Home is also his favorite place for tea, and who would blame him for he has an impressive set up: he and his wife have amassed a vast collection of teas from around the world, all the necessary equipment, and a twenty-plus collection of yixing teapots. When he does venture out of the home for tea, he hits up Radiance Tea in New York City and then over to Flushing, Queens where Fang Tea is located. He highly recommends their tastings if you are ever in the area.
Jason also write tea news for the Newark Examiner and works as a tea-business consultant. He loves to read up on history, and even then it is linked to tea- he is fascinated with the links between the tea trade and early American history.
When asked as to what his favorite tea was, he stated that he couldn't really pick one: "My tastes change quite frequently, and I'm tasting so many different teas that I enjoy many of them without getting overly attached to a particular one." It would be safe to say many tea lovers would be envious of Jason Walker's pursuit of tea.
Check out Jason Walker's Walker Tea Review for the online schedule of tastings.
If you're interested in tasting Adagio Teas with Jason, check out his sampler here at a discounted price.