Reviews
The Teashop Girls: Tea and Youth Lit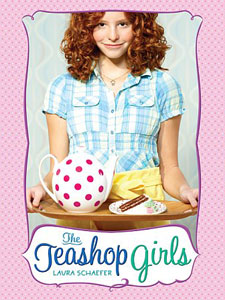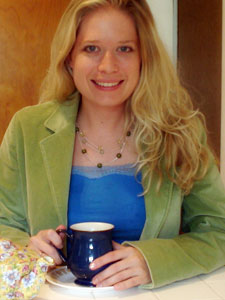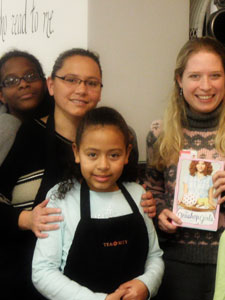 The Teashop Girlsis a gem of a book that was brought to my attention a month ago. Its demographic is more for the female preteen- 8 to 14 year old age set, and though it wouldn't find itself in my normal reading regiment, I found it to be a pleasant, fun, and entertaining read.
In efforts to promote her book, author Laura Schaefer contacted various tea companies to get the word out about her book. Even though the adult customer might not be interested in reading the adventures of three fourteen year old girls, they will be pleased to know that this is a great book for girls and young ladies whose interest might involve tea, baking, food. The story isn't benign either- it is full of action involving those natural problems that come with growing up- friendships, familial relationships, boys, and making the transition to young adulthood while still trying to hold on to certain, dear things from one's childhood.
The story's action revolves around our female hero, Annie who at fourteen is at the all too familiar stage of in-between in her life. Her grandmother, who she fondly calls by her first name Louisa, is the owner of The Steeping Leaf, an eclectic and cozy spot in Downtown Madison (where Schaefer hails from) that offers all sorts of wonderful loose-leaf teas and goodies and manages a steady stream of faithful regulars. Annie asks Louisa for a part time gig as a barista, and she is happy to hire her enthusiastic granddaughter.
However as enthusiastic and passionate Louisa and Annie are about tea and The Steeping Leaf, that hard reality is that the beloved neighborhood tea room is behind on rent and Louisa is facing eviction and shutting down the business. Naturally, Annie wants to help her grandmother and goes on a mission to save the tea room, enlisting her two best friends, Genna and Zoe to help. The Steeping Leaf is very dear to the three girls, as we find out that it has been around since they were five and that it has played host to many tea parties, birthday parties, and it fueled the girls' love of tea. Their love of tea and The Steeping Leaf led to their nick-naming of themselves as The Teashop Girls; a club of sorts complete with rules of conduct and a treasured scrapbook that they fill up with old tea ads, recipes, stories about tea, and other paraphernalia.
Of course, the girls face a lot of challenges in their quest to save The Steeping Leaf. Jonathan, an old boy employed by Louisa and who is the object of Annie's crush suggests copying the business plan of the chain-coffee shop across the street, which is gaining in popularity with customers. After successfully talking Louisa into changing her unique and quirky tearoom into an impersonal carbon-copy, they witness their customer base dwindle and Annie is depressed by the cookie-cutter, impersonal space that they changed The Steeping Leaf into.
Another pesky obstacle is The Teashop Girls' arch nemesis, Zach Anderson, the preppy annoyance that seems to pop up at The Steeping Leaf at every inopportune time. His parents are also trouble, as they are wealthy developers and there is a threat that they will be buying out the place to turn into condos. Louisa also contemplates on giving up and closing down shop for good.
Despite the consistent downs The Steeping Leaf faces, the girls continue to persevere and come up with ways to market The Steeping Leaf- printing and posting fliers, organizing open-mic nights, distributing coupons, and even doing an 'illegal' treat day in their school's cafeteria. Aside from the stress of keeping The Steeping Leaf alive, Annie faces other issues: her crush Jonathan seems to have his focus instead on Annie's older, college-bound sister, Beth; Genna wants to give up the good fight going through the summer as she's been accepted to a prestigious drama camp. Annie also contemplates about the move from eighth grade to freshman in high school, which also means trying to define what 'The Teashop Girls' mean even though they grow older.
In the end, we find out that through his meddling, Zach was inadvertently bringing The Steeping Leaf's plight to his parents' attention. Instead of buying out Louisa, their offer to help is enough to keep The Steeping Leaf open, much to the delight of Louisa and Annie. Annie's clever marketing also introduces The Teashop Girls' manifesto and enjoyment of tea to a new generation of Teashop Girls. In her personal life, Annie is able to reconcile both her feelings towards Jonathan and Genna. Though the threesome might be too old to be The Teashop Girls, they know that their friendship will last for a long time.
Along with being a great book to give as a gift to young girls, if you are a tearoom owner that caters children's event, this book is a perfect selection to add to your gift/retail section. Might I also add that it's worth a read if you are a tearoom owner? The Steeping Leaf's plight is unfortunately more familiar than not in these economic times, though not all tearooms in trouble will find a happy ending. Even though the various ways in which the girls market The Steeping Leaf are definitely not new techniques, the author's descriptions inject enthusiasm and freshness and can serve to be inspiring.
The Teashop Girls is definitely a treat for the tea lover. Including along with the book, Schaefer has included several recipes for tasty concoctions. I tried out The Steeping Leaf's Traditional Chai Iced Tea using some of Adagio's own Assam black tea and chai spices=delicious! In in addition to the recipes, there are reprints of vintage tea ads with 'Annie's' commentary, stories about tea- histories, folklore, and descriptions of tea ceremonies, as well as lists of fun uses for tea as a beauty aide. Whimsical illustrations done by Sujean Rim also are dotted throughout the book and each chapter begins with a quote about tea. All these fun extras add great charm and serve to be helpful and useful.
I hope The Teashop Girls is the first in a series by Ms. Schaefer- I would love to see more! Aside from the entertaining story, the author's knowledge and enthusiasm for tea is apparent throughout the book, and I learned some new things about the complex Camillia sinensis.
The Teashop Girls is published through Simon and Schuster and is available at bookstores nationwide.
Please check out Laura Schaefer's official website . Ms. Schaefer can also be followed on Twitter: twitter.com/teashopgirl