Culture
Tea & Sympathy
Tea & Sympathy is a small and perpetually crowded tearoom in the West Village's so-called "Little Britain" district. It has been serving up classic British fare such as bangers and mash, Welsh rarebit, treacle pudding and, of course, an abundance of (mostly flavored black) teas to British expatriates and Anglophiles alike for nearly two decades. At first taste, Tea & Sympathy is enough to make you wish the States hadn't caused that whole "Boston Tea Party" fuss and simply let the British carry on with their whole "world domination" bit unchallenged. However, by the end of the meal, you'll be glad to walk outside and know you are on American soil (or sidewalk, as the case may be).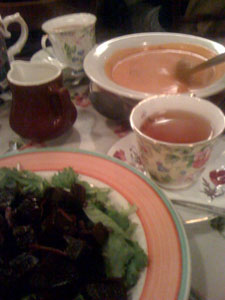 You see, when the denizens of Boston decided to throw tea overboard ships as a symbol of rebellion against the British, they set off a chain reaction spanning down the East coast and resulting in the voluntary end of tea drinking for many a proud soon-to-be American. Tea was still consumed in some areas, notably in the form of iced green tea punches in the South, but lost its former status and was no longer culturally ingrained in the same way. An unseasonably hot summer at the 1904 World's Fair in St. Louis led one Mr. Richard Blechynden to mix a batch of iced tea, get (erroneously) named the "inventor of iced tea," and spread the consumption of iced tea across the US. (The numerous free samples he distributed outside NYC's Bloomingdale's later in the summer didn't hurt, either.) Still, it took a wave of new tearooms, often opened by immigrants from Asia and Europe, in the US in the late 20th century to help the custom of hot tea reach anything near its former glory. Tea & Sympathy is one of those tearooms.
Those looking for afternoon tea à la Lady Mendl's (complete with live harpist and antique silver) will likely be disappointed by Tea & Sympathy. Those looking for tea as it is most often taken in the UK (complete with crookedly hung photos from yesteryear and quaintly mismatched China) will be thrilled. Although Tea & Sympathy offers afternoon tea (commonly and incorrectly referred to in the US as "high tea" and known in the UK as "low tea"), its "bread and butter," so to speak, is in actual high teas — hearty meals served on high tables. (Low tea is, in fact, the correct name for an afternoon snack/light meal served on a low table and generally inclusive of scones, cream, jam, finger sandwiches, and/or various sweets.) Most of the dishes are the very definition of "comfort food" — homey, rich, and creamy. Many include multiple animal products (sausage with cream-based gravy, meat pies with buttery crusts, sausage-wrapped eggs), but there is always a non-dairy vegetarian soup of the day and there are more every-day vegetarian options than you'd think possible in a British institution.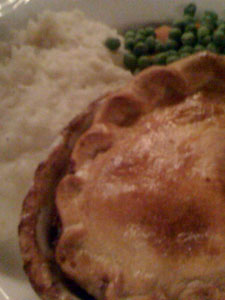 I recently visited Tea & Sympathy on a typically busy Monday evening with a companion, Angus. Angus and I are rather picky eaters (a vegetarian food snob and a semi-Kosher Jew with allergies), but both of us found ample dinner options. We began with the Heinz tomato (toe-MAH-toe) soup, which is nothing like Campbell's — it's flavorful, creamy, and thick in a way even Andy Warhol couldn't have imagined. My companion recalled trying something like it during his childhood, causing him to (understandably) wax nostalgic from his first spoonful to the last drop. The beet salad that followed was fresh, tangy and tasty, though I have to admit I've had better. I found the vegetarian shepherd's pie (lentil casserole topped with mashed potatoes and baked until crispy) to be satisfactory, but Angus absolutely flipped over his steak and Guinness pie. Apparently, it is a meaty wonder with a crisp and slowly collapsing crust "like Mama used to make" and is not to be missed by those who are carnivorously inclined. The desserts are absurdly rich, but well worth the caloric spike — their sticky toffee pudding with piping hot custard on top cannot be beaten.
Of course, I have yet to talk about the tea. The strange thing about older British-style tearooms in the US is that many newer American-style tearooms now surpass them in terms of tea selection and quality. In recent years, there has been a new American revolution in the world of tea. This time, the revolution has less to do with throwing tea into harbors and more to do with experiencing and appreciating more of the world's many types of tea. Although Tea & Sympathy was a forerunner in the US tea revival, it is also a tearoom that flatly refuses to be Americanized. What does that mean for you as a customer? The food is, as the practically all-British staff might say, bloody fantastic, but the vast majority of tea offerings are mid-range flavored black teas and tisanes. So, if you're looking for a British tea experience, then you will find it here. If you're looking for Silver Needle, any kind of oolong, a first flush Darjeeling, or anything else along those lines, I suggest you sip at one of the newer establishments that wouldn't exist had places like Tea & Sympathy not come along first. If you want the authentic British food but are unsure about the authentic British tea, you could always opt for a Lucozade, Ribena, Lilt, barley water, or other unusual British import… or you could swallow your newfound American tea snobbery along with a cup of tea you probably would have welcomed ten years ago. Looking at the current state of tea in the US, the hot tea drought that followed the Boston Tea Party may seem to have proved worth it in the long run, but we still owe some thanks to the British (or at least Tea & Sympathy) for its modern revival.
Tea & Sympathy Restaurant
108 Greenwich Avenue
opposite Jane Street
West Village, NYC
Mon - Fri: 11:30am to 10:30pm
Sat - Sun: 9:30am to 10:30pm
(212)989-9735

Tea & Sympathy does not accept reservations and will not seat you until your entire party is present. They are usually crowded, as the place only seats about 23. Be sure to visit their neighboring sister shop, Carry On Tea & Sympathy, which carries hard-to-find British grocery items as well as handmade tea cozies. Locals will be glad to know that they deliver and can cater events with an authentic British cab. Brilliant!
Lindsey "Vee" Goodwin is a tearoom consultant, tea educator, and freelance tea writer. She also offers tea classes in NYC and plans to begin tea tours to Darjeeling in the near future. You can learn more on her website, Vee Tea.