Reviews
Tea in Restaurants
Traditionally tea in restaurants used to be invitation for disappointment. Eight years ago when I first dated my husband, we went to an Italian restaurant, Aquarello, in San Francisco known for its exquisite food and wine. After three courses and a magnificent Barolo, it was time for dessert. Upon request, our server brought out their tea selection. Inside an elegant wooden chest, he offered me six generic varieties of tea in paper-perforated bags with crushed leaves. The horror remains with me till this day. At that moment, I swore that I would follow in the footsteps of my first tea mentor in her campaign to improve tea in restaurants across the US.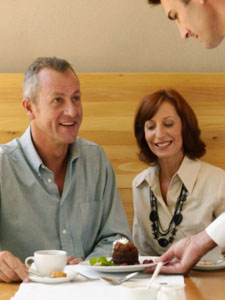 Experiences such as I mentioned can leave tea enthusiasts leary of ordering tea after dinner, but in the words of Bob Dylan "the times they are a changin'". As the health benefits of tea have been widely expounded, more people have inclined to have the occasional cup or even give up the Starbucks habit entirely for the graceful enjoyment of tea. Restaurants throughout the country have made note of the increase in their tea sales and the comments of their guests.
After-dinner tea at its best can be a final exquisite taste on the palate, gesture of hospitality, and a gentle ending to a fine dining experience. Expect great service when you notice the teas listed on the dessert menu. The chef is announcing their pride in the teas they offer if they grant them space on the same page as the desserts and dessert wines. Often servers in this situation will know which teas to recommend to pair with the desserts.
In an effort to promote great tea in restaurants, it is important to give credit to some establishments that have made great efforts to cater to tea connoisseurs.
Modern Tea
602 Hayes St.
San Francisco, CA 94102
(415)626-5406
Lunch, afternoon treats, dinner and weekend brunch are elegantly matched by a menu of full leaf, organic, and fair trade teas. Executive Chef and Owner Alice Cravens, uses local, seasonal ingredients and the occasional cast iron skillet to whip up comforting, layered hot dishes, tasty soups, and delightful salads. She is best known for her bunch waffles made on 19th century irons.
Deep
821 N Wall St Ste 100
Bend, OR 97701
(541)323-9841
Jody Denton's Deep serves elegant sushi served with an assorted tea menu of Japanese sencha, Gyokuro, Hojicha, and Genmaicha. There is also a particularly fine range of Chinese teas that include a Tikuanyin oolong, Yunnan Gold black tea, Silver Needle white tea and fragrant Jasmine Pearls.
York Street
6047 Lewis St
Dallas, TX 75206
(214)826-0968
This small restaurant is a must go if you are visiting Dallas. After the main meal, the server brings the dessert menu to the table with a selection of nine carefully selected seasonal, whole leaf teas provided by The Cultured Cup, Dallas's premier whole leaf tea, chocolate, and coffee purveyor. The executive chef, Sharon Hage, has been nominated for the James Beard award for Best Chef of the Southwest for four years running. She personally selects the teas to compliment the menu.
Cendrillon
45 Mercer St
(Btw Broome and Grand Sts)
New York City
(212)343-9012
This charming spot in SoHo offers Filipino and Pan-Asian fare as well as seasonal menus (this summer they are featuring various styles of Asian barbeque). Though the Philippines are not known for their tea consumption, Cendrillon offers a complex menu of teas ranging from Japanese sencha to Crooked Horse oolong, a variety of Tikuanyin. Owners Amy Besa and Rory Doroton wrote a fantastic cookbook, Memories of Philippine Kitchens which was published in 2007. Enjoy a cup of tea with your chicken adobo!
Go forth and fearlessly request amazing teas when you dine! You are more likely to find them than ever before.
Know of a place that has good eats and a good tea list? Share it here with other tea enthusiasts.