Reviews
Traveling Tea Cup
The days between Thanksgiving and the beginning of December are always filled with festive planning. Moments of free time are spent building lists for everything from cookie ingredients to gifts, designing Christmas cards, making oatmeal-butterscotch dough to freeze and even wrapping some presents if I've planned well. This year I've added Holiday Tea at the historic Drake Hotel.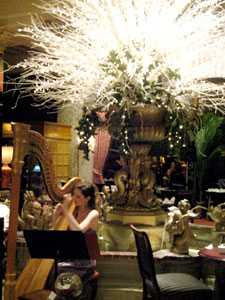 Heading south into downtown Chicago on Lake Shore Drive is one of my favorite views of the city. A large, lighted sign in an archaic font reads "The Drake" and has quite a presence in the skyline. The iconic hotel stands in Chicago's exclusive Gold Coast neighborhood close to Lake Michigan and right on the Magnificent Mile. This landmark of civic pride first opened its doors in 1920, filled with grandeur and luxury. Among a list of historical notes, the house bar, Coq d - Or, has served since the day after prohibition lifted and in 1958 the Drake hosted Queen Elizabeth II for tea.
Entering the building and lobby the sense of history is evident; it retains the aura of the 1920s. Walking up the stairs to the inner lobby I was immediately put in a festive mood by the large colorful Christmas tree and tall toy soldiers on guard. I soaked it in as I made my way to the Palm Court Lounge to meet my friend.
We were settled in and just ordered when the harpist began to play. Her first melody in a mix of classic and holiday was "All I Ask of You" from Phantom of the Opera. Having recently enjoyed Phantom on Broadway in Chicago, this was an additional treat.
Their tea selection is a mix of Mighty Leaf and Twinings including 11 black, 2 green, 8 herbals served loose leaf in small, individual pots with accompanying Victorian-style silver plate strainers. We chose Mighty Leaf Ginger Peach and Pear Caramel. The Ginger Peach combines black tea with fruit and spice. A signature blend, Pear Caramel, is made with Washington state pears blended with Ceylon and China black tea and pieces of caramel. We chose well.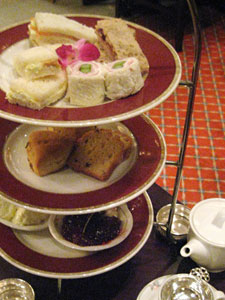 A three-tiered tray was delivered to our table. Our savories included four tea sandwiches: egg salad and cucumber-tomato both on soft white bread, roast beef with crunchy onions on wheat, and a ham-asparagus roll. Banana bread and golden raisin scones with cream and raspberry preserves were served in the first round as well. Later, four pastries arrived: chocolate raspberry tartlet, dark chocolate mousse, cream puff and a lemon meringue tart. Lemon or chocolate, I still can't decide which one was my favorite.
The presentation isn't particularly inventive or gourmet, however a pleasant traditional version of British-style afternoon tea in old-elegance surroundings. Our friendly and attentive waiter, originally from Bosnia, took good care of us. We were checked on several times and our teapots were kept full of hot water. Our teacups, pots and plates were a mix of floral and ivory in true British refinement.
The centerpiece of the large, square room is the limestone fountain adorned with both sea creatures and cherubs and crowned by a 250-year-old urn filled with a bouquet of greenery and white lights. The lounge is eclectic with the Italian urn, large ornate Asian screen, damask drapes, dark wood furniture, mirrored columns, and random high-back pew-like benches. It feels fancy, but not off-limits. We found it cozy and a nice place to start off the Holidays.
The Drake has specific seating times and they state on their website and menu the duration of afternoon tea is approximately one and a half hours, however we were not rushed. We were there on a Tuesday, and I would suggest visiting the Drake mid-week when it is not too busy and you can soak up the ambiance of this American landmark.
The Drake Hotel
140 East Walton Place
Chicago, Illinois 60611
312-787-2200
Currently offering seatings for afternoon tea between 1:00pm and 5:00pm daily
The Drake Hotel

For additional recommendations for tea enjoyment in Chicago, please visit Elin's website TeaFolio