History
Giving Tea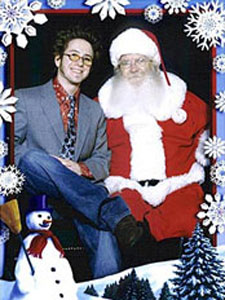 Dear Santa,
This year, my holiday wishes have changed.
I've decided not to ask for a puppy again (as this request has gone unrequited for our past two correspondences), but instead have found something even more desirable: tea. In the past year, I have discovered many interesting facts and fascinating stories about this delicious beverage, and am now officially hooked! In this letter, I hope to prove to you that tea is the perfect gift for me and everyone on your list this holiday season.
As I'm sure you know, Santa, the gift of tea is not a new idea. In the past, tea gifts have changed history, incited trends and made legends. According to one ancient Chinese legend, Kuan Yin, the Goddess of Mercy, presented tea as a gift to a devout farmer who diligently maintained her old, dilapidated temple.
Inside the temple was Kuan Yin's elegant iron statue to whom followers prayed for enlightenment. One day, however, the iron statue appeared to come alive. Shocked, the janitorial farmer fell to his knees and the goddess whispered," The key for your future is just outside this temple. Nourish it with tenderness; it will support you and yours for generations to come." Unable to contain his curiosity, he went outside and found a withered, straggly bush.
After much care, the bush grew rich and full, with thick green leaves. Experimenting, the farmer dried the leaves in a stone wok. They soon turned a smooth charcoal black, just like the statue of Kuan Yin. The nectar produced from leaves fired in this way was ambrosial and fragrant, like the finest blossoms. It was more delicious than any other drink that ever touched his lips. Thus, the magical Ti Kuan Yin - "the tea of Kuan Yin" - came into being.
Yet another excellent tea gift was given in 1660, when Charles II (referred to as the "Merry Christmas Monarch") brought the gift of tea to England. When he first married Portuguese Princess Catherine, they were forced to live in exile in Denmark (thanks to Oliver Cromwell). At that time in Denmark, tea was already enjoying widespread popularity and both Charles and Catherine were huge fans. When Cromwell misplaced his head, the couple was able to return to England. They brought a chest of tea with them, which was met with thirsty enthusiasm by the British court. This gift provoked the craze for tea in Great Britain (in which the English are still fully embroiled).
And let's not forget, Mr. Claus, about the most famous example of a monumental tea gift: the recipe for Earl Grey. Legend says that in 1830, an Englishman named Charles Earl Grey traveled on a diplomatic mission to China. During this time, he risked his life to save the drowning child of a Chinese noble. In return for his act of kindness, the mandarin presented him with the recipe for making this distinctive tea.
However, a few corrections are in order to present an accurate historical record (and to keep me off of your "naughty" list). Firstly, the Chinese have never been black tea drinkers, and were unlikely to have a recipe for Earl Grey to bestow on visitors. Secondly, Charles Earl Grey never set foot in China. Otherwise, the story is completely true.
As you can see, Santa, tea gifts have had a significant influence. So please keep this in mind when filling my stockings and bedecking my tree. I'm not saying, by any means, that I need a history-altering event; just a delicious drink that will both relax me through the holiday stress and warm me against winter's cold.
Don't worry- I'll be sure to leave out a few tea biscuits for you and Rudolph, just to remind you.
Still believing,
Chris
Age 25
December, 2004