Reviews
Tea-Tray in the Sky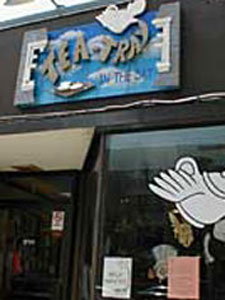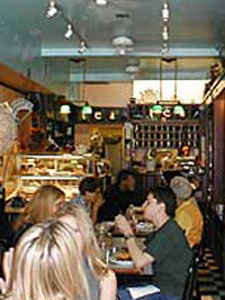 Tea-Tray in the Sky
1796 Massachusetts Avenue
Cambridge, MA 02140
617-492-8327
Refreshing, flavorful, comforting, richly-colored - many of the adjectives that describe a good cup of tea perfectly describe Tea-Tray in the Sky. This Cambridge, MA teahouse is a relaxed, intimate oasis amid the ever-hipper bustle of Porter Square, a 15-minute walk west from Harvard University.
Outside, a winged teapot greets you from the store sign. Inside, ten tables for two (which can be pushed together for larger groups) seat a crowd in both sensible shoes and Birkenstocks. It's a great place to meet a friend, or stop by for refreshment. On the wall is the artwork inspired by the name: a vibrant, surreal mural of the Mad Hatter's tea party from Alice in Wonderland. The mural is the work of a Boston Surrealist, Julian Landa.
Looming behind the counter is a wall of tea. More than 75 varieties sit in antique metal canisters, on dark wood shelves. The teas come from every part of the tea-producing world: India, China, Japan, Sri Lanka, even Africa. The tea menu has whole sections for Black, Green, Flavored, and Herbal teas. Also available are chai and mint tea, and a daily selection of iced teas (on a recent day, nine different varieties were being poured).
All the teas are brewed-up for you properly in a glass teapot, which lets you admire the color of the tea. It sits on your table on a glass stand, warmed by a tea-light, begging admiration for the rich color of the tea. The kitchen steeps the tea for the optimal time and removes the leaves before sending the pot out.
On a recent visit, I tried a South African KwaZulu Ntingwe Estate tea ($3.75/pot, the standard price; a few rare teas are more). The tea was brisk and a bit malty, like an Assam, but subtly different.
Tea-Tray's menu, like a traditional tea, is divided into savory and sweet sections, each more mouth-watering than the other. But the selections are contemporary American cuisine, not traditional British fare. Other than scones, that is, which are baked fresh daily.
The savory section includes salads and sandwiches. One stand-out from the sandwich options is roasted eggplant, goat cheese, spinach and tomatoes, with fresh field greens, severed up on a fresh-baked foccacia ($6.75). A house specialty is home-cured gravlax salmon, available in either a sandwich ($10.75) or salad. There are also daily specials, including a savory tart, strata (a savory bread pudding), and soups.
Choosing a dessert is a daunting task. The choices range from simple shortbread cookies ($2.25) to a decadent fallen chocolate and peanut butter soufflé ($6.75). In between, you can sample the chocolate citrus baklava, a daily creme brule, or a fruit and cheese plate. There's also an array of fresh-baked pastries and cakes displayed in a case. I tried a heavenly slice of almond genoise, a delicate cake with layers of lemon curd, raspberries, and blueberries, coated with a rich butter-cream frosting. The combination was mouthwatering. It called for another cup of tea.
The one sour note is occasional slow service, especially on weekends when all the tables are filled. While you wait, you can browse through an amazing array of tea merchandise. The pots, mugs, and infusers you expect to see in a tea-room jostle for space with rarer items: tea jewelry, tea stickers, tea art, and tea shirts.