History
Iced Tea: an American Beverage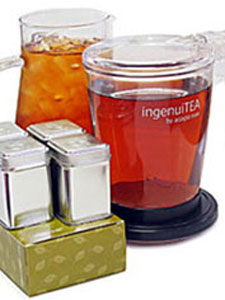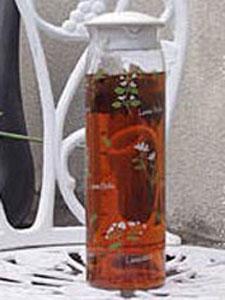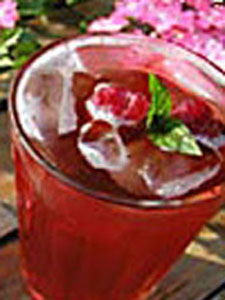 One swelteringly hot day, during the St. Louis Exposition in 1904, a tea vendor couldn't entice anyone to try his teas despite the fact that hot tea is served during warm months in his native land. Feeling the humidity, and the rebuff, acutely, he asked for some ice from the neighboring ice cream vendor, put some into a cup of tea, and voila! - a new tradition was born. Crying out to the crowd, "Cool off here," before long, people were queuing up to try this new "American" beverage, iced tea.
Today, iced teas make up 85 percent of the entire U.S. tea market. It's not just for summertime hot months, either, as iced tea is now consumed year round. Iced tea is no time to skimp on quality, though. The finest tea makes the best brew, whether hot or iced. And, as always, quality tea, whether loose leaf or in teabags, is among the most economical beverages. Besides, who deserves quality iced tea more than you?
Here are a few exciting iced tea recipes, just in time for summer:
Quick and Easy
Your clever friends at Adagio Teas have put together an elegant and simple way to make iced tea effortlessly, economically, and quickly. I confess that I'll probably never do my sun tea again; it makes great tea but obviously takes hours. The Iced Tea Duo method takes less than ten minutes!
Ingredients:
Clarity Pitcher, a strong, heat resistant, clear glass pitcher that shows off the colors of tea beautifully.
Aria Teapot, with a magical press mechanism that allows the liquid to flow through only when sitting atop a cup or pitcher. When standing by itself, it brews the tea.
Choose some ceylon tea. A premium Ceylon or a fine Keemun are great choices, but experiment to see what you like best.
Directions:
Brew the tea in the Aria Teapot using 7 teaspoons of tea and boiling spring water.
Steep for three to five minutes.
Set the teapot atop the Clarity Pitcher and watch the concentrate pour down.
Add cold spring water and ice cubes. And enjoy!
Sun Tea
One of the most popular ways to serve iced tea in the southwest is Sun Tea. Set out a clear gallon jar of spring water on the sunniest spot around your home. Place a few teabags of orange pekoe inside the jar. They will infuse the water without bitterness while it "bakes", usually between morning and noon, just in time for a thirst quenching lunchtime drink. For an added twist, use ice cubes made with tea or orange juice. A sprig of mint and rimming a glass with sugar makes sun tea even more special.
Ingredients:
One gallon spring water and 8 to 10 teabags
Directions:
Make ice cubes of fresh orange juice, apple juice, or tea.
Dampen the rim of the glasses and dip into sugar.
Chill in the freezer.
Place teabags in water in covered clear glass jar and set jar out on the stoop, steps, deck or porch that receives direct sunlight.
Leave for three to five hours.
Can be pre chilled until ready to serve or poured directly over ice cubes of juice ortea.
Tea Sangria
Do you like sangria but don't want the alcohol? Make a Tea Sangria! Start with your favorite black iced tea, and then add sliced fresh fruit like oranges, limes, whole berries, and chill in the refrigerator until ready to serve. Great to look at, and delicious to drink, too.
Ingredients:
One gallon spring water and 8 to 10 teabags of tea or 8 heaping teaspoons of loose-leaf black tea.
Two cups fresh fruit e.g. thin rounds of sliced oranges, limes, lemons; peeled and sliced kiwi, berries, washed and dried, with stems removed; quarters of cored pears, Asian pears, or apples.
Directions:
In a large pot, heat the water to almost boiling, then brew the tea for five minutes or longer, to taste.
Make ice cubes of brewed tea, water or juice.
Chill glasses pitcher in the freezer.
When ready to serve, put tea cubes in pitcher, add fruit, then pour brewed tea over all and serve in chilled glasses.
Garnish with a wedge of lime or orange.
Tea with a Twist
Who said iced tea has to be made only from plain black tea? Why not put your favorite blackcurrant, passionfruit or other fruit enhanced black tea on ice? It's a silky, delicious way to make a dessert out of tea. For super rich flavor, add a teaspoon or two of sweet condensed milk or cream; sinfully delicious. Although you can add ice cubes, the fruit flavoring mixed with the chilled milk makes a satisfying drink as is. Because it is so rich tasting, pouring it in cups is both elegant and generous serving style. Yields two cups.
Ingredients:
Twelve ounces of spring water,
2 teabags or 2 heaping teaspoons of scented or flavored tea,
1 teaspoon sweet condensed milk or cream, to taste
Directions:
Brew tea in hot water for three to five minutes or longer, to taste.
Refrigerate until chilled.
Chill two cups in freezer.
When ready to serve, put chilled sweet condensed milk or cream in bottom of a cup, add chilled tea, stir and serve.
It's like a milky sherbet in a cup! Add sugar to taste.
Green is Delicious Iced, Too!
Because green teas are generally made at lower temperatures, making it into iced tea is quicker and simpler because there is less time required for brewing, and the lower temperature requires less time to chill.
Ingredients:
Twelve ounces of spring water,
2 teabags or 2 rounded teaspoons of green loose-leaf tea
Directions:
Chill cups in freezer.
Brew as usual, allow to cool, then pour into chilled cups and drink.
Adding thinly sliced lime or lemon is a nice touch.
Adding ice is optional and may dilute the flavor.
If you must have ice, make an additional serving or two of green tea, make into ice cubes, and use them.
Another alternative is ice cubes of watered down lemonade.
Add sugar to taste.