History
Is It REALLY an Antique?
Clues for scouting valuable teapots and teacups
Empty nesters lament the shocking realization that their 30-something children are not interested in their fine china, silver or glassware. Much of it ends up in thrift stores or (horrors!) is tossed out. That elaborate, heavily etched sterling tea set? It cost thousands of dollars but today usually ends up melted down into silver ingots instead of giving someone the fantasy experience of visiting Downton Abbey.
This surging inventory of fine china teapots and teacups makes starting, and sustaining, a collection both accessible and affordable. In thrift stores, you can easily find teacups for as little as $3 to as high as $25 and teapots are priced under $10 although the savvy store owner might put sticker prices as high as $50. It is not, however, that common to find the more esteemed centuries-old porcelain examples; those sell for hundreds of dollars, especially if elaborately decorated.
How do you know if one of your found treasures is indeed an antique or some pretty knockoff? Here are some guidelines:
ANTIQUE IS SOMETHING AT LEAST 50 YEARS OLD
That means your 1960s red Peter Max teapot is an antique! To tableware scholars, however, the more valuable teacups and pots are made by recognized manufacturers, and date from the 18th and 19th centuries, both for their historical provenance and exceptional craftsmanship.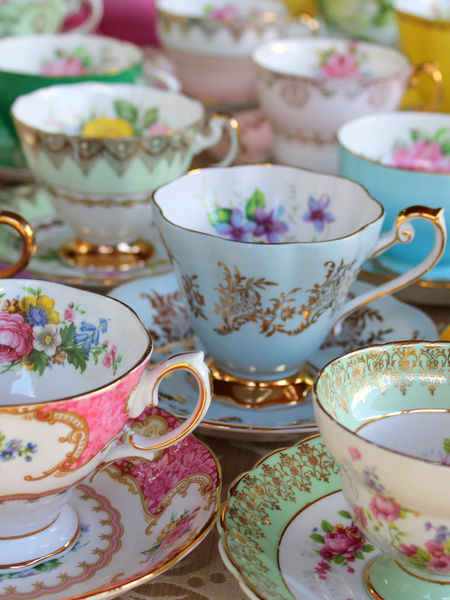 WHAT IS VINTAGE?
Vintage doesn't really relate to value, but to time, usually the early 20th century. Still, there are great finds from this era: cups and saucers made from green or pink depression glass, cranberry glass, milk white glass and other totally American choices like wildly colorful Fiesta ware and Hall China Company's signature Autumn Leaf dinnerware popularized by Jewel Tea Company of Chicago. Hall China began in Ohio in 1903 and is equally famous for its Eva Zeisel designs. Both have been duplicated widely, so check for the Hall company mark on the bottom of items you see. Other American standard-bearers for fine dinnerware cups and pots include Homer Laughlin China Co. and Lenox, both founded in the 19th century. Today, Lenox is the only American company manufacturing genuine bone china ware, including tea cups, coffee cups, tea, chocolate, and coffee pots. It has also made dinnerware for six US Presidents.
MADE IN OCCUPIED JAPAN is a lot more valuable than MADE IN JAPAN. The former is for a very limited time span, during WWII, although some collectors stretch the time to 1952. Look for Noritake Company, Kutani Kousen Kiln ceramics, and Saji Trading Company. Some Japanese porcelain and ceramic factories have been making bowls, plates, and teaware for more than three hundred years, so their products are valued for their longevity and beauty.
Japanese lustre ware, often in peach or pale purple/blue colors, has a silvery shine that is unusual and highly collectable especially with the Occupied Japan label. Lustre ware was made by many manufacturers around the world. The more valuable ones will be quite thin, translucent, and glisten with the metallic materials that give lusterware its name.
BRAND NAMES COUNT. European porcelain makers, primarily German and British, first made tea bowls, then handle-less cups and saucers in the style of Asian tea ware, and much later cups with handles. Many fine examples from 200-400 years ago can still be found. Look at the bottom of saucers, cups or pots for the hallmarks of Meissen or Rauenstein for German-made Delft blue and white or patterned cups and pots; or Wedgwood, Aynsley, and Staffordshire from Great Britain; or Lomonotov and Kuznetkov, from Russia; Limoges and Bernardaud from France. Bavarian examples are very pretty yet not as highly valued, probably because they're so plentiful.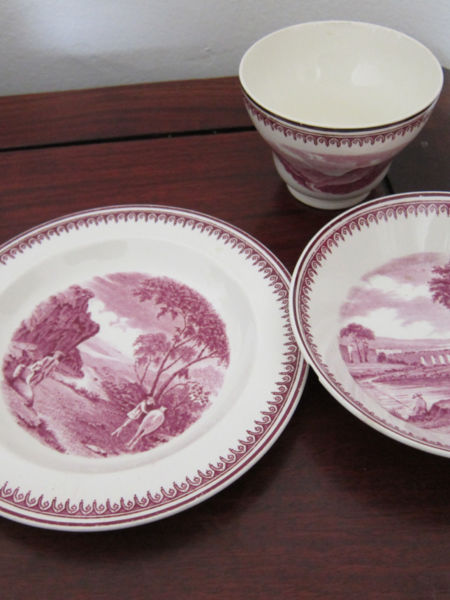 COLOR, PATTERN, and DECORATION. Delft blue is among the most popular color in older cups and pots, and blue and white is legion in both the sturdy everyday ceramic teapot and the more delicate cobalt blue and white bone china cups. After blue, pink is the most popular color, used for flowers both vivid and ephemeral. Next are cups with touches of gold, either gold on white or gold as decoration for miniature portraits, landscapes, flora, fauna or complex designs. Teapots are often complexly painted or decaled, often with metallic gold or silver jeweled elements.
Not all pots are teapots: if it is tall, it is usually a coffee pot; if it is tall with a larger bottom than top, it is a chocolate pot; if it's short and round or round-ish, it is a teapot.
Tiny cups were often either made for children tea sets or they're demitasse cups for espresso or for pots du cocolat. The exception are tiny (1-1 1/2") Chinese cups used with guywans or covered bowls. These small cups should not be confused with their relatives, the Japanese sake cup which is, more often, slightly wider.
More common are the slightly larger Chinese or Japanese (yunomi) cups. Because they have no handles, it may take a little practice to use them. Instead of holding the sides, which will be hot, lift the cup by the rim which usually fans out a little beyond the shape of the cup. Rest your pinky finger on the foot of the cup. The cup should only be filled about three-fourths to that it will not heat up the rim and make it too hot for your lips when you take a sip. These are plentiful and rarely old enough to be labeled antique but the hallmarks can help you date them.
As with everything in tea accessories, the sizes and shapes of antique cups and pots are astonishing. Most cups have tapered flat bottoms, the better to sit on a saucer, but others sport three legs for twist on the classic design and curlicue china touches on the handles. You can collect by image or theme, by shape and style, by century or manufacturer, whatever suits your passion. How you use these antique pots and cups isn't written in stone (or ceramic,) just enjoy them for their exquisite beauty and the craft of hand-decoration. Buy what you like, what fits your budget, and most importantly, what will give you pleasure to use. May the hunt begin!
READ UP! For more complete information about antique collectible teacups and pots, check your bookstore or library for the yearly-issued Kovels' Antiques and Collectible Price Guides or Miller's Antiques Handbook & Price Guides. Some manufacturers, like Hall and Lenox, have their own historical guides or have given their historic products to universities or museums.
Vintage isn't everything. There is something to be said for buying your own teapot that you care for over the years. Yixing teapots have been a staple of tea making in China since the 15th Century, prized for their elegance and exceptional tea brewing capabilities. Made of unglazed clay, they absorb teas' essential oils and improve ensuing brews. Experiencing the improvement of flavor with your own piece can truly be satisfying!