Enjoyment
Hosting a Tea Tasting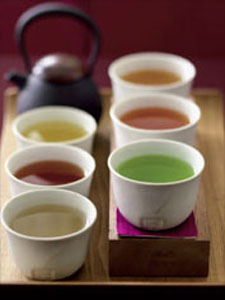 Find your tea
For your first tea tasting, it's helpful to include different types of tea. This way, you'll get to know the basic varieties. Once you've had an introductory tasting, it's fun to move on to a tasting featuring only one type of tea. Since it can be monotonous to taste just one specific variety, such as Keemun, try sticking within a general category, like black or oolong. (Keep in mind that white and yellow teas are especially subtle, and might not appeal to a broad range of palates.)
In order to keep things interesting, aim for variety within the category you've chosen: teas with different-colored liquors (tea liquid), flavors, strengths, and provenances. For example, within the category of green teas, compare and contrast Chinese and Japanese varieties. Do you find that the Japanese varieties have a hint of sea flavor? Are they a brighter green color? If including all black teas, determine whether or not you prefer Darjeeling to Assam. Do you find the Darjeeling to be more delicate and complex in flavor?
Six types of tea should make for a comprehensive, though not overwhelming, tasting. Figure on 1/4 cup of each sample per person. For a six-person tasting of six teas, purchase about one tablespoon of each type of loose tea. To be on the safe side, I would allot an extra tablespoon of each tea, just in case you decide to brew another pot or two at the end of the tasting (or find yourself craving tea the next day).
Organize your tasting
Arranging a tea tasting can be a bit complicated. You might want help keeping track of the amount of steaming water in the kettles and tea-steeping times. Create a cheat sheet for yourself with the name of each tea, the quantity of dry leaves and water you'll need, the recommended water temperature, and the steeping time (for a tasting for eight people, you'll probably prepare a total of two cups of each tea). Some tea merchants will automatically provide all of this information, but if not, just consult the package, as well as online merchants' Web sites. Place this cheat sheet next to the range as you prepare the teas.
Learn your palate
Ask yourself the following questions when sampling the teas:
1. Describe the appearance of the dry leaves. Are they whole or broken? Are the leaves twisted or flat, regular or uneven?
2. Describe the color of the tea liquor (liquid).
3. Close your eyes and inhale. What does it smell like?
4. Now, slurp the tea-don't worry about making loud noises. Spread it all over your tongue and mouth. What flavor notes do you detect?
5. Finally, swallow the tea. Is the finish (or aftertaste) long or short, meaning do the flavors dissipate quickly or last for a while in your mouth? What flavors remain?
6. Most importantly, consider whether you like the tea and would purchase it.

This text is excerpted from the tea chapter of Tasting Club (DK Publishing).