Enjoyment
Pay Tea Forward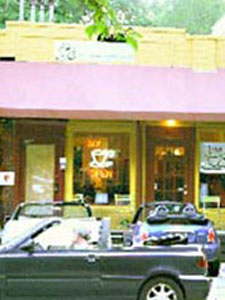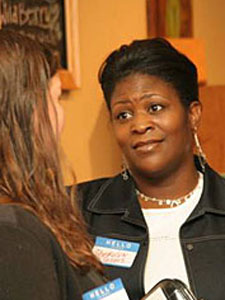 "Pay it Forward." Catherine Ryan Hyde created the concept in her book of the same name. The idea is simple - someone does someone else a favor, and rather than requesting a favor in return, they request that a favor be done for someone else. This idea inspired Lisa Campbell to give her teashop away.
Lisa has been in the tea business for 3 years, while simultaneously balancing a 24-year long career as a news anchor. Her love for tea was inspired by a trip she took to England with her daughter. "We went into all the funky tea houses and tea cafes and when I returned, I realized the thing I missed the most by leaving that trip was that tea experience. I came back and just immersed myself in tea, and opened the Urban Tea Party online." Soon, her online customers were asking if they could visit. "People were asking, "Do you have a place? We want to come to a place". So I found this great space in a really popular area of Atlanta called Virginia Highland. We opened 3 years ago, and the business has just grown exponentially. It has also been so overwhelming to me how successful we were so fast." But the reality of having 2 separate and concurrent careers was becoming difficult. "I was on the air all day, at a very highly intensive news job, then getting off the air at 6 at night, then going to work at the tea store until 10:00 at night, and it was overwhelming." Lisa was realizing that she couldn't continue to balance the two worlds in this way.
At one point Lisa considered selling the business. "But selling it would have changed the place". Urban Tea Party's customers had become passionate about the teashop, and wanted it to remain just as it is. "I understood their need and their passion, but I also had a need to get my life back."
After viewing an episode of Oprah in October of 2006, where Ms. Winfrey gave away $1000 to each of her 300 audience members, asking them to use the money to "pay it forward" to strangers, Lisa woke from sleep at 4:00 am with an idea. "I thought to myself, 'I'm going to give it away - give it to an aspiring entrepreneur who has the business acumen and the desire to (run a tea business) and doesn't have the start-up capitol to do it the way that I've done it so far.'"
But how does one "pick" someone to give a business to? Lisa decided to contact some of her friends in the media to announce her decision, and to let people know how to "apply". Applicants were asked to write a one page proposal, outlining how they would use the opportunity to teach the art of tea, their plans for sustaining the business, and how they would continue to "pay it forward". The last stipulation was key - part of their profits must go to worthy community organizations to help disenfranchised and marginalized people.
Thinking she may get 75 applications, Lisa was stunned when she received 457 proposals from people all across the country who were interested in owning the Atlanta teashop. She read each proposal, and chose her top 10. From there, she asked her friends and business associates to read the final ten, and held a tea party at the teashop to interview the finalists. Lisa says she herself didn't interview at the party - she left that up to her team. She instead served tea, and listened.
Sharolyn Sellers was a standout applicant on every interviewer's list. It was clear from her proposal that she had given business ownership quite a bit of thought. Her one page application went so far to include a bar graph showing how she would run the business financially month by month. Sharolyn was the first person to show up for the tea party, and eager to assist in setting up. Lisa said the choice was clear. "(Sharolyn) really, really wanted it and was willing to do whatever it took." Her idea for paying it forward was equally as thought out. She wants to create an organization called PossibiliTea, which would be an organization that facilitated youth in the community on what their possibilities are. She also mentioned plans to contribute to the Oprah angels network. The team had found their winner, and they announced their choice on December 4th. Sharolyn has gone from a career as an E-Commerce specialist to teashop owner - including all inventory, training from Lisa, and no outstanding debt.
Lisa still owns the "Urban Tea Company", the parent company of Urban Tea Party, and is currently finishing up a book called "Urban Tea" which will be published by Schroeder this spring. Between 2008 and 2010, Lisa is looking to open more Urban Tea Party locations. When asked if she plans on giving away another Urban Tea Party shop, she says, "You'll have to just wait and see on that one - stay tuned!" There's no doubt that she has "Paid it Forward" in a very big way, and we wish Sharolyn a very successful new year as a budding tea seller!