Profile
Coffee and Tea Expo 2007 NYC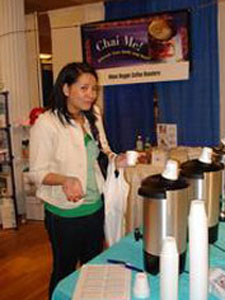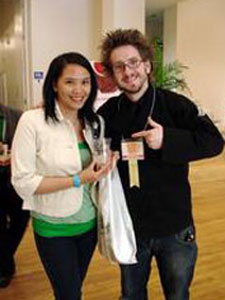 I've been a little numb in the head since I've started working at Adagio. The experience has been great, but as with all other new jobs, it's a bit overwhelming. It's been about a month or so since I've been here, and I'm still learning the ropes; everything from how to get an effective answer from FedEx to memorizing the varieties of green tea. I came in as one of those 'Chinese restaurant' tea people, and now I know they are oolong teas. Go me! Still so much to learn, grasshopper.
Anyway, I had my first real tea industry experience this past weekend at the New York City Coffee and Tea Festival. As New Jersey (where Adagio is based) is right across the river, it was no problem getting to the festival. However, the night before the festival, I got a total of 3 hours of sleep. As I drove to the train station, I assured myself I would get through the day, as I was going to be getting lots of yummy samples of tea and coffee. I missed the earlier express train to New York, and begrudgingly boarded the crowded local train (there was apparently a Yankees game), and passed out, dreaming of all the little shot glass-sized tea samples awaiting me.
I needed to get an entourage going, so I called up my good friend Carin, who in the recent months has been getting into tea and wanted to learn more about it- the perfect companion. After paying our admission we received goody-bags filled with lots of free samples. SWAG! I loved it already. Adagio had donated some tea bags and iced tea to the exhibitors- our presence was in the building.
This show was a great look into the tea industry; it wasn't a huge event, so overwhelming that you can't get around or talk to people. I got to chat up the owner of Jaya Teas, which is based nearby my town, in Lawrenceville, NJ. His tea company specializes in Indian teas. He told Carin and I about the many generations of his family are in the tea industry, and let us taste samples of darjeeling and assam tea. We also talked to a rep from Mighty Leaf. The conversation turned from Mate and energy to bike riding, as Carin was looking for something to drink to keep her going during her Five-Borough Bike Tour in NYC the next weekend. More samples! More tea! More Mate! Woo!
Also, as it was opened to the public, it was cool to see who is buying gourmet tea, how knowledgable they are, and what they are interested in. At the TayTea booth, I talked to a couple of vivacious ladies who were really into the saucy blends offered by this company, such as Better Than Sex (oh my!) which was rooibos, chocolate, and mint. The packaging was beautiful as well as the tea offered. Aside from tea and coffee companies there were also plenty of gourmet chocolatiers and bakeries that made some of the most delectable tasting treats that make a great accompaniment with a cup of tea. One such company, Amai NYC, makes tea flavored cookies- crumbly and rich with a hint of tea flavors such as Earl Grey, Chai, and Matcha.
The day would have not been complete if I didn't get to meet Chris Cason. Yes, Chris Cason, ex-Adagio team member, who has come into his own in the world of tea. He helped start Tavalon, a tea bar located in New York, a fun place for the hip and young set of tea drinkers. Michael told me to keep an eye out for him and to introduce myself when I got a chance. It was hard to keep up with him (though you can spot him a mile away with that hairdo!), as he was doing the typical Big-wig stuff like interviews, supervising, chatting everyone up, etc. I have to admit, I was a bit intimidated, but he totally shot that feeling out of the water when he introduced himself, full of energy and eager to talk. He offered tons of useful advice, told a few funny stories of when he was working at Adagio, and asked about how things were going there and what we thought of Tavalon's tea. I had been told that Chris and I both hailed from the same hometown and went to the same high school, so we chatted about North Jersey a bit. I guess I can say I have a bit of a 'Professional Crush' on Mr. Cason, as I want to learn everything there is to know about tea and be as confident as he is in his wisdom.
The day was a great learning experience, as well as a way to show off what tea skills I had obtain in the last month. Although I'm still considering myself a Novice of Tea, I had enough knowledge to ask thoughtful questions and make creative descriptions regarding the different flavors of tea. Also, I didn't look like a total fool when I went to sniff at some kukicha. At the day's end, Carin and I, both a bit too energetic for our own good left the Coffee and Tea Show in high spirits (there was also a sample sale next door! Teehee!). I'm looking really forward to the World Tea Expo, which is happening in Atlanta. Come June, hopefully this little teacup will be ready to play with the big pots!