Reviews
HuangShan Tea House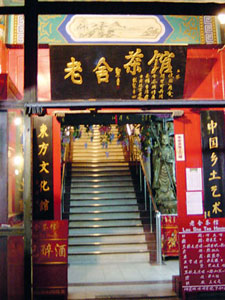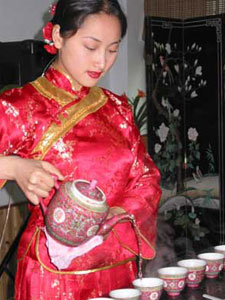 HuangShan Tea House
Yellow Mountains
China
Making one's descend from the spectacular peaks of the Yellow Mountains, a weary visitor is confronted with the most pleasant of views: The Huang Shan Tea House. It's a welcoming oasis where one's aching muscles may get a bit of well-deserved rest. And where one's spirits may be rejuvenated over a hot cup of tea. And not just any tea, but the justly famous, locally grown Huang Shan Mao Feng, which is a specialty here.
One settles into an inviting setting, and begins to reflect upon the harmony that had been carefully and meticulously created between its decor, and the natural vista that peeks in through its many open doors. The interior is bathed in natural light, and appears to glow in its reflection.
The setting, in actuallity, is surprisingly simple. White porcelain vases with beautiful blue designs have been upturned, and now function as stools. And larger vases serve as bases for the porcelain discs that now form tables. The floor is made of cut stone. And the ceiling is painted, indicating perhaps that the building was earlier used as a place of worship.
And now all devotion is centered on tea. These are served, as is custom in this part of China, in a clear glass, with leaves and water virtually inseparable. Drinking tea and maintaing one's composure is a more challenging activity than would appear at first. As stubborn tea leaves refuse to sink, and appear to be daring you to drink tea while trying to avoid inhaling them as well. With a bit of practice, this is certainly doable. And one gets to kick back, and enjoy the murmur of the card-playing locals, and the beautiful songs of the birds chirping outside.
Besides Mao Feng, the menu offers a number of other locally-cultivated greens. As well as the obligatory Keemun black, and Ti Kuan Yin oolong teas. But when in Rome... is a useful refrain, and we order another cup of the Huang Shan Mao Feng. The bill comes to 30 yuan, about four US Dollars. That's only two dollars per cup. Which needs to be added was continuously refilled with hot water, the tea only barely loosing its wonderful flavor.
The Huang Shan Tea House is not a place one would scale half a mountain to visit. However, should you find yourself taking in the magesty of the Yellow Mountains, make sure to plan on droping in on your way down. It is amply worth it.